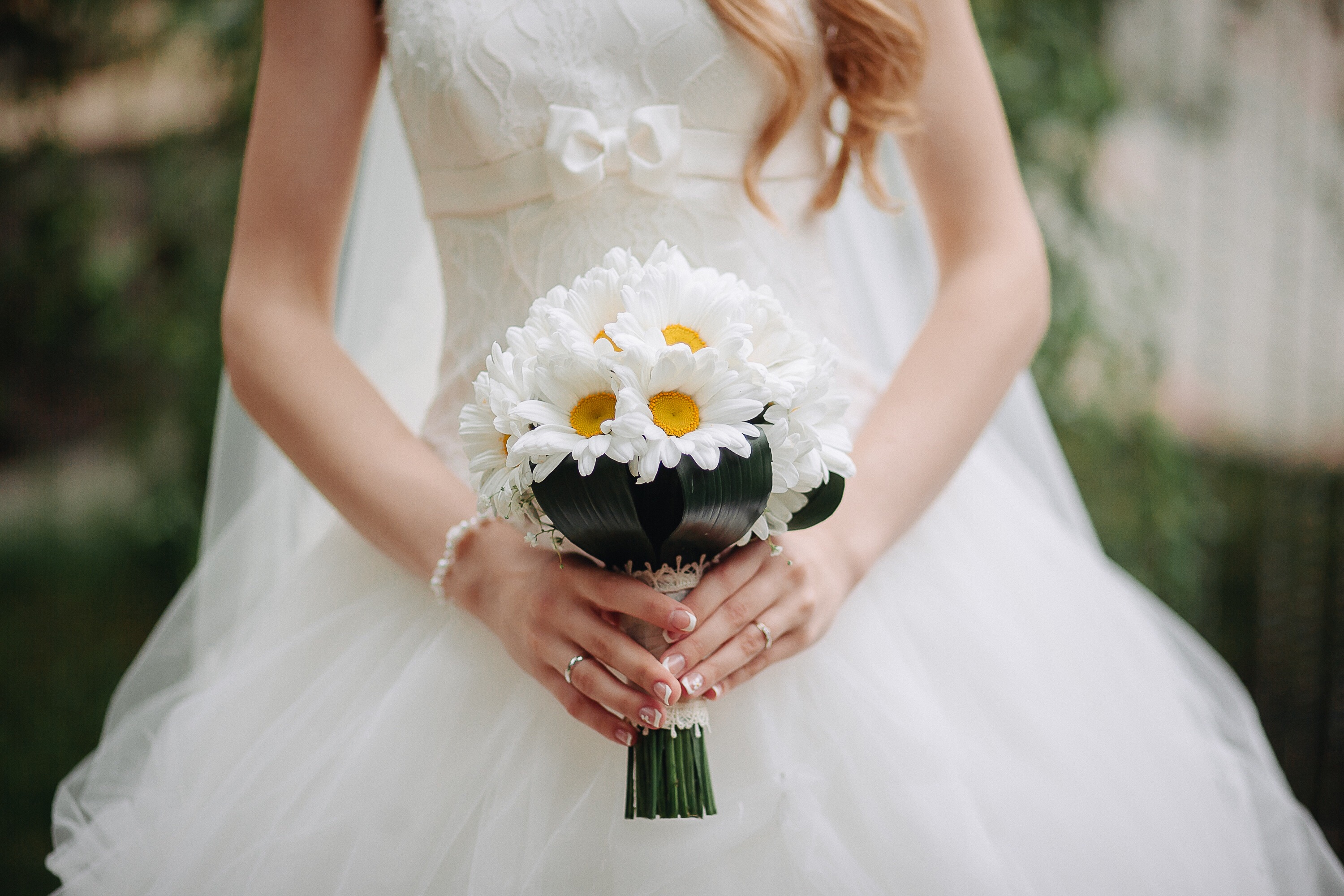 For brides and grooms-to-be, planning the big day is exciting, and it can be tempting to go all out. But before you whip out your checkbook, consider how you can plan a wedding that's just a bit healthier for your guests, the earth—and you, too.
With all of the extravagant opportunities available to help you and your sweetheart create a special day, it's no surprise that staying healthy, eco-friendly, and stress-free falls by the wayside during wedding planning. If you're looking for a few ways to start off your marriage in a healthier, more eco-friendly way, read on.
1. Find an Eco-Friendly Wedding Venue
Chances are, the first thing that comes to mind when you're planning your big day isn't how much garbage your guests will produce or the carbon footprint of the event—but according to an article by Botanical Paperworks, these are things you should consider. Apparently, a single wedding can produce up to 66 tons of CO2, "the equivalent emissions 4-5 people would [produce] in an entire year."
How on earth could a single party be this extreme, you wonder? Well, mostly it has to do with travel. Carbonfund.org explains that "Travel, whether by air or car, generates large amounts of CO2 emissions into the atmosphere, and for most weddings is the biggest contributor to its carbon footprint." If you're worried about the carbon footprint of your wedding, you may want to check out their handy "emissions calculator" to find out what impact your big day will have.
Generally speaking, your best bet for reducing emissions is to choose an outdoor venue—or an indoor venue that uses efficiency lighting, recycling, or even composting—and try to keep the locale close to the majority of your guests. Not only will it minimize emissions, but your friends and family will be relieved to keep their travel costs low.
2. Go Green on Gifts and Party Favors
When incorporating favors into your wedding, it can be tempting to throw a few personalized M&M's or other goodies into a mini mason jar and leave one at every place setting. However, guests with food allergies, health concerns, or commitments to keep their sugar intake in check will likely leave their favors behind, and they may be thrown out at the end of the night. Instead of gifting treats, you may want to consider passing out tiny potted plants, a fun and earth-friendly alternative.
If you have a green thumb, and love to D.I.Y., you can purchase small succulents and pot them to match the decor of your wedding. Alternatively, if you're really ambitious, and have a decent garden, you can even collect and pot trimmings from your own plants. Of course, if you're not up to planting dozens of individual sprigs, you can always seek out the help of a florist. After all, maybe if you get enough of those buds planted, they'll help cancel out some of your CO2 emissions.
If you don't plan on having party favors at all, but do plan on having wedding programs, you might consider having them printed on plantable paper. TreeHugger shows a fun option for "tree-free" programs, embedded with seeds which can be soaked and planted to grow flowers.
3. Consider Alternatives to Catering
Serving healthy food might seem like a no-brainer when planning a health-conscious wedding, but depending on where you're located, it can be surprisingly difficult to find such catering options. If venues and catering companies aren't providing the menu options you and your guests need—whether organic, gluten-free, vegan, or simply healthy—don't be afraid to have a potluck.
In recent years, the commercialization of the wedding industry has condemned potlucks as "tacky" and "cheap," in favor of extravagant (and expensive) catered meals, but it can actually be a fantastic option if you're expecting guest with a variety of dietary restrictions. Of course, when it comes to traditions, potlucks really aren't that out of place—especially with gatherings of family and friends. In some cultures, attending a wedding with a dish of homemade food in tow is no stranger than bringing a wedding gift!
4. Ditch the Diamond
Although the tradition is less than 100 years old, wearing a diamond has become the ultimate staple of a modern wedding—and for many of us, it's a hard one to let go of. According to The American Gem Society, wedding rings of varying ornateness were common in ancient Greek and Roman societies and continued to be used throughout history and into the early 1900s. Diamonds, however, didn't become the standard until the 1940s, when DeBeers Jewelers launched a massive marketing campaign, using their now well-known catch phrase to convince young couples that only a diamond could represent eternal love: "A diamond lasts forever."
In recent years, unethical mining practices and their relationship to "blood diamonds," or diamonds mined in warzones, have caused many individuals to seek out more humanitarian engagement rings with paperwork proving that their diamonds are conflict-free. The Knot suggests asking jewelers to produce a "Kimberly Process certificate" and "System of Warranties statement" before purchasing a ring.
If trusting the paperwork isn't enough for you, it's okay to seek out a ring without the bling. Conflict-free engagement rings with alternatives to diamonds are growing in popularity—just check out Brilliant Earth for a glimpse at some ethically sourced and environmentally friendly options. Or, if you and your bride or groom-to-be are a truly unique pair, you can try out unusual options like wooden and resin flower wedding bands.
5. Elope
Ultimately, when it comes to planning a wedding, the stress of coordinating everything can be extremely stressful and damaging your health. Trying to get hitched without a hitch is a feat of planning which can make even the most stalwart brides and grooms balk. After all, you have to arrange seating charts that will minimize familial conflict, predict the weather six months in advance, and drop thousands of dollars on venues, cakes, and flowers. If just thinking about your big day causes a panic attack, maybe it's time to consider ditching the big event altogether.
According to an article posted by ABC News, elopement is rapidly becoming a welcome relief to couples who are too stressed out by traditional wedding plans. In addition to advantages like saving money and time, eloping caters to couples with unique family situations, and can ease the anxiety of individuals who aren't interested in taking on the spotlight for a whole day.
In the end, no matter what you decide to do for your big day, it's important to make sure that you and your loved ones are happy and healthy. Embrace your mix-ups and mishaps as memories, and remember that it's not all about the food, the venue, or the dress—it's about celebrating each other.