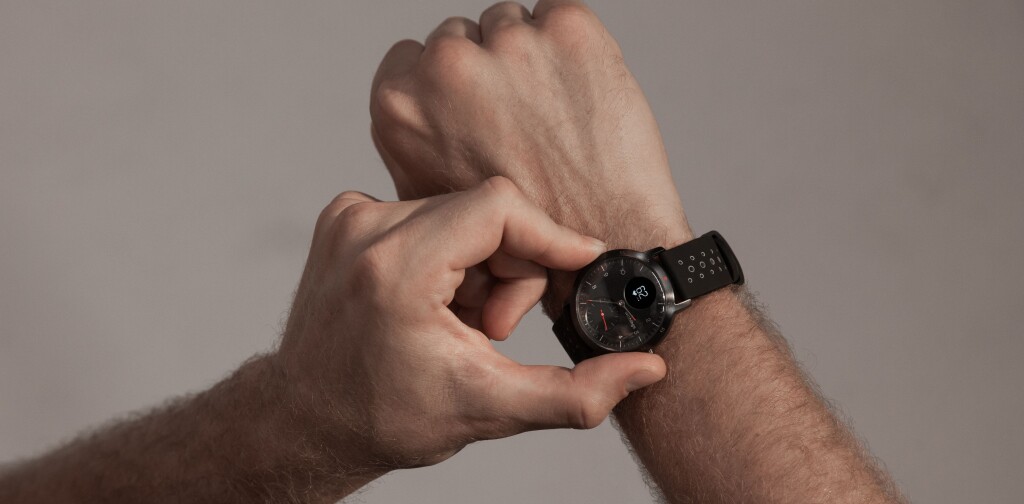 The newest hybrid smartwatch from Withings delivers serious sports and superior style.
Announcing the new Steel HR Sport Hybrid Smartwatch
With the groundbreaking launch of Activité back in 2014, the first analog watch with activity tracking features, Withings paved the way for all hybrid smartwatches to come. Our brand new hybrid smartwatch, is called Steel HR Sport, and it continues this tradition with a premium design blended with smart health and sport features for analytics. Its elegant design features 316L stainless steel and a 40mm case that is water resistant up to 50M (5ATM).
Available now, in both white and black faces, Steel HR Sport has the classic Withings analog face that shows the time, as well as a sub-dial that shows the percentage of daily activity goals achieved. You can set and manage goals within the free Health Mate app, available for iOS or Android. The device's discrete OLED display shows important health and sports data such as daily steps, calories, distance and heart rate and can be navigated with a push of a button. The display also shows smartphone notifications, which appear automatically along with a discreet vibration.
Workout ready: Multisport, Connected GPS & Fitness Level
Steel HR Sport offers dedicated multisport tracking for over 30 different activities, from yoga, volleyball, and rowing, to boxing, skiing, and ice hockey. Simply select the chosen activity on the watch display to start a workout session. During workout sessions, Steel HR Sport continuously tracks and displays heart rate and the duration of the workout directly on the watch screen. After the session, you'll understand the intensity of your workout with heart rate zones and calories spent based on the specific activity selected.
Steel HR Sport is the first product within the Steel HR range to feature GPS connectivity. Once paired with a smartphone, you can track your pace, distance, elevation and map workouts while walking, running or cycling. Pace, distance, and continuous heart rate are displayed on the watch face screen and can be tracked live on the connected smartphone. After a session, the workout route can also be viewed in the Health Mate app. The device is also the first Withings product to offer Fitness Level assessments. The fitness indicator, called VO2 max, measures the heart's and muscles' ability to convert oxygen into energy during physical exercise. The fitter the individual, the higher the VO2 max. Following running sessions, Steel HR Sport calculates your personal Fitness Level using pace, heart rate and morphological data, including age and weight. This fitness metric can help you optimize training, increase performance and achieve long-term fitness objectives.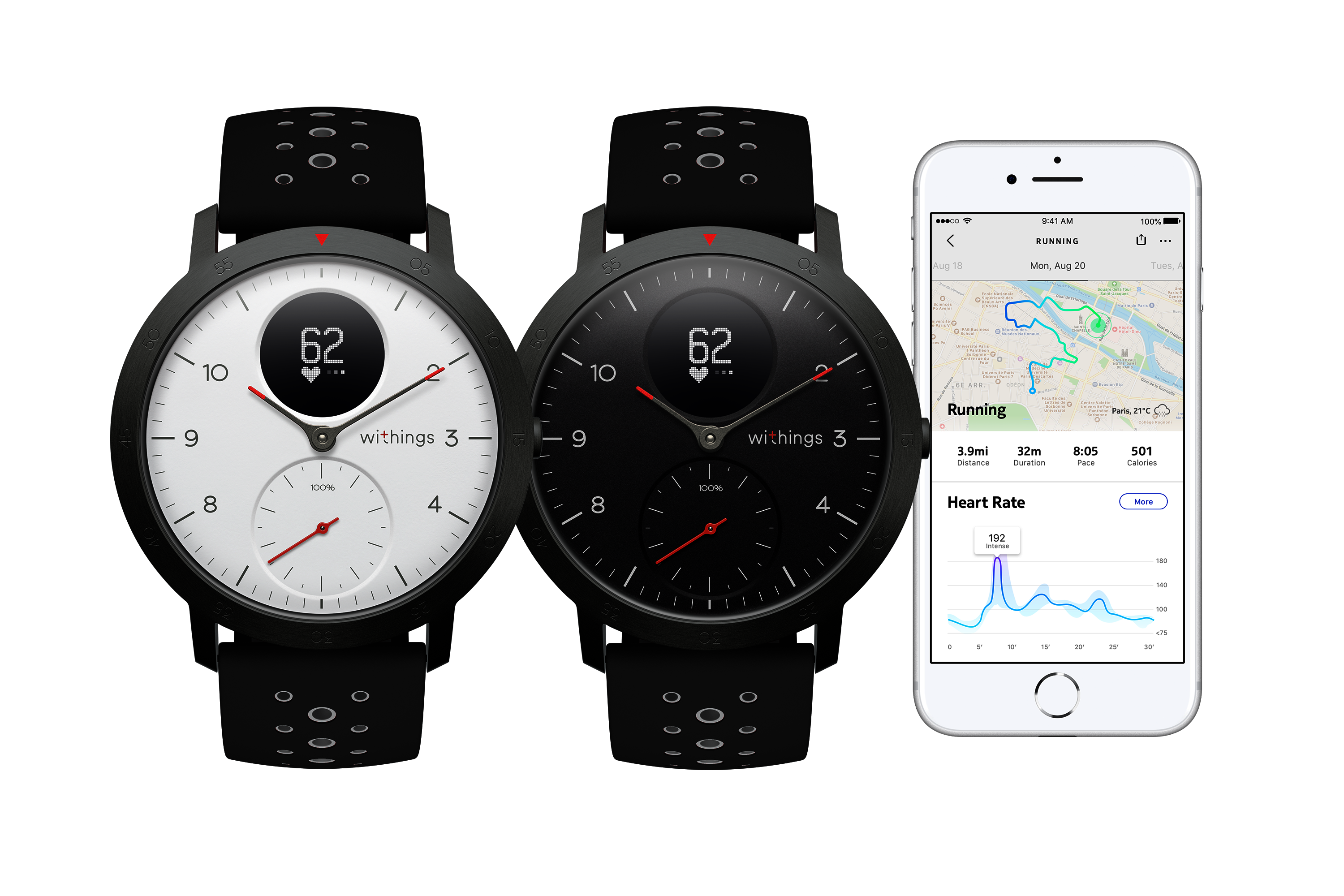 Tracking day and night
With an industry-leading battery life of 25 days that can be extended for a further 20 days in power-reserve mode, Steel HR Sport is able to track fitness, activity, and sleep patterns around the clock. The device's tracking ability is not limited to waking hours. Steel HR Sport is a sophisticated sleep tracker, detecting length and quality of sleep and providing an overall Sleep Score in the Health Mate app that is based on sleep duration, depth, regularity, and interruptions. Steel HR Sport has capabilities such as Smart Wake-up that will wake you with a silent vibrating alarm at the most optimal time in your sleep cycle. The app even offers a Sleep Smarter Program, consisting of eight weeks of recommendations to improve sleep patterns.
During waking hours, Steel HR Sport helps you keep on top of your daily communications. Both Steel HR Sport as well as the existing Steel HR now benefit from enhanced notification capabilities, allowing app notifications to be displayed on the digital screen. Previously limited to calls, text messages, and events, the Steel HR line is now compatible with notifications from all apps—just customize to get the ones that are important to you. Whether it's flight alerts, breaking news, or messages from friends and family on social channels, notifications will appear on the watch with a content preview.
Steel HR Sport is the tracker worth waiting for, but even better—it's available now.
Watch the video to see it in action:

Susie Felber
Susie is a writer, comedian, and producer who has worked in TV, film, theater, radio, video games, and online. As the daughter of a hard-working M.D., she's had a lifelong interest in health and is currently on a personal mission to "walk the walk" and get her writer's body in better shape.
View all articles