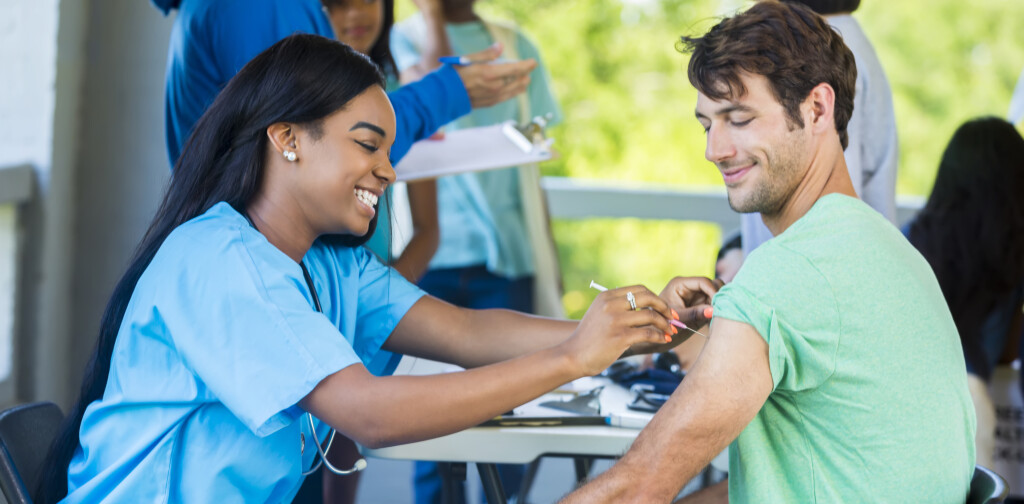 Strange but true—you could get paid just for having the flu. Here's what you need to know.
NIH researchers at Duke are offering up to $3,300 to healthy adults who participate in a study where they're intentionally infected with the H1N1 virus. Why? They're studying the flu's symptoms—and progression. And if you can't make it to Duke, don't worry—there's more than one trial site for the study. Researchers at Cincinnati Children's Hospital will pay participants up to $2,550 for a 10-day stay in the hospital, and in St. Louis, researchers are offering up to $3,310. The University of Maryland in Baltimore is a test site too.
Pros: Unlike the picture here, with someone getting vaccinated, no syringe is required—the virus is administered via nasal spray, not a shot. Cons: You have to stay in the hospital the entire time for observation, until you're no longer contagious. So, at least there's lots of time enjoy that delicious hospital food?
Want to enroll? Here are the study details. We look forward to seeing the results, which are scheduled to be released in May 2020. Yay science!

Tracy Majka
Tracy is a writer, editor, and longtime vegetarian who likes pie, biking, and hockey.
View all articles