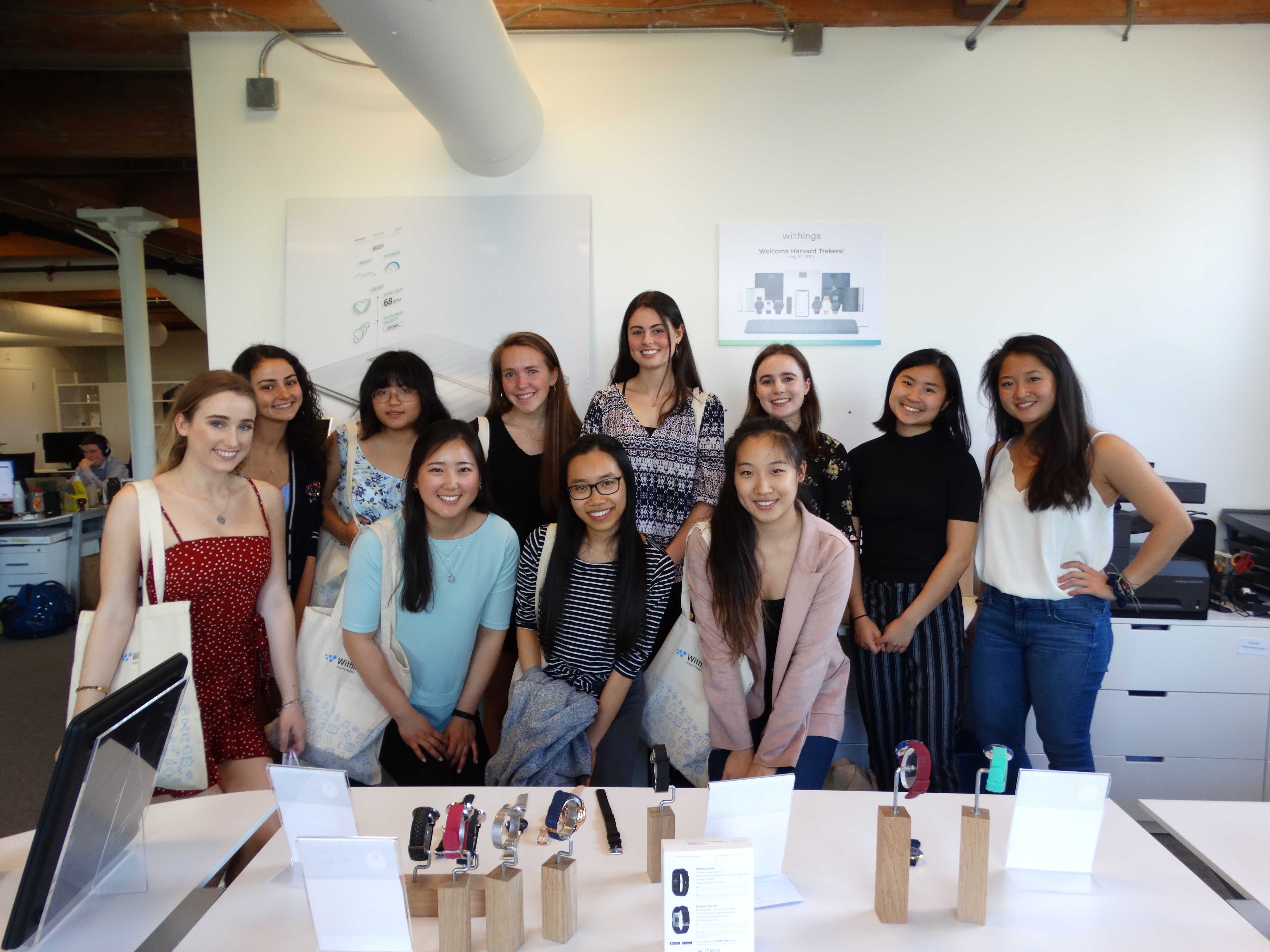 Withings teamed up with the Harvard Undergraduate Women in Business club (HUWIB) to organize a "Boston Trek" to our Cambridge office. Read on to find out what that entails and get an inside look into the event now.
On Wednesday, May 8, a group of 15 Harvard Undergraduate Women in Business (HUWIB) students joined us in our Cambridge, MA, office as part of their "Boston Trek," an initiative started so students can visit local companies to pair their education with real-world experience. Founded in 2000, HUWIB unites a community of more than 600 female business students and empowers them to become the business leaders of tomorrow. As president of my college's Women in Business club, I knew HUWIB well because we attended their intercollegiate business convention every year. We were excited to partner with the club so that these enterprising students could learn more about Withings, meet our team, and see firsthand how we work to deliver on our connected health mission.
Following a warm welcome from Withings General Manager Mathieu Letombe, and a product presentation detailing the main features of our products, students heard about the benefits, challenges, and rewards of working in a start-up environment during the "Career Experiences" panel. Our panelists—Letombe, Head of Marketing Lucie Broto, Sales Director Antoine Robiliard, and Customer Service Operations Lead Daniel Tibbetts—also shared their advice for people just starting out in their professional careers.
"Go further than your position. Go further than what is expected of you. That way you learn what other people are doing and what the other challenges are, and you'll be better at what you do." –Mathieu Letombe, Withings General Manager
The second half of the Trek focused on the students testing out our products and then engaging in a Withings Health Quiz. Crafted specifically for the event, the questions were a mixture of general knowledge and Withings data study questions concerning a variety of health topics, including hypertension, sleep, activity, and heart rate. After a close game, each member of the winning team was awarded a Withings Move. Congrats again to the winners, and to all our new Harvard friends, if we can impart any last words of wisdom—always #MakeYourMove!
Want to see some example questions from our quiz? Just see below.
5 Withings Health Quiz Questions
1. According to the Withings data study conducted in four countries—the US, Germany, France, and Great Britain—users spent on average 35 minutes awake during the night when they ARE NOT running a fever. How many minutes do users spend awake during sleeping hours when they ARE running a fever?
Answer: 65 minutes
2. Snoring and breathing disturbances can impact the quality of sleep and may be a sign of sleep apnea. Name one other chronic illness that snoring can be associated with.
Possible answers: high blood pressure, obesity, and depression
3. Friends will boost your performance. According to our research, having one or more of your friends in your Withings app makes people walk how much more?
Answer: 25%
4. This grain-like food is grown principally in the Andes Mountains and is branded as the ultimate fitness food. It is higher in protein than any other grain, packs a hefty dose of heart-healthy unsaturated fats, and is a great source of fiber and B vitamins. What is this wonder food?
Answer: Quinoa
According to WebMD, if you are overweight, losing what % of your overall weight will help your diabetes?
Answer: At least 5% to 10% of your body weight. For example, if you weigh 180 pounds, losing 9 to 18 pounds can lower your blood sugar.