Every week we will fill this blog with everything you need to know about Withings, along with key news items on health, well-being, sport and many more topics… Welcome to the new world of Withings!
On top of the revised, elegant and easy-to-navigate design, you will find new features. For instance, the "Features" carousel lets you access unmissable articles in a single click.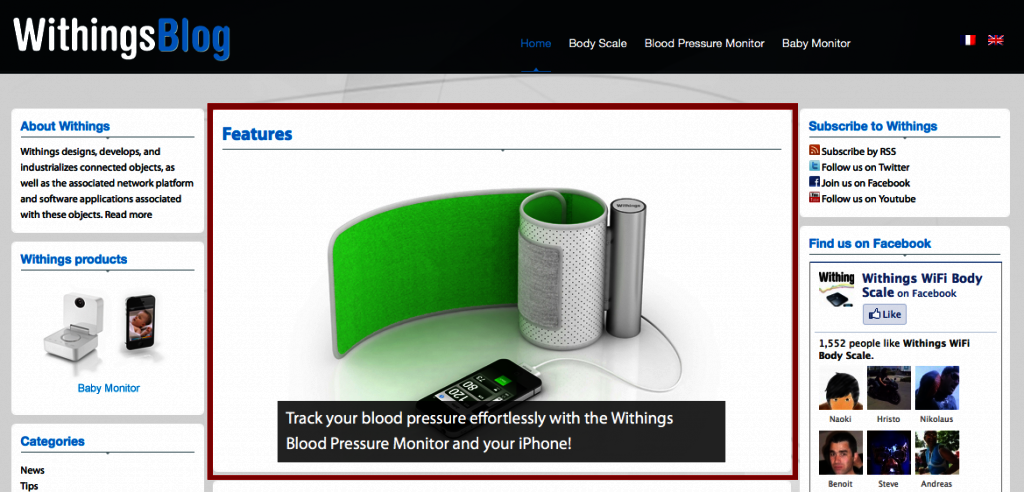 Withings offers three revamped everyday products: the wifi Body Scale, the connected Blood Pressure Monitor and the soon-to-be-released Baby Monitor. You can use this blog to get direct access to articles about your favourite product, or browse articles on various subjects including sport, health and well-being.

So as you will have guessed by now, we want to use this blog to share with you "News" about Withings… but that's not all! The "Tips" section offers advice and video tutorials to make it easier for you to use your Withings products on a day-to-day basis.

The articles in the section "Withings and you" will introduce you to other Withings users and let you follow the adventures of professional sports people, or just people like you and I. So that we can give you even better advice, we've created the section "Experts' corner" which offers insights from renowned experts, including dieticians, nutritionists and sport coaches. We will also introduce you to "Our partners", who constantly help us to bring you innovative solutions for using your Withings products.

Finally, don't forget to follow the latest Withings news live on Twitter and feel free to tell us how much you love Withings on Facebook!

As you can see, this blog gives us the great opportunity to discuss and exchange ideas with you. So, we'd love for you to give us your opinion in the comments section and share with us your experiences so that we can create a new blog designed around you!