Keeping in touch with your professional and personal network, listening to music, posting photos of your own life, geotagging, etc.

Smartphones are now part of our everyday life.  As the above-mentioned examples show, smartphone applications have become part of a lot of people's lives, and in the future they will also change people's relationship to healthcare.
The expansion of "m-health"

























As the table shows, the number of health applications has grown significantly in 2010. Moreover this tendency continues in 2011 and today approximately 17,000 mobile health applications are listed, and 26% of them are free.

The widespread use of smartphones (it is estimated that the number of global smartphone users will exceed 1 billion by 2013), as well as the development of application stores such as AppStore, has removed the main impediments to development of this market: 44 percent of smartphone users expect to use more mobile health apps in the future.

How to use them and why they're useful
The health applications' primary purpose is "prevention is better than cure", as the saying goes. They are divided into two groups: those for individuals interested in mobile solutions to manage their health, and those intended for health professionals with the purpose of continuously training them, helping them monitoring remote patients, and managing health records.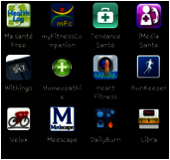 The categories of health applications offer a wide range of possibilities around different themes:
– Weight Loss: Calculating calories, knowing nutrition guidelines, measuring your body mass index, etc.
E.g. Target weight for adults provides an overview of you BMI, weight, height, target weight and also the date you expect to reach your target goals in order for you to track the evolution of the mass weight. Calorie counter enables people, as its name suggests, to know the nutritional information of foods. Withings of course also allows detailed tracking of changes in weight.

– Sport: Monitoring your physical performance.
E.g. with RunKeeper you can track and analyze your performance, record your route with GPS, define your goals, and get run statistics. Cyclemeter GPS is a counter for racing bikes and mountain bikes, which calculates speed and calories.

– Monitoring: Estimating your general health and examining vital signs.
E.g. WebMD helps you "diagnose" diseases, contains an extensive database of medication, and provides information about first aid. Vital Touch tracks medical data (weight, blood pressure, heart rate, etc.) and shows an evolution curve of potential irregularities.

– Service:  Track your medical information, share your patient records with therapists, learn about medications, etc.
E.g. With MedScape you can search for the generic equivalents of your medication. Healix Travel Vaccination tells you which vaccinations you need for your trip or holiday.

What is the future of mobile health apps?
The fact that you can use these applications on the go and their refined ergonomics (as opposed to traditional health software available for computers) undoubtedly contributes to their success. They are already popular in the United States, and the use of such applications is growing strongly in France. By 2015, nearly 500 million users around the world will be using health applications. At this point, the health applications will probably have evolved to be perceived as "life facilitators" for patients as well as for health organizations, enabling people to:

– Reduce the number of doctors making home visits
– Reduce hospital stays length
– Improve patient prescription tracking

One can also imagine that in a few years, key actors in health will participate in the distribution of these applications by prescribing and/or distributing them.

What about you, are you using health applications already? If so, which ones? What do you expect from them?