Last week we posted an article on the blog about online medical ethics and the Health On the Net (HON) certificate, which is a set of principles for trustworthy online health information. HON has conducted a survey of how people search online for health information in collaboration with KHRESMOI, a EU-funded project to improve public access to bio-medical information. The purpose of the survey is to better understand the habits and needs of Internet users when it comes to the search of online health information. The key survey results show that the growth of the Internet and smartphones has had a major impact on how the general public search for health information.

Methodology
The survey was conducted between March and April 2011, and almost 400 responses have been collected across 42 countries with a majority of French (23%) and Spanish (14%) participants.

The findings of the survey showed that the Internet today, because of its accessibility and easy usage, is the patients' second most important source of information (71%) after physicians (82%), and well ahead of books, magazines, TV, etc.




What do people search for?
There is a big variety in what kind of health information people search for, but it largely covers general health, chronic diseases, and lifestyle. As shown in the table below, the main topics that people always or often search for are: Treatment/therapy (62%), disease description (58%), and drugs information (51%).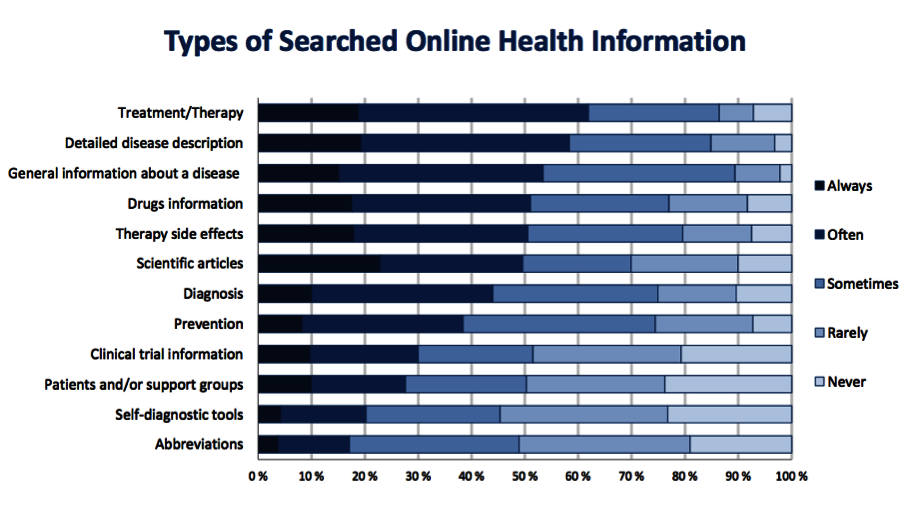 Where do they search?
The majority of e-patients (82 % of the participants) most frequently use a search engine to find the answers to their health queries. Other sources of information include health websites, Wikipedia, specialised search tools, such as Medline Plus, and the social networks.




The respondents stated that the most important characteristics they expect from a search engine are the relevance and the trustworthiness of the results. This last criteria appears to be the main issue with online search:  for 40% of the respondents, the results they get do not meet their requirements for trustworthiness.

What would respondents improve?
The respondents prefer the results to be categorised into different groups and they highly appreciate helpful tools such as advanced search, medical dictionary/thesaurus, suggested relevant topics, image search, and risk factor tools. Some respondents also say that they would like free access to the medical literature. Most users say they tolerate ads in order to have a free search engine, if they are ensured that the ads have undergone a rigorous quality control.

According to Pew Research Center, online health surfing can be very beneficial for novice users to make them feel reassured, confident, and relieved. However, the quality of online health information is often questionable, incomplete and in some cases misleading.

HON and KHRESMOI have concluded from the findings that they cannot prevent users from finding irrelevant and misleading information on the Internet, but that they should try to highlight quality information, proven by research and current medical practice.

How do you search health information? What are your most trusted online sources of health information? And what do you think of the health information you find on the Internet?

 

 

© rauf_ashrafov – Fotolia.com