Highlights from the live-demo of the Smart Baby Monitor

As we announced earlier, Withings CEO Cédric Hutchings made a live demonstration of the Smart Baby Monitor at the Health 2.0 Berlin conference on October 28th. The demonstration went smoothly, in this case using a Bluetooth link between the device and Cédric's iPad.


Cédric demonstrated in particular the alert and notification system of the Smart Baby Monitor, showing how easy it is to set up alerts for noise or movement, receive a notification on your iPad, iPhone or iPod Touch and immediately dive into the room from anywhere by launching "WithBaby", the Smart Baby Monitor companion app.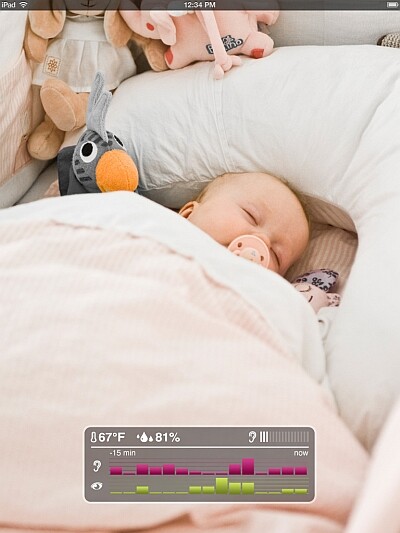 Coincidentally, a baby was present among the spectators of the show, and became the first toddler officially watched by a Smart Baby Monitor when Cédric zoomed in on him. Finally, Cédric demonstrated how the Smart Baby Monitor allows parents not just to watch their baby but also to interact by talking to them, turning on the nightlight remotely or playing lullabies.

He also unveiled another feature of the Smart Baby Monitor: the possibility to visualize in the app a history of the levels of noise and movement in the room.  At launch, you will be able to see at any time the levels of noise and movement in the room over the past 15 minutes. An update planned for soon after release will allow you to record and display the same data over days. In effect, this will allow parents to learn the baby's sleep cycles by recording day after day the moments when the baby is awake and when he is asleep.

We know that there are a lot of expectations around the Smart Baby Monitor, and some legitimate frustration with the uncertainty around its launch date. Be assured that everyone at Withings is working hard toward releasing as soon as possible a product that will bring you complete satisfaction.