Twine: A little box that can make your things tweet, text, or write you an email
In the near future you will for instance be able to ask your washing machine to send you an email when the laundry is done thanks to this tiny Wi-Fi connected box called Twine. Here is how it works: The user creates a rule on a website such as "WHEN moisture sensor gets wet THEN tweet, 'The basement is flooding!" Options are endless, as the box sensors temperature, humidity, vibration, motion, and magnetic switches. Amazing!


Meet Autom, the robotic weight loss coach that lives on your kitchen counter
The robot Autom is an intelligent diet robot that asks you what you are eating and how much you are exercising. It then shows you how much progress you are making and encourages you to make the right choices. It talks to you everyday, gives you reminders, and helps you understand your habits. In short, a personal trainer that helps you track your food intake!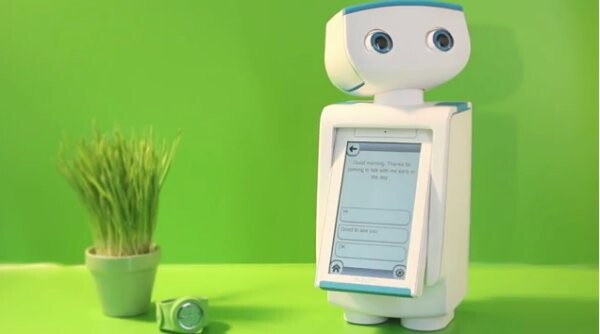 SkyLight adapter connects smartphones to any microscope
This smartphone accessory attaches any smartphone to any microscope. Once calibrated, the camera can capture photos as well as video, which can then be uploaded to the web. The device aims to be a low-cost bridge between old and new technology, giving the microscope a digital upgrade using the phone's camera.

Senseye: Eye control for mobile devices
The Senseye software allows users to interact with their mobile device using their eye movements via a simple webcam and a set of infrared LEDs. The front-facing camera records the eyes and calculates the point of the screen where the user is looking.  The device thus senses when the user is looking at it, and this can be used e.g. for gaming where the user aims with his eyes or for automatic scrolling while reading.




Imagining the future of computing
The New York Times invited their readers to make predictions for the future of computing and collaboratively create an interactive, crowd-sourced timeline.
This resulted in many interesting predictions from both experts and readers. The most popular reader-submitted prediction was that by 2020, Google will provide everyone with the ability to communicate with everyone else, regardless of the specific language they speak, via their smartphone, with real-time language translation. Another prediction was that by 2019 our entire medical history from birth till death will be collectively combined in one universal system and available to all our different doctors. Readers also made predictions about the far future, such as how by 2267 we will have an A.I government and that by 2484 we will be able to speak telepathically. Live forever? That could happen as soon as 2100.