Self-tracking is a much-discussed topic here on the blog, but we usually discuss self-tracking from a health perspective. However, there are several data that you can track besides health related matters in order to gain knowledge about your behaviors, habits, and thoughts, and to understand how you manage time and information. Today we'll take a closer look at this side of self-tracking.
Tracking finances
Mint is a personal finance app that allows you to manage all of online bank accounts simultaneously from wherever you are. You can track how much you're spending, monitor your budget, and achieve financial goals. The app even reviews your financial picture to help you set your budget and also gives you both bill reminders and personalized recommendations.
Tracking energy
Several apps have been developed to help you track your electricity and energy consumption in real time. E.g. with the WattVision sensor you can track the whole-house energy on you smartphone or on the web, updated every 10 seconds. This is a great way to reduce energy consumption, as you can see the live impact of the changes you're making. You also receive alerts when your usage spikes so you don't get any bad surprise energy bills. A good alternative is Stepgreen, a community site, which allows you to track the financial and environmental savings of simple green actions by sharing concrete suggestions for actions and then showing you a graph of the cumulative saving resulting from the actions you have taken.



Tracking gas mileage
With Gas Cubby you can track you gas mileage and vehicle maintenance. The app gives you reminders to change oil and helps you monitor your fuel economy – even for multiple vehicles. With Fuelly you can, besides tracking your gas mileage, share it on Facebook and Twitter and compare it with other users.
Recycling
Track all the aluminum cans you recycle and find drop-off locations with Aluminate. The app also tells you how much money you can make by taking them to your local recycling center. You can form teams, set a goal for how many aluminum cans you would like to recycle and then log your activity on a daily basis.  You can also enter recycling competitions and share your progress on Facebook.

Tracking mood
With Mappiness, Gottafeeling, and Moodpanda you can track your mood and get mood-maps to see where in the world you feel most happy, and how other people's happiness is affected by their local environment. Mappiness asks you how you are feeling at random moments while the other two apps allow you to update your mood whenever you want and see a graph of your mood to get the bigger picture on your happiness.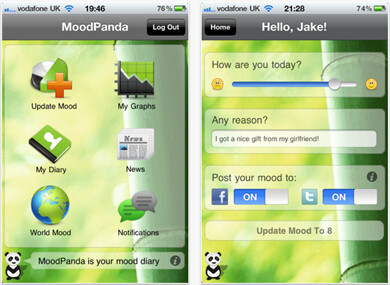 Using all of these different tracking apps and tools can of course take a lot of time. So why not track how you spend your time? This is possible with RescueTime, a web-based time management and analytics tool that sits in the background and measures which application, web site or document is actively being used.
We know that many of our readers track their weight, blood pressure, and/or other health related data. But do you also collect data that doesn't have to do with your health?