Being a new parent means constantly having to monitor your children's health and keep detailed records of their growth. Thankfully, mobile technology can not only help you access interesting content and become more informed but also make your life a little easier on a day-to-day basis! This week, we will show you some of the most robust and user-friendly tools to keep track of your child's needs and health.

Baby-tracking apps
More and more apps are specifically designed to help you track your baby's development over time. Total Baby for iOS is designed to help you log everything that comes along with a newborn child: diapers, nursing, sleeping, bath but also growing, doctor visits, vaccines or allergies. Interesting fact about this app is that it allows you to group your child's activity by time so that you can easily see the most recent entries and know for example what was the last time your baby was fed or changed. You can download it here.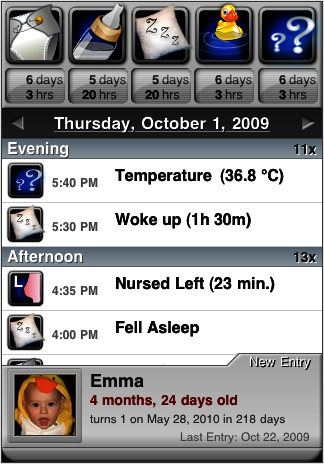 If you are searching for an iPad app, a very handy application for new parents is My Kid's Health. It is a digital journal where you can keep track of your baby's health and schedule as well as document the results of vaccinations and doctors' visits. What is really important about the vaccination feature is that it allows you to select your country of residence and then provides you with a list of the required shots by the World Health Organisation, depending on your child's age and other information. Also, you have the possibility to create growth charts to compare your child's measures with the average ages of other children and even share your child's growth via Facebook or Twitter.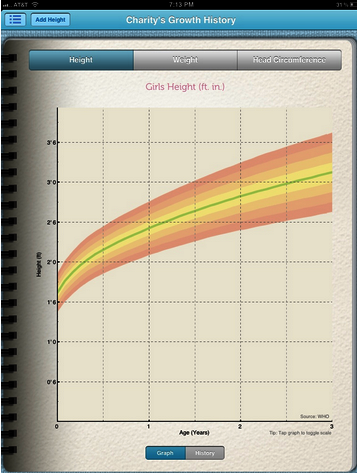 Illness Trackers
When one member of the family gets sick it is usually a matter of time until the whole family follows. As this is something that could be alarming for children of young age, there is an app that can help you record, monitor and recall your family's health throughout the year. iHealthtrax for iOS keeps separate calendars for each family member and records all their basic information (name, photo, physician, physician's phone number, notes). It allows you to record your symptoms as often as every day, so that you can check who has been sick and for how long.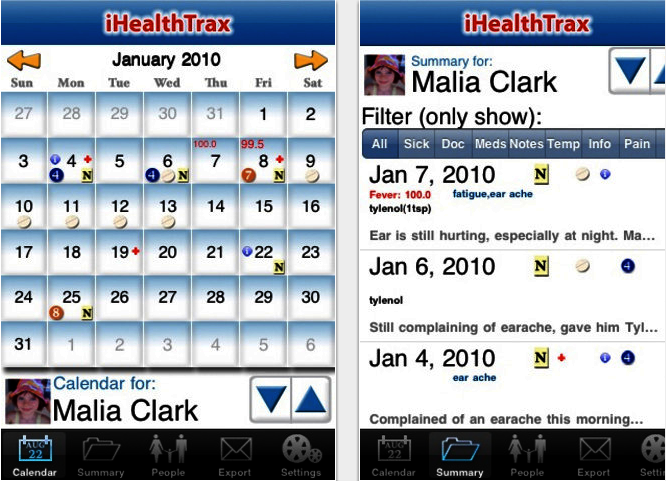 With iHealthTrax you can keep separate health calendars for each family member
One last app that has proved to be useful to new parents is Childhood Diseases for iOS. This medical app gives you detailed descriptions and illustrations of more than fifty of the most common diseases in childhood. It answers questions like what does chickenpox look like, or when can a child return to school after an infection? Obviously this app cannot replace your paediatrician but it will help you make more sense of your children's needs and enable you to become a more informed parent.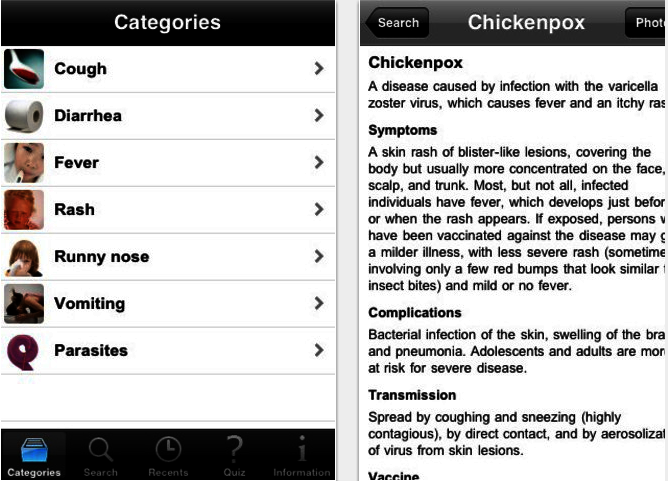 Childhood Diseases gives you detailed descriptions of the most common diseases in childhood
Do you use mobile apps to keep track of your children's health? Leave us a comment and tell us which app you would recommend to other tech-loving parents!