Many of you already use apps to keep track of your physical activity, your weight or your calorie intake. Have you ever considered self-tracking your hobbies? Many services and apps can help you track down your favorite music tracks, books, series or movies so that you can keep a detailed record of your experiences! In this article, we examine some of the most interesting tools to do that.
TV series
If you are a TV enthusiast who is trying to keep up with multiple series, you should try a series tracking up such as TVGuru or TV Show tracker. With these apps you can organize your favorite shows into folders and then mark the episodes you've already seen to remember exactly what you have to watch next. TV Show tracker also allows you to get a synopsis, a screen capture and a video preview for each episode and to rate and share on Twitter what you have watched.




 

Books
Do you consider yourself to be a book lover? Do you sometimes forget which books you have read? With book tracking applications such as Book Crawler or BookLover you can create lists of the books you're reading, loved to read, or want to read and even add notes to each book entry. You can even scan the book's barcode to save time entering its data and share your book recommendations on Twitter and Facebook or by email. Booklover can also recommend other books you might like to try, based on the authors you have been reading, whereas Book Crawler allows you to use Dropbox to backup, restore and import CSV and SQLite files, in order for you to be able to view your database in a browser on your desktop computer!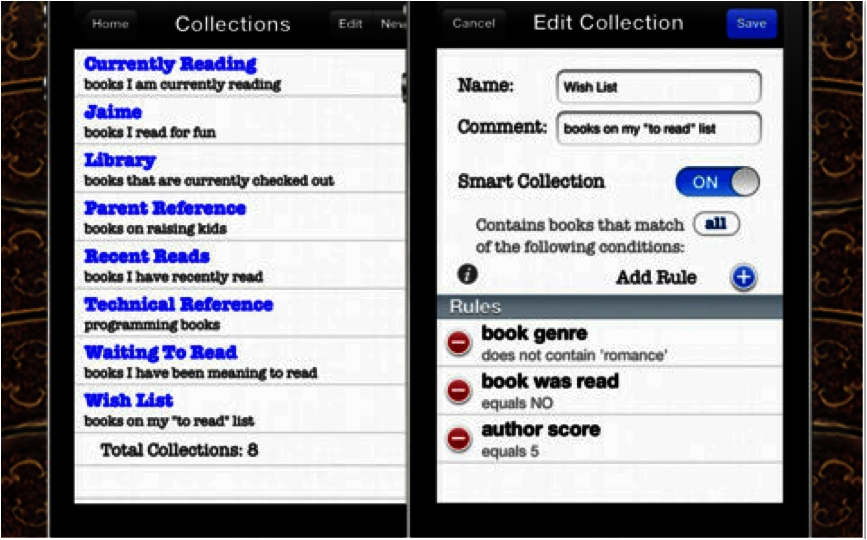 Movies
If you would rather spend most of your free time watching movies, then maybe you should try iCheckMovies! By creating a profile on this online service you can keep track of all the movies and series you have seen, rearrange them in your own movie lists, get personal recommendations and create groups to share your passion with other movie lovers. You can also add your personal notes to the movies you like and win various awards!





Music
You may already know Last.fm as a music service that lets you discover new music you like, but did you know you can also use it for tracking? By creating a profile, all the tracks you listen to on your computer will get added to your lists and you will also get personalized music charts and statistics.

Have you tried keeping track of your favorite books, music or movies? Do you use mobile apps to do it? Let us know in the comment section!