You might already use fitness apps that offer badges, points or titles whenever you achieve your goals… But what would you think of apps that reward you with cash or real world prizes? App developers are always on the hunt for new and fun ways to motivate us, so let's have a look at some of the most innovative rewarding apps they came up with!

Get paid to go to the gym with GymPact
GymPact is an iPhone app that uses the most basic motivation to get you to work out: cash! The only thing you have to do is log how many times you will visit the gym in a week and how much you should pay if you don't achieve your objective. The app then uses the phone's GPS to verify that you checked into a registered fitness club. If at the end of the week you have not logged enough hours, your credit card gets charged with the sum that you've chosen in the first step. Every Sunday, all the money collected from the people who skipped their workouts is divided among those who achieved their goals.



Win prizes with Nexercise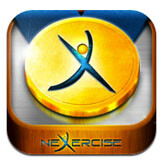 If you would rather win prizes than cash, you can try using Nexercise. This free iPhone (and soon Android) app aims to motivate its users with real world products including gift cards and coupons. Each user is asked to track his/her fitness activities, such as running, swimming, weightlifting, yoga or polo and earn points for accomplishing tasks. Simply select your activity and keep the device in your pocket to let the app track your movement using the iPhone's built-in sensors. Users win prizes via a lottery system and the more points they have, the greater their chances to win and earn valuable items


 

Get rewarded for running with Earndit
Earndit is a web app that gives you the chance to win not only gift cards and vouchers, but also sessions with personal trainers. What's different with Earndit is that you can connect it to a variety of other devices and services including RunKeeper and BodyMedia and then earn points based on the type of activity that you have chosen. As you earn more points and you reach milestones, you become eligible for prizes or charitable giving.

So what do you think? Are self-tracking apps that offer real world rewards more effective than other sorts?