In some of our mash-ups, we talked about implantable technologies that are being used for health monitoring. The progress in the sector is extraordinary, so we decided to dedicate an entire article to implantable sensors and their importance in the evolution of healthcare. Let's take a look at four notable examples and be sure to leave us your views in the comments!

Stretchable electronics used for medical applications
MC10 is a start-up based in Massachusetts that develops flexible, small-sized sensors that can be placed on or even under the skin to measure and monitor vital signs. This technology could be applied in several cases: vital signs monitoring, hypoglycemia detection, congestive heart failure detection, organ or tissue monitoring, etc.

You can see a more detailed description of the sensors and their potential use in this video:




Implantable sensor monitors bone-healing process
A team of researchers at New York's Rensselaer Polytechnic Institute developed this tiny sensor that measures four millimeters wide and is 500 microns thick. It is capable of transmitting real-time data (including load, strain, motion, pressure and temperature of the healing area) wirelessly. What is also important is that it does not need any attached power supply as the device that used to capture the data powers it remotely. The greatest benefit of this technology is that it could help patients avoid needless x-rays and allow doctors to monitor post-surgery complications in a less invasive way.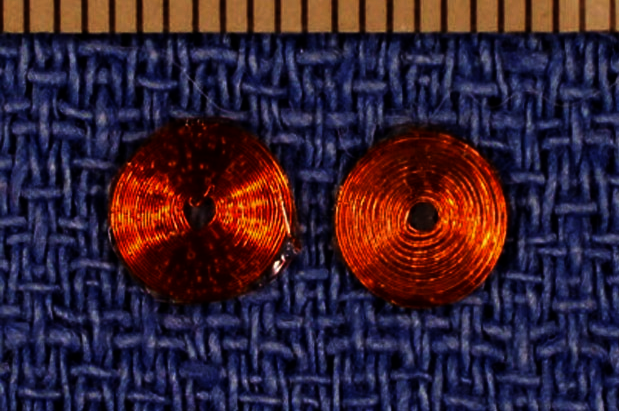 Implantable sensor that tracks cancer
Michael Cima, a researcher at the Massachusetts Institute of Technology, is currently working on a small capsule that could be very useful in the fight against cancer. This sensor has been developed to track the growth of a tumor and therefore allow doctors to monitor the evolution of their patients without realizing repeated invasive procedure. Right now, to read the device, doctors must use an MRI scan but Cima is also developing a new prototype that will be read by a magnetic wand.

Microchip delivers daily drug doses
Another interesting example of implant technology is the one created by MicroChips Inc. The company develops implantable devices that could replace painful treatment options that require everyday drug injections. According to a recent study, the sensors can be implanted in the patient's body and deliver the daily doses at least as effectively as regular injections. Each sensor is programmed wirelessly and can be used for at least a year. For the time being, it has only been used in osteoporosis patients but according to the developers it could also be applied to treat multiple sclerosis and some cases of chronic pain.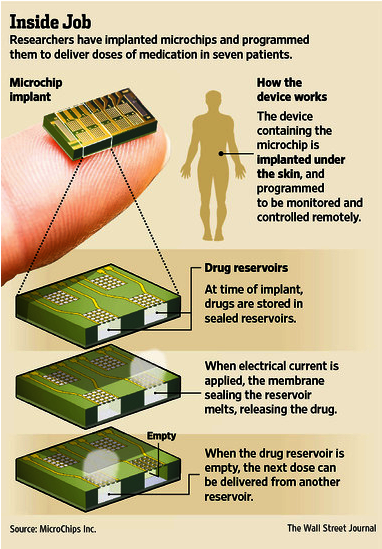 Credits: Christophoros Vassiliou and Michael Cima/MIT