In the US, the day after Thanksgiving is called "Black Friday". It marks the beginning of the Christmas shopping season. And what better way to launch festivities than to offer a special discount? Continue reading to discover our "Black Friday" offer! But wait, there's more! Accident of the calendar, coincidence or repetition of history – 3 days later, it's "Cyber Monday"! Since 2005, the Monday following Black Friday has become – first in the US and now internationally – a day imagined by marketers to get more people to buy online. Read below to learn about our "Cyber Monday" worldwide offer!


 

 

Black Friday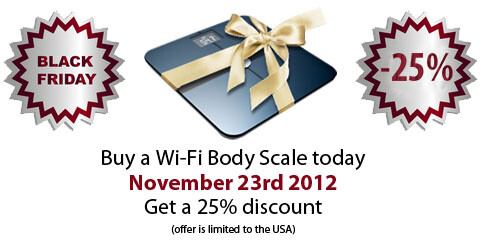 "Black Friday" is a celebration whose roots run deep into the american soil. Historically linked to Thanksgiving, it now inaugurates a month of urban gift guerilla where elbowing your way and last-copy-snatching are commonly used techniques.

Withings celebrates this american tradition with a 25% discount on all black Wi-Fi Body Scales sold today, Friday November 23rd 2012, on our website (offer is limited to US-residents).

 

 

Cyber Monday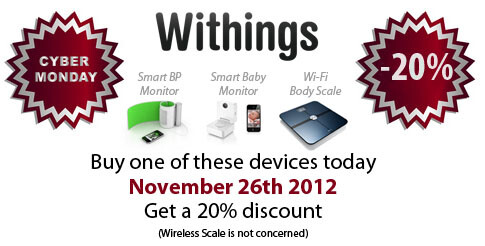 3 days later, it's Cyber Monday, which is another opportunity to get good deals, but this time it's online only. Originally it was a way to get more and more people to trust online shopping. Now that millions buy from websites everyday, it has become some sort of cyber tradition, carried on by brands and shops.

Withings celebrates "Cyber Monday" with a 20% discount on all our products (except for the Wireless Scale), Monday November 26th 2012, on our website (offer is valid for all countries).