Of all the apps designed to improve your "fitness experience", RunKeeper is often the most popular. By using the GPS function of your smartphone, the app gave birth to a new way to draw: running! All jokes aside, being able to see the path on which you ran, highlighted on a map, in the comfort of the palm of your hand… was a game-changer.


Geolocation

Using the GPS function of your smartphone and displaying your running course on top of Google Maps made running more pleasant (thanks to the dominance of vision over the other senses).

Featured here on the right is a map "drawn over" by Minh Lé, Withings very own Chief Marketing Officer, using RunKeeper.

 

Monitoring

Managing accountability was another big asset. By giving you the tools to track your workouts, RunKeeper actually spares your motivation and lets you fine tune your fitness routine.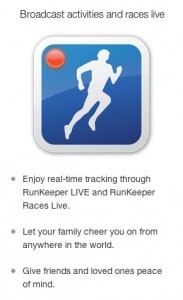 Sharing

The social dimension of this app is a key feature. To get cheers from friends and to be accountable online is a way of not only sparing your motivation, but also to fire it up!

In RunKeeper's "Elite Subscription" option you can even receive cheers from your family and friends while you are running!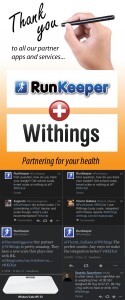 Partnering

Once you've linked your RunKeeper and Withings accounts, when you step on your Withings scale your weight and body fat are automatically sent to RunKeeper. The RunKeeper FitnessReports later show you the trends. But there's more to this! As the exact amount of calories you burn when you run depend on your weight, connecting your Withings scale also will also improve the accuracy of the calculation.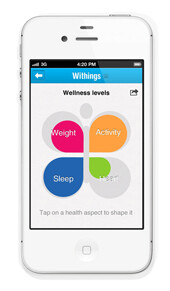 At the same time, your Withings Health Mate butterfly activity wing (the orange one) will benefit from this collaborative effort: it will grow as RunKeeper tracks your physical activity and sends the information to your Withings account.

Withings offers the same kind of social sharing options as RunKeeper (Facebook and Twitter). You can share yourHealth Mate butterfly: it gives a visual understanding of the general state of your health and of your level of attendance of your  health monitoring.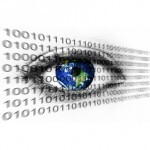 Perspective

Once your RunKeeper account is linked to your Withings dashboard, you can see how exercising impacts your weight and/or your body fat. We all know how it can be strange to exercice and not lose weight (or even gain weight!). You can now know what's going on.

Same goes for heart rate. If you check your blood pressure and heart rate with the Withings Blood Pressure Monitor after running, you should see an improvement of your endurance as you become more and more athletic. This is especially relevant if you are working on your heart condition.

 

Testimonials of RunKeeper/Withings users
"I use both and love both. I like seeing my health stats vs my activity stats. And how they change when my eating and exercise habits change." Barbara Wright Szendrey
 

"I have a weight and a blood measure device. Plus I'm using RunKeeper for walking." Jonny Kristiansen
 

"I use both. A great automated way to see weight versus training schedule. A great device would be an iPhone holder/strap that incorporates a heart rate monitor that integrates with run keeper. Then can gauge weight/fitness level and running." Matthew Singleton



"I use both every day! I love to keep my orange butterfly wing fully grown by syncing my RunKeeper. The Withings app makes me accountable for my health, and reminds me to keep up on all the things I need to do to keep my health in check. I am looking forward to adding the activity tracker to my regime, I love my Fitbit, but I am looking forward to keeping all my fitness and health information in one place. Also sometimes I do forget to start my RunKeeper or the GPS sometimes messes up and I have to correct the best I can. Having the data from my overall daily activity and being able to check my heart rate is the missing piece to the puzzle. Is the activity tracker going to communicate with RunKeeper? I hope so." Kat Pratt
"Hi Withings, can you add Runtastic Roadbike Pro iphone app to your Health/Fitness app? I use it to map my bike runs. Thanks" Clark Gothong

 

"I use Withings, RunKeeper and BioMedia LINK band – all integrated. All are keeping me motivated & since adding the trio of tools, have lost 12 pounds. I set a goal in October to walk 100 miles by December 31 st. I will hit my 100 mile goal today!" Carol Monk

 

"Both withings and RunKeeper are part of my daily life and essential to my health and well being. Thank you both!!" Joe Burwell

 
Call for more testimonials

Please share your experience in the comments!