Looking for a baby monitor that will give you the connection you crave without compromising on style? Get to know the all-new baby monitor features available for Withings Home so you can stay connected to what matters most from anywhere.
With the new Withings Home Baby Monitor features, you now have control over the world's most advanced baby monitor right on your smartphone. Read on to learn more.
Security is a beautiful thing.
Imagine any cries or laughs transmitted directly to your smartphone and available on nearly all screens (iPhone, iPad, Apple TV, Apple Watch and Android). With live HD video streams, sound and motion alerts and automatic recording of unknown events, you can keep a protective watch over your family at all times via the free Withings Home application (available on Android, iOS,  Apple Watch, and tvOS).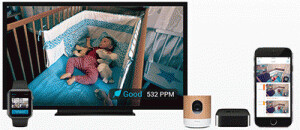 See in the dark, see the unseen and see it all even on lock screen…
With the new "Baby Monitor Mode", keeping an eye or ear on a baby was never easier with the new robust baby monitor capabilities that include alerting parents whenever Home detects noise or movement, regardless of whether the app is running in the background or the smartphone is in lock-mode.
And with the enhanced infrared night vision, Withings Home sees in the dark, allowing parents to not be disruptive when they want to take a peek and see how the baby is doing.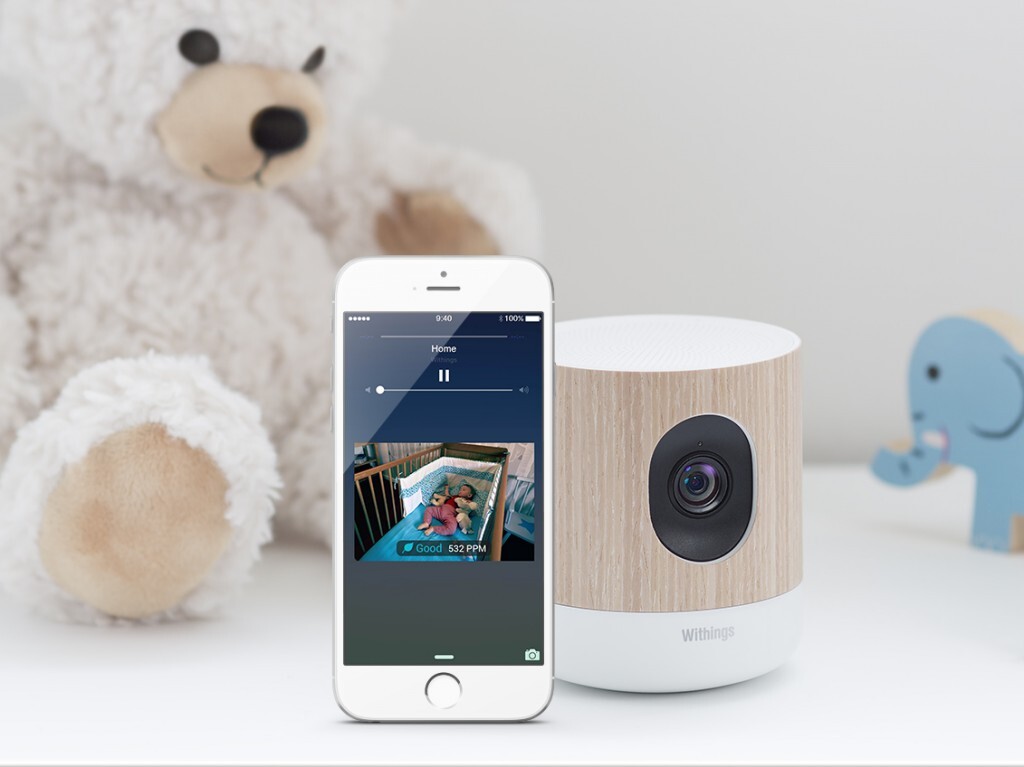 Rockabye baby: New Lulla Light & Music
The new and improved Lullaby feature is the dynamic LED-connected Lulla Light & MusicTM sound programs. These new original light and sound programs were developed with infant specialists and help set a soothing bedtime routine that helps babies fall asleep.
The nightlight uses the light most conductive to sleep – the red light in the narrow end of the spectrum – which is synchronized with soothing music. If the baby wakes up, parents and caregivers can launch the Lulla Light & Music programs to help lull their baby back to sleep from anywhere.
Choose from several specially-curated lullabies, to find the perfect music for helping your little one drift into a peaceful sleep
Lullabies come individually paired with a variety of light programs for the ultimate sleep experience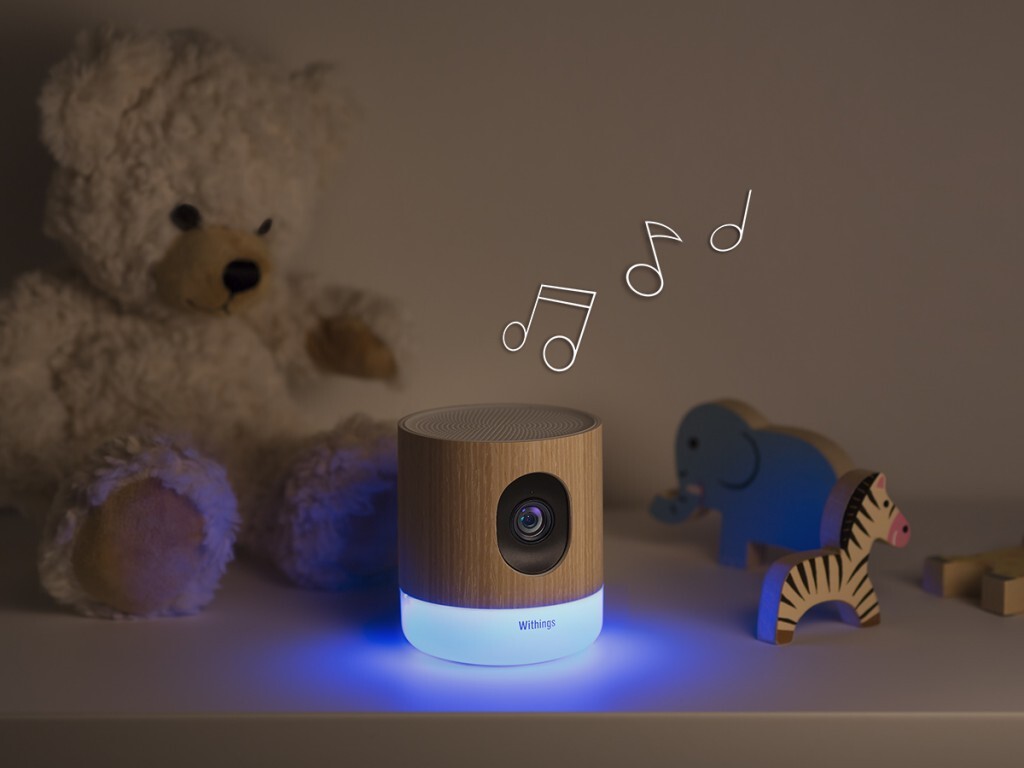 Push to Talk
With two-way audio capabilities, you can hear all the sounds your baby makes, and send some love right on your phone. If you are in the next room or across the country, you simply hold down the microphone icon to communicate with your baby through the Home.
Build baby a better environment
Withings Home also has Air Quality Monitoring. These environmental sensors will alert you to VOCs (volatile organic compounds), invisible particles that could originate from cleaning products, baby wipes — even dirty diaper pails. With this knowledge at hand, you can take action to remove these items and/or open a window to avoid any possible harmful health effects.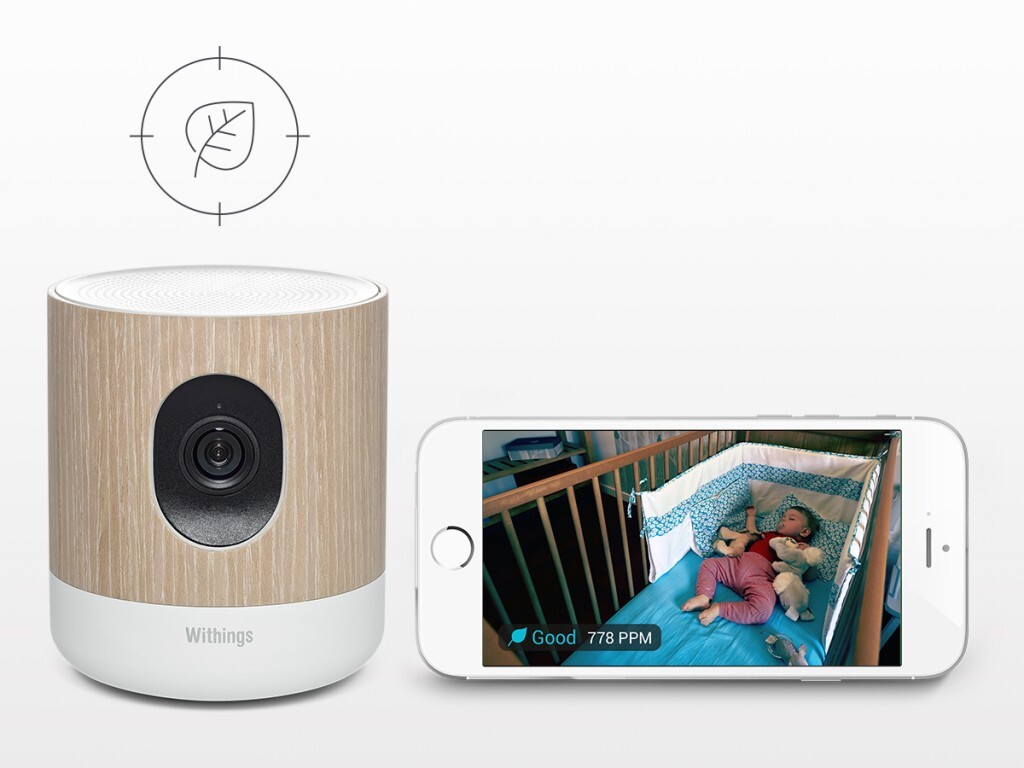 Build lasting memories with optional recording
Keeping in touch with HD video and sound plus timeline and timelapse animations from the last 48 hours are absolutely free for any Withings Home user. However, you can also opt for our Premium Security plan to get Cloud Video Recording that allows you to travel back in time to relive, download and share any memory from the past 7-30 days. Whether it's your baby's first words, or the time you were able to stop your dog from chewing the baby's toys while at work, you can save and share all your favorite moments.
Exclusive limited edition Withings Home baby bundle available on Amazon
To celebrate the launch of these new features, a special Home Baby Bundle (pictured below) will be available exclusively on Amazon. The baby bundle is the Home camera accompanied by two extra covers, one pink and one blue, to make a great gift, and bring a customized touch to any baby's room. For sale on Amazon.