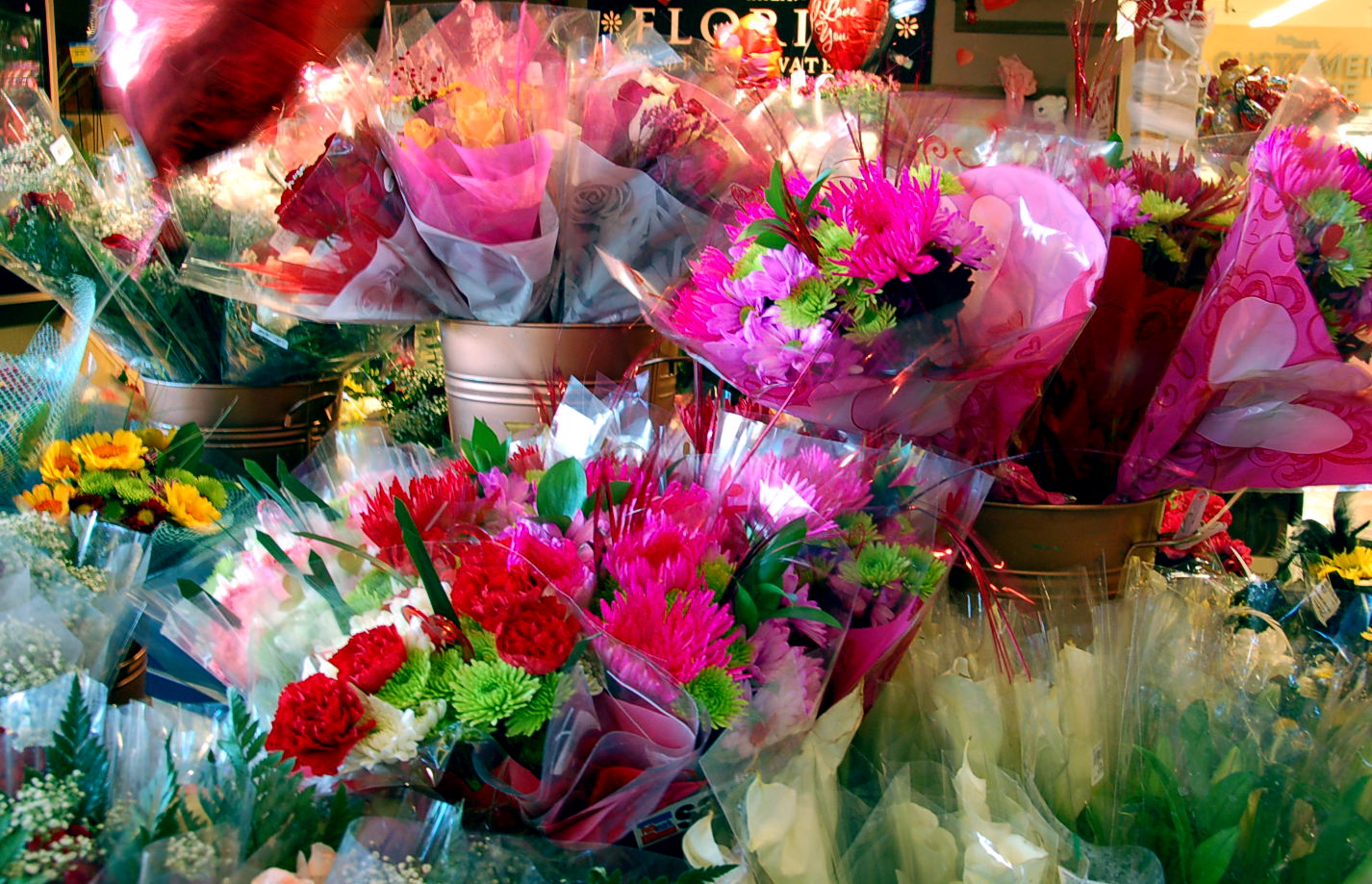 Are celebrations always synonymous with eating and drinking to your heart's content? On V-Day may we suggest that you toast your sweetheart with a single glass of bubbly, or indulge in a chocolate or two – rather than ten – from that heart-shaped box of chocolates. If that sounds incurably unromantic, don't worry! Read on for soul-satisfying ways to indulge that don't involve extra calories AND an exciting giveaway on a romance site that'll make your heart beat faster.
Note: Our advice to spice up your Valentine's day the healthy way comes from an expert in matters of the heart – it is written by best-selling romance author,
Lynn-Marie Hulsman
. Take it away Lynn-Marie…
Happy Healthy Valentine's Day
When Cupid aims his arrow this Valentine's Day, you could choose to crush in shoulder-to-shoulder with an army of couples at that hot, reservations-only bistro, but take our advice… it's the worst day of the year to dine out. Maitre d's herd you like cattle, chefs sling out slop for the masses, and beware the jacked-up bottle charges. This year, why not enjoy La Saint Valentin (as the French say) doing something fun and original that doesn't break the bank? Here are my top tips that get to the heart of the matter.
1. Zhush Up Your Surroundings
Do something special just for you with mood-boosting home improvements. Hang fairy lights to soften the mood and promote cheer during February darkness, or add aromatherapy essential-oil scent diffusers to enhance feelings of wellbeing. (Lavender's great for rest in the bedroom, and try peppermint for pep in the office). And adopt a few houseplants such as English Ivy or Ferns… they clean toxins from the air and release life-giving oxygen. Enjoy your pumped-up digs to relax and recharge solo, or use the makeover as an excuse to invite over a special someone.
Related: Top 8 Houseplants That Improve The Air
2. Read a Romance Novel
Treat yourself to an escape from everyday stress and worry by firing up your Kindle. Feisty heroines can be positive role models, inspiring feelings of courage, which is an attribute that science says makes us sexy to potential partners. Demonstrating courage highlights our flaws in a positive light, shows how we overcome fear, and makes us relatable. Another benefit to bedding down with books? Reading fiction strengthens emotional intelligence and enhances our skills in communicating with partners, according to a recent article in The Telegraph. And that all adds up to more sizzle between the sheets.
Recommended reads: For thinking-girl heroes, check out authors Eloisa James, Edith Layton, and Jennifer Crusie.
3. Make a Date's Journey the Destination
A date doesn't always have to be about the "big event." And ahem, I'm not talking about THAT big event… The fun comes from getting to know someone new. Think back on some of your top romantic outings. Sometimes, wasn't the conversation in the cab the best part? Instead of wilting under the pressure to get things "just right," surrender and see where the day takes you.
Why not…
-Stand in line for Hamilton tickets? You may not win the lottery, but the people-watching is a great conversation-starter, and you may burn a few calories (or get a cuddle) trying to keep warm on the sidewalk.
-Make Goody Bags for Lonely Neighbors? Invite your date over to mix up and roll out batches of cookies. You'll get the satisfaction of doing an act of charity, plus the chance to see if the object of your affection can stand the heat in the kitchen.
-Go On a Sensory Scavenger Hunt? Devise a local day tour to delight the five senses. Stop and smell the roses at your botanical garden's hothouse, go to a gallery to gaze at art, snuggle to the sounds at the symphony, hit the farmer's market for unfamiliar fresh ingredients for a romantic dinner (try kohlrabi and quinces), pop in at a petting zoo to feel furry friends. Added bonus? It'll help get your daily activity in.
3. Watch a Tearjerker & Enjoy an 'Ugly Cry' with Your Besties
You don't have to be coupled up to feel the love this February 14th. Pull on your soft pants and cozy socks, and have the gang round to screen a romantic weepy like The Notebook, Love Story, Marley & Me, or the mother of them all, Terms of Endearment. Why cry? Emotional tears relieve stress and act like a happy pill. Biochemist and "tear expert," Dr. William Frey, from The Ramsey Medical Center in Minneapolis discovered emotional tears contain stress hormones and other toxins that the body excretes when you cry. And blubbering stimulates the production of endorphins, the feel-good hormones known as the body's natural pain reliever. Cry with your crew, and you'll also enjoy the support and community of your buds. So this Valentine's Day, seek a strong shoulder and pass the Kleenex.
Don't believe me?  See: The Health Benefits Of Tears 
4. Learn Something New
It doesn't matter if it's kickboxing, calligraphy, Irish step dancing, or craft beer brewing — learning something new improves health. Being "in the zone" provides respite from stress. And using your brain makes it bigger, creating new synapses and protecting it against Alzheimer's and dementia. Plus, it's just plain fun to get outside your comfort zone. And who knows… maybe you'll meet a likeminded sexy someone while you're belly dancing, ice skating or learning to cook Asian-style suppers.
5. Volunteer
Soup kitchens and nursing homes are overrun on Thanksgiving. So consider lending a helping hand on the heart-centered holiday. You'll get as much as you give; positive psychology research shows that gratitude is strongly and consistently associated with greater happiness. Double-bonus: Your random act of kindness reaffirms the truth that community, connection, and friendship outrank expensive gifts like jewelry and flowers on the road to real happiness.
Can't make this stuff up.  See Harvard Healthbeat: Giving Thanks Can Make You Happier 
6. Enter to Win An Activity Tracker You'll Love
To help spread the love this Valentine's Day, we paired up with the clever ladies at a SBTB for a sweet giveaway. Visit the leading site for romance readers and share what you do – or plan to do – to keep healthy for a chance to win an Activité Steel with a raspberry and a white band, or an Activité Pop in limited edition coral pink. Plus, you'll find an exclusive coupon good for any Withings devices and the winners will be announced on Valentine's Day! Just go here to enter: Activité Steel and Activité Pop Giveaway.