Get to know social media guru and personal trainer Erin Bailey. Read on to find out how she got started, how she inspires her coworkers, and our plans to have her inspire us all with weekly tips and fitness challenges.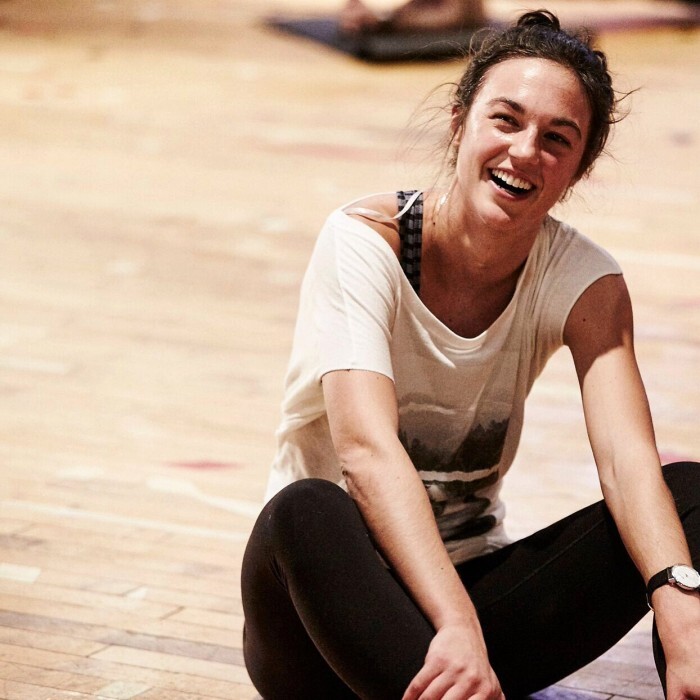 Get Fit #WithErin
As global social media manager at Withings, Erin Bailey, pictured, is busy around the clock. As she tells it, "Social media never sleeps." She oversees the ceaseless stream of social media on every platform from our offices in Cambridge, Massachusetts, where she has worked for a year. When Erin came on board, we loved her energy and her ability to connect with users around the world. But we soon discovered we got an added bonus in Erin, because she was able to inspire folks even closer to home — her coworkers. In addition to her job, Erin is a personal trainer, an avid exerciser, and a one-time physique competitor. Requests for workout tips around the office quickly evolved into her leading a challenging weekly bootcamp for employees who want a great workout at lunch.
"She's the best! Even when I am not excited about a specific workout, Erin's positive energy makes it fun. She has an infectious smile and her genuine nerdy excitement about working out makes us enjoy getting our butts kicked every Tuesday." – Carlos Vega, Sales Operations Specialist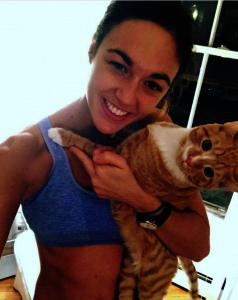 Erin understands the power and importance of goals, stick-to-it-iveness, and encouragement. She inspires us and proves that a "desk job" doesn't need to lead to a desk body. To share some of the inspiration, we are introducing #WithErin where Erin will share weekly health and fitness tips and challenges. Stay tuned each Wednesday on our social channels for fitness motivation, recipe ideas and inspiration to get you fired up mid-week, just when you need it most.
Read on to learn more about Erin, her personal goal to master handstands, and how she overcomes her own fitness and health challenges.
Being active is Erin's natural state. As a kid growing up in Asheville, North Carolina, Erin played tennis and ran track. As a student at the University of North Carolina at Wilmington, she was a regular at the gym. "I have to move in some capacity every day," Erin explained. "That's just ingrained in me. I'm a grumpy person if I'm not moving."
When she moved to Boston after college and landed a job that wasn't a good fit, exercise became an essential part of her days. "I was in a job I didn't love, so I turned to fitness as something I did love. I realized my favorite parts of the day were going to the gym and figuring out my next workout."
She loved it so much, she decided to pursue her personal training certificate through the National Academy of Sports Medicine and began working out with personal trainer, Johnny Loreti of Anthrofit Training, who became her mentor and friend. Their work together ignited her passion for helping people reach new fitness levels and transform for the healthier. But having always been naturally active and fit, Erin wanted to go through a difficult challenge herself, so she could better understand the struggles of people who've never been active or have physical challenges. She began training with Johnny for a physique competition.
The six-month training involved intense workouts and a healthy diet aimed at sculpting and lowering her body fat to a lean 8%. For the final competition, you present the figure you've worked so hard on to judges while, as Erin put it on her blog, posing "in a bedazzled bikini, clear plastic heels and 14 shades of tan." That part wasn't a big draw for her. What she loved was the physical challenge, seeing results, and the pride of following through even though the going got very tough. Erin explained, "I thought if I ever wanted to encourage a personal training client who had to go through a big transformation, someone who was overweight or had diabetes or had serious limitations, I had to put myself through a life-altering transformation. To know what it was like to make that hard choice. To go to the gym instead of getting drinks with my friends. To go to bed early."
While training for the competition, Erin landed her current role at Withings. Unlike her previous job, she loved her work at Withings. She explains this by saying, "There are no two people here that are the same, but health is something that's important to everybody in the room, which I think is a really cool thing."
Since starting a year ago, Erin has become the go-to person for coworkers seeking workout tips and she leads a weekly teambuilding bootcamp for colleagues looking to get a workout in during their lunch hour. In her words, "It's so fun to share that energy… to see people tune in and get inspired."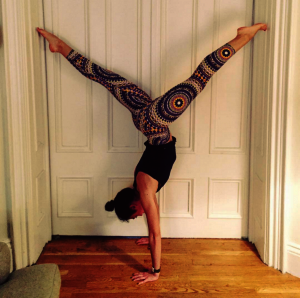 Always looking for the next challenge, Erin has set her sights on doing a middle-of-the-room handstand. She can hold one a foot from the wall. And she can manage one long enough to take a picture. But she's determined to hold a handstand away from the wall. "It is so unbelievably hard. I have a strong core, but these are on a whole new level," she explained. Her other fitness goals for 2016 were to practice yoga weekly and get hired as a group fitness instructor. And to show she's on it — she's since been hired by DareUFitness and teaches bootcamps twice a week after work around Boston.
Like everyone, Erin faces struggles maintaining healthy habits. It can be a challenge finding time to workout with a full-time social media job. Sometimes she's too tired to get to the gym. If she doesn't have a workout planned in advance, she has to watch for a tendency to lose focus.
Erin believes the answer to overcoming her pitfalls and the challenges faced by anyone, is committing to small changes that add up to big changes over time. For her, that means doing ten body-weight squats every time she gets up from her desk. For someone else, she said that small goal could be eating more healthfully, or it might be getting in 10,000 steps a day. "You would be amazed at the results if you decided to make three small changes every day," Erin said. "Don't make it Mount Everest. Make it a little hill and then, suddenly, you find you're halfway up Mount Everest."