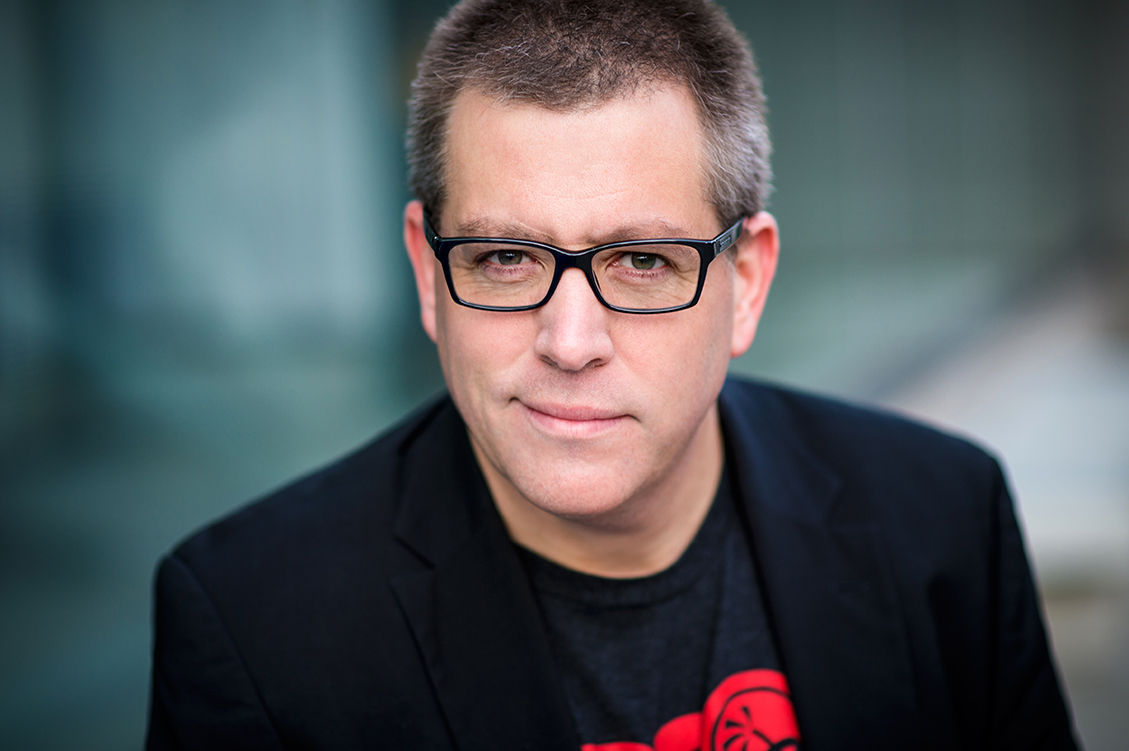 Peter Shankman, founder of HARO, recently adopted new healthy habits and dropped nearly 40 pounds. Read on to see how dedication and data tracking helped this jack-of-many-trades take back control of his health.
Some may know Peter Shankman, pictured, as the entrepreneur who invented HARO (Help a Reporter Out), a website that connects expert sources and journalists, enabling them to meet tight deadlines in today's content-hungry, up-to-the-minute news landscape. But Shankman is also a TEDx speaker, a frequent TV guest contributor on CNN and Fox News, the author of four books, an avid skydiver, a devoted dad to his 3-year-old daughter, Jessa, and husband to wife Kira.
Shankman also has ADHD (Attention Deficit Hyperactivity Disorder), but instead of letting it hold him back, he calls this chronic condition his "superpower." He credits ADHD with helping him achieve success, which he discusses on his website and podcast, Faster Than Normal.
"One of the ways I work with my ADHD," he told us, "is by logging data. Data doesn't lie, and it doesn't let you misconstrue. By analyzing data, I can use my ADHD to my advantage."
This commitment to data and numbers is also what helped him succeed when he decided it was time to get healthy. Shankman's "Aha" moment struck one morning at 3am. "I woke up and looked in the mirror, and I thought, 'This is ridiculous… I need to make a change.'" He didn't feel good about himself. Facing those truths wasn't easy, but he didn't shy away from the facts, or justify the way he was living. "I wasn't sleeping well. I felt fat. I felt oily. I just felt gross."
Shankman has been a runner for over 10 years, even completing an Ironman in 2010, and he maintained his fitness even after getting married. Despite exercising, he had always been about 25 pounds overweight, but he found that tracking his weight using a Withings scale helped him avoid additional weight gain. "I've always had a Withings scale, back since its first iteration. Quantification helps me maintain…men, women, and children lie — but data simply doesn't lie."

But after the birth of his daughter, Shankman found that his own needs had been shifted to the back burner. "I was constantly chasing Jessa and getting up early with her. I got up at the crack of dawn to care for her, not to go to the gym." And the exhaustion, along with a lack of time for himself, took a toll. "Instead of working out at night, I'd have a drink. Then, instead of one drink, I'd have three."
This started an unhealthy spiral for the business mogul and dedicated family man. "Drinking is a multiday process. It wasn't just that day's alcohol making me feel sluggish, it was also the next day when I felt like crap. I'd get three grilled cheese and tomato sandwiches and eat them all to feel better. I knew something had to change."
Shankman found that the best way for him to get healthy was to skip the small-steps approach and make a sweeping change. He quit drinking and drastically overhauled his eating habits. Shankman explains that "when the pain of staying where you are becomes more annoying than the pain of changing, you will start changing. I had to focus on myself, take care of me. The only way I knew how to do that was to focus on the data. I don't have a moderation switch. I can't simply cut back… who the hell knows how to cut back?"
This approach, in conjunction with tracking fitness data with his Withings scale, the Runkeeper app, MyFitnessPal, and his Apple watch helped Shankman lose weight and create new healthy habits. He now eats primarily chicken, fish, and as many fruits and vegetables as he can. "If it's in the middle of the supermarket, I don't eat it. I don't eat processed foods anymore."
Losing weight has enabled Shankman, who had slightly elevated blood pressure, to stop taking his low-dose blood pressure medication. "I use the Withings Wireless Blood Pressure Monitor primarily for tracking now. And the best part is that this stuff all talks to each other. It's all about having the ability to track everything at the same time."

He lives by the numbers when it comes to sleep as well. By tracking his sleep patterns on the Withings app, he's found that 6.5 to 8 hours is best for him.
At 5' 11'', Shankman now weighs around 205 pounds, down from 245, and he's enjoying his new appearance along with renewed energy. "I posted a photo on the blog of myself showing my arm muscles. I would never have done that before. I love looking good." As a motivational speaker and business lecturer, he's in front of crowds regularly. "It's great getting up on stage and feeling like I look great." His current goal is to drop to 190 pounds.
When we asked him what advice he'd give to others who want to improve their health, this is what Shankman shared: "It boils down to being about your priorities. When you are ready to do it, you will do it. If you're not ready, you won't." Yet he affirms that although getting healthy and fit is not easy, it's always worth it.
***
Many thanks to Peter for his time.