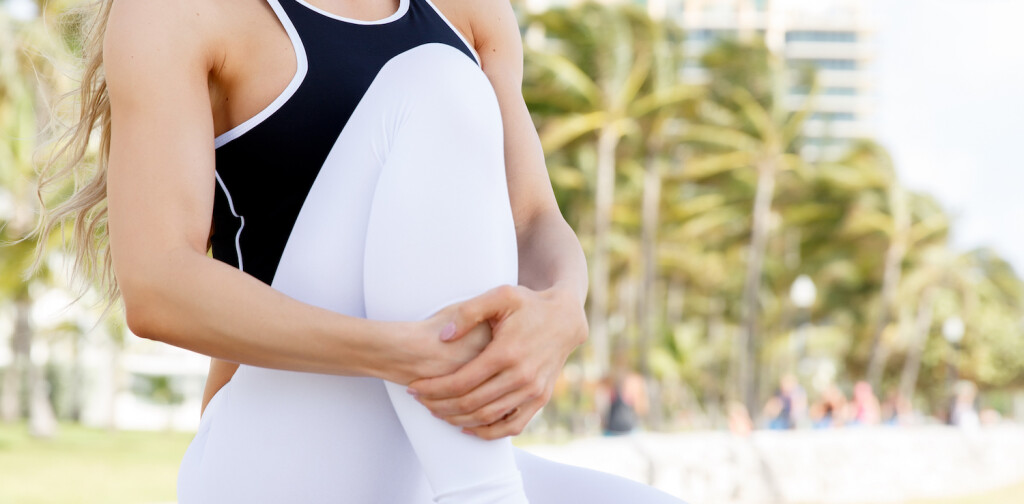 Katie Miller, bikini competitor, fitness coach, and eating disorder surviver, has turned her love of fitness into her hobby, her job, and her life's calling. Read on to learn more about her struggles, her triumphs, and her journey to a happier, healthier life.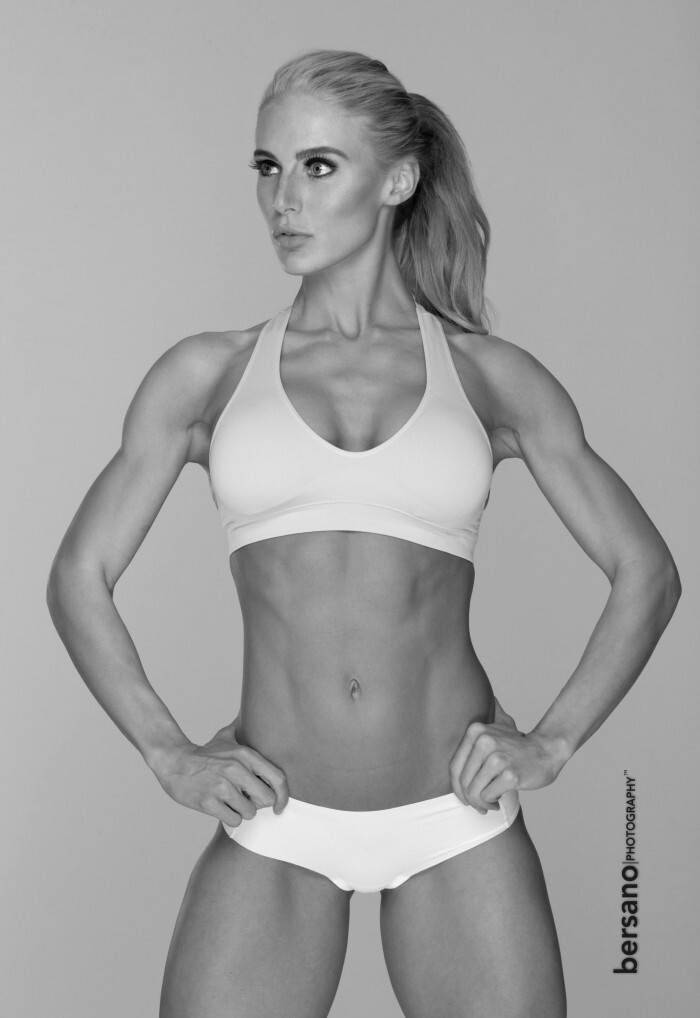 Meet Katie Miller, a stunning 26-year-old Fitness and Nutrition Coach and National Physique Committee (NPC) Bikini Division medalist, and you might think she's got it all. Happily married to husband Duane Kerner, 32, this successful businesswoman holds a B.S. in Exercise Science from Eastern Illinois University, along with certifications from The American College of Sports Medicine and The National Academy of Sports Medicine. Clients sing her praises, gushing that "hiring Katie was the best decision I ever made in my life," and "she [brought out] a side of dedication and motivation I had never seen in myself."
But life for this inspirational fitness guru hasn't always been perfect. In her senior year of high school, Katie struggled with insecurity and says she hated herself. In a misguided attempt to become thinner and thus happier, Katie severely restricted her food intake, developing anorexia and losing a large amount of weight. With the help of professionals, a loving partner, and the discovery of fitness competitions, Katie slowly changed her thinking and her behavior to alter the path of her life. While far from perfect, Katie is far happier and more confident than she's ever been.
Interview with Katie Miller
Withings: Thanks so much for taking the time to talk to us. To get started, can you give us a little background on yourself?
Miller: I currently live in St. Louis with my husband Duane Kerner. He's 32.  I've always played sports – I pretty much did them all. I was serious about swim team in high school, that and lacrosse. I played lacrosse up to college.
And today?
Today, I'm the happiest I've ever been. I love setting my goals, and reaching them when it comes to bikini competitions. I love coaching other people with fitness. I think I'm more excited than my clients are when they hit their fitness goal, or they get to their first competition, or get over a stumbling block.
What is a bikini competition, exactly?
It's kind of a silly name, but what I do is very respected. It's not a spring break contest. I compete with the NPC (National Physique Committee). It's a fitness competition. There are different competitions, different federations, and different divisions. In The Bikini Division, it's body building. It's the least amount of muscle of all of them, but you still have to have the strong muscle development. It's not about being skinny and getting on stage.
You have a lot of credibility with degrees and certifications. What led you to the work you do now?
Like I said, I was always all about sports. I felt like I could succeed in exercise science. In college I took an even bigger interest in fitness. I made it my major – it was what I was passionate about, and then later I decided to do my first show.
On your website, you mention having had an eating disorder. Did that inform your path?
I had anorexia. I hated myself. It never got bad enough that I was hospitalized, but every eating disorder is serious. I got professional help and that helped me bounce back. But I credit my husband. He helped me with my confidence, he loved me unconditionally, he helped me see I was beautiful, and he encouraged me. He helped me realize I was worthy. Sometimes you date the wrong guys, and then… you find the right one. He encouraged me to compete. When I felt my life was in a downward spiral, the focus and structure helped when I felt I had no control. Competing helped me realize I was capable and strong. I proved to myself I could put my mind to something and accomplish it.
Do you have advice for others with eating disorders?
For people who struggle with anorexia, throw all your energy into something positive. For me, the competitions worked. And for me to get healthy, it was eating 5 meals a day, which I hated at first. But I needed to so I could compete, and it got me in the habit of eating more often. Focus on something that can have a positive outcome, and that can help your mentality.
You're all about confidence. Can you tell us more about that?
In order to succeed in fitness – or anything, really – it is going to test your mental strength. If you compare yourself to other people in any field or even any relationship, it'll just make you unhappy. Everyone is different and at a different place in their life. It's like with fitness coaching… if someone's been in the same business for 10 more years than you, you can't lose faith. People who look like they've come pretty far with their own fitness have probably been at it longer. You want to focus on your own journey. Don't set yourself up to be disappointed.
How do you reach your goals with fitness? Is there a plan?
I watch my nutrition. I recently changed my dieting approach completely. I started doing flexible dieting. It's sort of like Weight Watchers but you're not counting points, you're counting fats, proteins, and carbs. It's kind of like The Zone. You have to be smart about it. I used to follow a clean eating approach, where things were off-limits. If I was having cravings, and I ate one little piece of chocolate, I felt like I had blown it. Now I can eat it and keep it within my macronutrients for the day. In order to have the right energy, you want to stick to 80 to 90 percent clean foods, but you can eat what you want, appropriately. It's really saved my life.
Do you weigh yourself?
Yes, I have a Withings scale. I did research and found the scale I wanted when I changed my eating approach last January. I never really weighed myself before. The internet said this is the best of the best, and it was top-rated. It's really good, so I don't have to go to the gym to get a good estimate of my body fat. As a fitness competitor, I need to know if I'm making progress. But for me, I don't use it every day. I think that when you're building muscle, weight shouldn't be the only thing you're focusing on. The Withings scale has different functions, so it's much more than the number of the actual weight.
Do you track anything else, fitness-wise?
I have the Activité Steel. I use the Steel every day to track steps and activity levels. I love it and I get so many compliments on it. I love it for the function and for how it looks.
Do you work with regular people who aren't fitness competitors?
Yes, with all kinds of people. I think my own experience with eating and anorexia inspired me to help others. I have a lot of clients who come forward and tell me that they had issues with food. I understand clients at a different level. One client had bariatric surgery, and she had a different relationship to food. At first, she said looking at you I could never have you as a personal trainer, but getting to know you I would never have anyone else. I understand struggling.
So it's not one-size-fits-all or black-and-white?
No, definitely not. It's not just giving people the tools like the diet and the exercise plan. The support is a huge component. It's 50% of it. I connect. I love knowing I was able to be there for my clients, building them up, the way my husband did for me. It's special that I am a part of it.
What advice would you give to someone who wants to get fit, but has no clue how to do it?
Don't get too caught up with articles on the internet. It's confusing. Getting started, follow one approach or one person's approach from start to finish. Do it – If it doesn't work, you can start another approach. It's like this: There are many different recipes for a chocolate chip cookie. If you mix all the recipes, they are not going to turn out right, but if you follow one recipe to the end, you'll turn out with pretty good cookies.
What about advice for the person who can't mentally get on board… who simply can't get started?
In the beginning, it seems, especially for people who have to lose 40 pounds or more, you feel like you have so far to go, why keep going? Connect it to something you did in your life that paid off. In school, for example, you study every day for two hours, you take the test, and you ace it. You're persistent, you work hard, and you get a reward. The results show that you succeed. The success comes after the work and not always right away. If you can relate it to other areas of your life where you didn't want to do something, but you do it anyway and succeed, it'll help you get through when you want to give up. Fall in love with the journey, and the results will follow.
***
Thanks to Katie for her time. 
For more inspiration, check out Katie's website or follow her on Instagram @ktmillerfit. 

Lynn Marie Hulsman
I'm a New York City-based novelist, cookbook writer, and ideation agent whose former jobs include stand-up comic, bookseller, and medical editor. Interests include nutrition, pop psychology, British culture, and dogs. My very favorite thing is reading.
View all articles