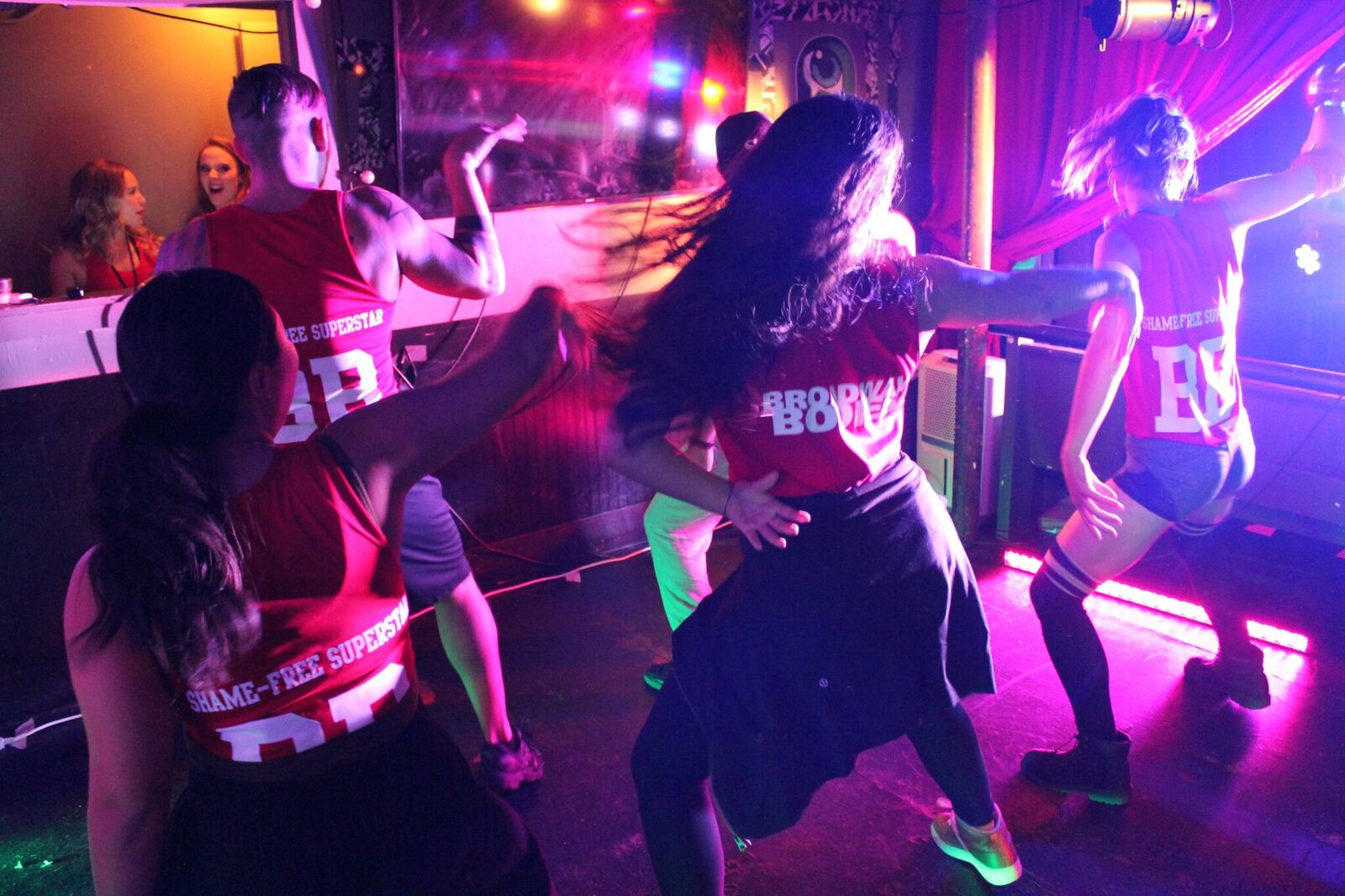 Have you ever fantasized about dancing alongside Beyoncé? Now you can make those dreams a reality and get into Bey-utiful shape at the same time. Fitness classes that teach the choreography from Beyoncé's videos are popping up all over the world, and our blogger, Jeanne Simpson, was brave enough to try it out. Read on for the scoop!
With tons of fans worldwide, it's not surprising that Beyoncé has spawned a whole new genre of dance fitness. In Toronto, Canada, there is an entire Beyoncé-inspired school of dance fitness called Beyography. According to their website, "Beyography is the Beyoncé tribute dance class, where all the Naughty Girls and Beyby Boys come to release their inner Divas. Every week in this intensive, two-hour class you'll learn the complete choreography to a different Beyoncé song."
I released my inner Queen B at Broadway Bodies, located at Chelsea Studios in New York City. Broadway Bodies offers classes based on the Beyoncé videos for All the Single Ladies, Sorry, Partition, and Formation. I signed up for a Formation class a week ahead of time, and all the spots in the class were sold out just a few hours later. I arrived not knowing quite what to expect and joined a long line of ladies in the hallway waiting to enter the dance studio. As I joined the line, I overheard one student say to another, "Are you a Beyoncé fan?" She smiled and replied, "I'm a human being, aren't I?" The crowd surrounding them laughed and nodded, affirming a mutual love for all things Beyoncé.
Shame-free shimmy
Our teacher, Phoebe Kurtzman, ushered us into the studio and welcomed each student personally. Phoebe's sunny, outgoing personality and enthusiasm made everyone glad we had come out on a Monday night to unleash our inner Beyoncé. For newbies like me, she explained that Broadway Bodies is a shame-free environment, and that she would teach us choreography in two parts before putting it all together. We warmed up, and then Phoebe dimmed the lights and turned on flashing colored lights that gave the studio a rocking dance-club vibe.
Phoebe was an amazing dancer, but no previous dance experience was necessary on the student side. She's also a patient teacher who broke down the steps and made each one accessible to every student. Although the class was mainly ladies, there was one brave man present who rocked it hard. Soon we were all ready to strut, squat, shake, twerk, shimmy, stomp, kick, and pose our way through the song and into fabulous shape. Even though the choreography was authentic to the video, we were encouraged to have fun and add our own spice and style to it.
Mega fun = a free class
In the beginning, we all chose a unique pose to start the number, and we got creative with our walk into formation to start the dance. Some students crawled on the floor.  Some strutted. Some slinked. Some turned and spun into place. Everyone was having a blast. When you give it your all in Phoebe's class, she says you're "slaying it." She even gives a free class away to whoever is slaying it the hardest, which basically translates to whoever is having the most fun.
Fortunately, we did not have to do the choreography wearing only a black bodysuit and six inch heels. At the end of class, everyone was sweaty and sad that the hour was coming to a close, meaning we had to return to our normal lives.
Broadway Bodies offers classes and workshops, and is also available for parties and special events. If you're looking for a fun way to get into superstar shape in the new year, consider joining the Bey-hive at a Beyoncé class near you.