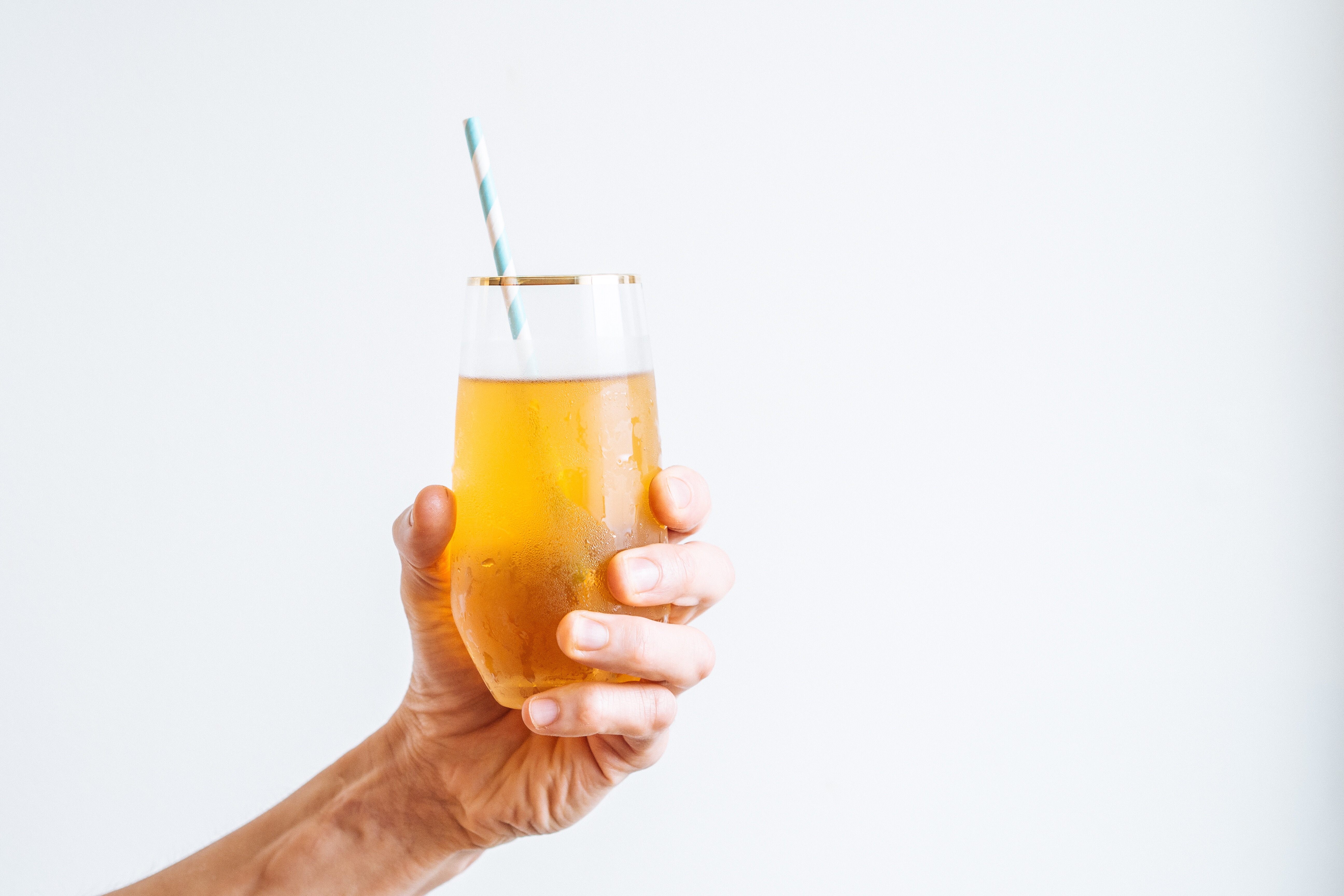 Healthy eating—and drinking—has gone from niche to full-on trend, so it's no surprise that organic, non-GMO, and vegan products have begun to take the markets by storm. And whether it's tapping the sap from trees or fermenting teas, many companies are meeting this growing demand with unique new beverages. From coconut water to apple cider vinegar, here's the scoop on a few liquid trends with big health claims.
1. Coconut Water (Calories: 45 per cup)
For first-timers, drinking a sip of coconut water can be surprising. Some people expect coconut flavored water, while others anticipate a sweet and creamy milk-like substance—but the reality falls somewhere in between the two. Coconut water is a bitter, cloudy liquid that comes from the center of—you guessed it—a coconut.
In nature, according to the Encyclopedia Britannica, coconut water actually serves as a liquid endosperm that "contains important growth substances," but when it comes to human consumption, it is often lauded as a natural source of electrolytes. According to Medical News Today, without the added sugar and food coloring of traditional performance beverages, coconut water can be "easier to drink without causing nausea or an upset stomach." Coconut water can be a nice low-calorie alternative to traditional water, but while it does replenish some electrolytes, it lacks the sodium and carbohydrates of many sports drinks and is better suited to recreational exercisers rather than endurance athletes.
2. Maple Water (Calories: 25 per cup)
If tropical water doesn't float your boat, you might want to test out the northern alternative: maple water. Tapped from the maple trees of Vermont, maple water is actually just pure maple sap. DRINKmaple, a company that collects maple sap using sustainable methods, explains that maple water is not only "refreshing and hydrating," it's also historical. According to their website, "Native Americans and North American explorers began tapping maple water hundreds of years ago," and each bottle contains over 46 nutrients, including calcium, iron, and manganese.
However, without sufficient research to support claims of health benefits linked to maple water, for the time being, it's little more than an "alternative water." In fact, in a Business Insider article, Leanne Pawluk of Arbeau Maple Water compares the sap drink to wine, explaining that like "the champagne of waters," each batch will take on a specific flavor profile, depending on the season. Unless you're shopping for water based on its flavor, you might be better off sticking to the tap.
3. Water, Water, Water! (Calories: 10-60 per cup)
Of course, the "alternative water" trend doesn't end with maple trees. Birch water, cactus water, and aloe water are all gaining popularity amongst claims of refreshing and revitalizing their consumers. Säpp, which taps birch trees for their pure sap, claims that birch water "contains no added sugar, and on its own is among the lowest natural sugar plant-based drinks." Like DRINKmaple, Säpp boasts a single ingredient, low sugar, and plenty of manganese to aid your daily mineral intake.
Aloe Vera water, on the other hand, has gained popularity as a home remedy for weight loss and even upset stomachs. However, as the Food Network points out, Aloe Vera is naturally very bitter, which means many companies producing the water (or juice) add plenty of sweeteners to modify the flavor. While more research needs to be conducted, chances are that anyone with a serious weight-loss goal would be better off avoiding added sweeteners and sticking with a good old glass of H2O.
4. Apple Cider Vinegar (Calories: 3 per tablespoon)
Pucker up! This supposed weight loss trick is sure to send your taste buds reeling. Over the past few years, it seems like everyone from celebrities to grannies has jumped on the apple cider vinegar bandwagon. With claims ranging from it being a weight loss miracle substance to a measure for cancer prevention and even a cure for diabetes, apple cider vinegar may not deliver on all of its promises, but one thing is for sure: it will get your pipes moving.
After conducting her own experiment on the benefits of apple cider vinegar, Stephanie Eckelkamp of Prevention found that "there was a definite correlation between apple cider vinegar and … decreased transit time," a phenomenon which may contribute to the trend's reputation as a miracle weight loss trick.
Ultimately, although not all claims surrounding apple cider vinegar have been proven, there is some evidence of a correlation between daily consumption and insulin levels. According to research conducted by the Hellenic National Center for Research, Prevention and Treatment of Diabetes Mellitus and its Complications, individuals who ingested vinegar before a meal had "an enhancement of muscle blood flow, an improvement of glucose uptake by the forearm muscle, and a reduction of postprandial hyperinsulinaemia and hypertriglyceridaemia."It's hard to know how much weight to give to this one small study, but this finding is intriguing. We would love to see more research into if and how vinegar may be able to help regulate diabetes—whether apple or otherwise.
5. Kombucha (Calories: 30-60 per cup)
Speaking of vinegar, if you're a fan of the tart taste of fermentation, chances are you've given kombucha a try. This drink that looks a lot like beer is suddenly everywhere — it's even available on tap at many upscale supermarkets. And kombucha has taken "trend" to a whole new level by infusing an almost spiritual cure-all vibe into its marketing. With flavors like "strawberry serenity" and "unity vibration," it harkens to many consumers' desires for a product that promotes feelings of peace and love—but what exactly is kombucha?
According to Forbes, kombucha made its first appearance in ancient China and was valued for its apparent healing properties. The drink is made of sweetened tea that is fermented twice, once with yeast and again to "encourage carbonation." In fact, it's the process of fermenting the drink that has made it a popular probiotic in recent years. Initially, the drink was touted as a cure for diseases like AIDs and cancer. However, without any significant evidence to back up such extreme claims, the general population seems happy to accept it as a gut-boosting liquid alternative to Greek yogurt.

While it seems that adding these tasty trends to an already healthy diet is unlikely to have much of an impact, they can make great alternatives to sugary drinks like soda and fruit juice—even if they don't always deliver the health benefits their supporters claim. So go ahead, climb out on a limb and grab some birch water!