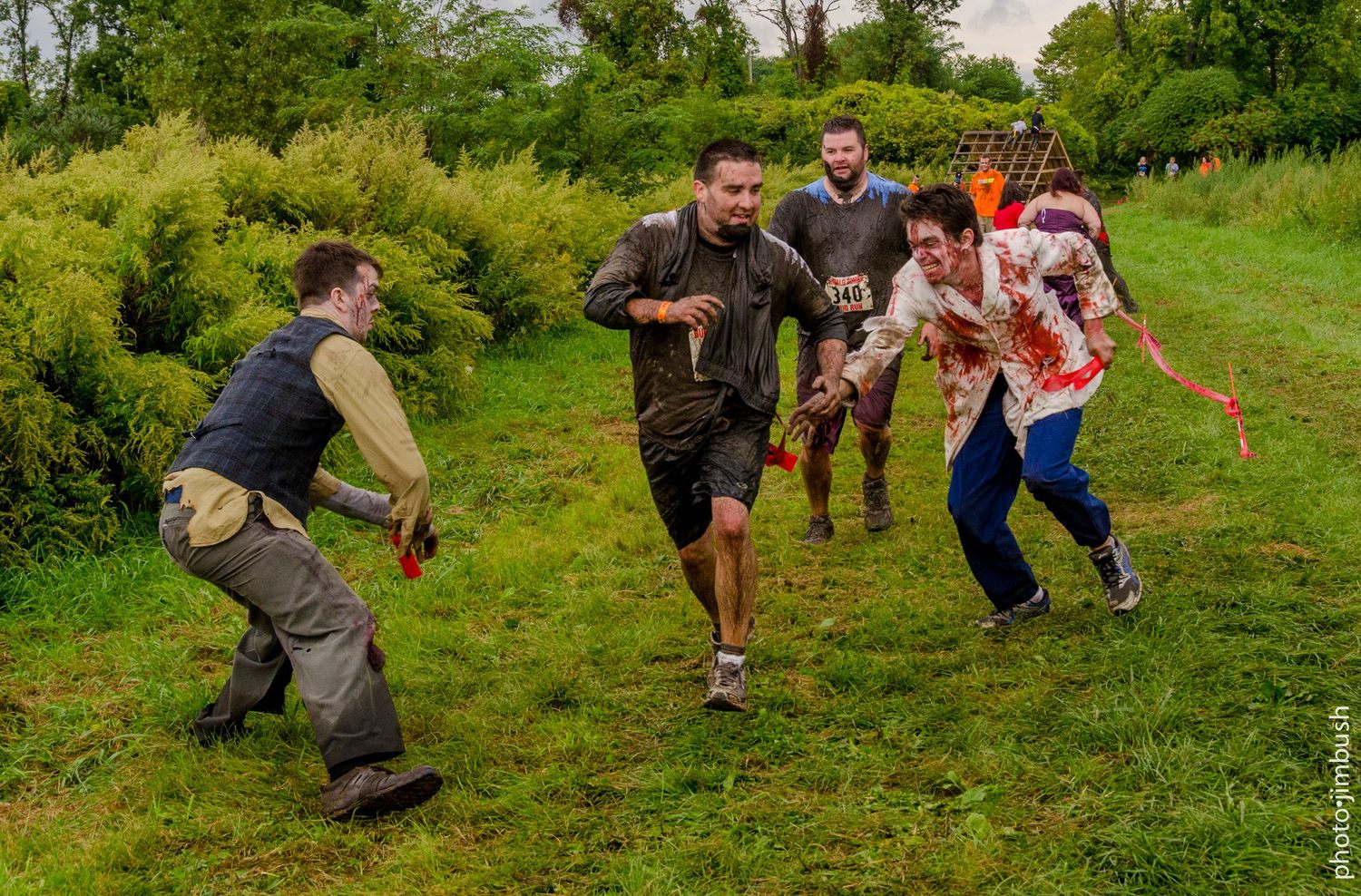 Have you ever wondered if you could outrun the living dead? Well now you can—or at least you can try! Across North America, zombies and runners alike are stretching their calves and preparing for Zombie Mud Runs.
For the adventurous souls out there, Zombie Mud Runs are a unique spin on traditional 5K runs. These races often include obstacles, trails through the woods, and charges across open, unprotected fields full of zombie hordes—yes, you read that right.  
 Zombies, in this case, are actually humans who have signed up to chase after the race participants, decked out in zombie makeup and faux blood-stained clothing. Although each course is unique, the general guidelines boil down to this: all human participants wear three flags, which the zombies try to snatch over the course of the race—think capture the flag meets flag football plus zombies.  
 Most obstacle courses include safe zones as well as the stipulation that no zombies are allowed on the obstacles themselves. This means that as long as you're climbing over hunks of wood and rubber, you don't have to worry about being attacked from behind by the undead. But if you try to sneak around an obstacle instead of going through it, the undead will be waiting to attack. Ultimately, if you can make it to the end of the race with at least one flag left, you're a survivor!
If you're not feeling too keen on actually tackling the obstacle course, or you want a cheaper registration fee, you can sign up to be a zombie instead. At Zombie Charge, a Texas-based run that will be held on October 21st, zombie participants are asked to arrive two hours before their scheduled "wave" time so that they can be made up in true Hollywood style. They have strict zombie guidelines, explaining, "We are creating an authentic zombie apocalypse experience for all, you must remain in character for your entire time on the course." That means that zombies are welcome to run, walk, or even crawl, but they can't talk, only "grunt, growl, and moan." They also note that zombies are attracted to sound, so it stands to reason that runners making the most noise will attract more zombies.  
In the Buffalo Zombie Mud Run, there are two different types of zombies: chaser and roaming. Five minutes into each "outbreak," five "chaser zombies" are released to pursue the human participants from behind as they attempt to complete the obstacle course. However, the "roaming zombies" are stationed at assigned locations throughout the "PANDEMIC" course and are welcome to "feast upon any and all runners that enter their zone."  
The Zombie Mud Run held in Niagara Falls goes the extra mile by offering a "junior heat" option for beginner runners, younger groups, and families. The course also boasts about twenty obstacles such as a prison escape, tunnels, and monkey bars, and culminates with a 60-foot water slide that launches participants into a muddy pit. 
 Even if you can't make it to a race, you too can join in the fun with the Zombies, Run! app, a mobile fitness game that includes zombie chases, music, storylines, and 200 missions. It also makes getting fit extra fun with an option to create your own missions using interval training. 
 Whether you're looking to sludge through mud pits, chase the living, accompany a four-footed friend, or just jog through your neighborhood, zombie runs provide a great opportunity to reach your step goal for the day, and more importantly, to have fun doing so. 
Photos of Buffalo Zombie Mud Run courtesy of Jim Bush