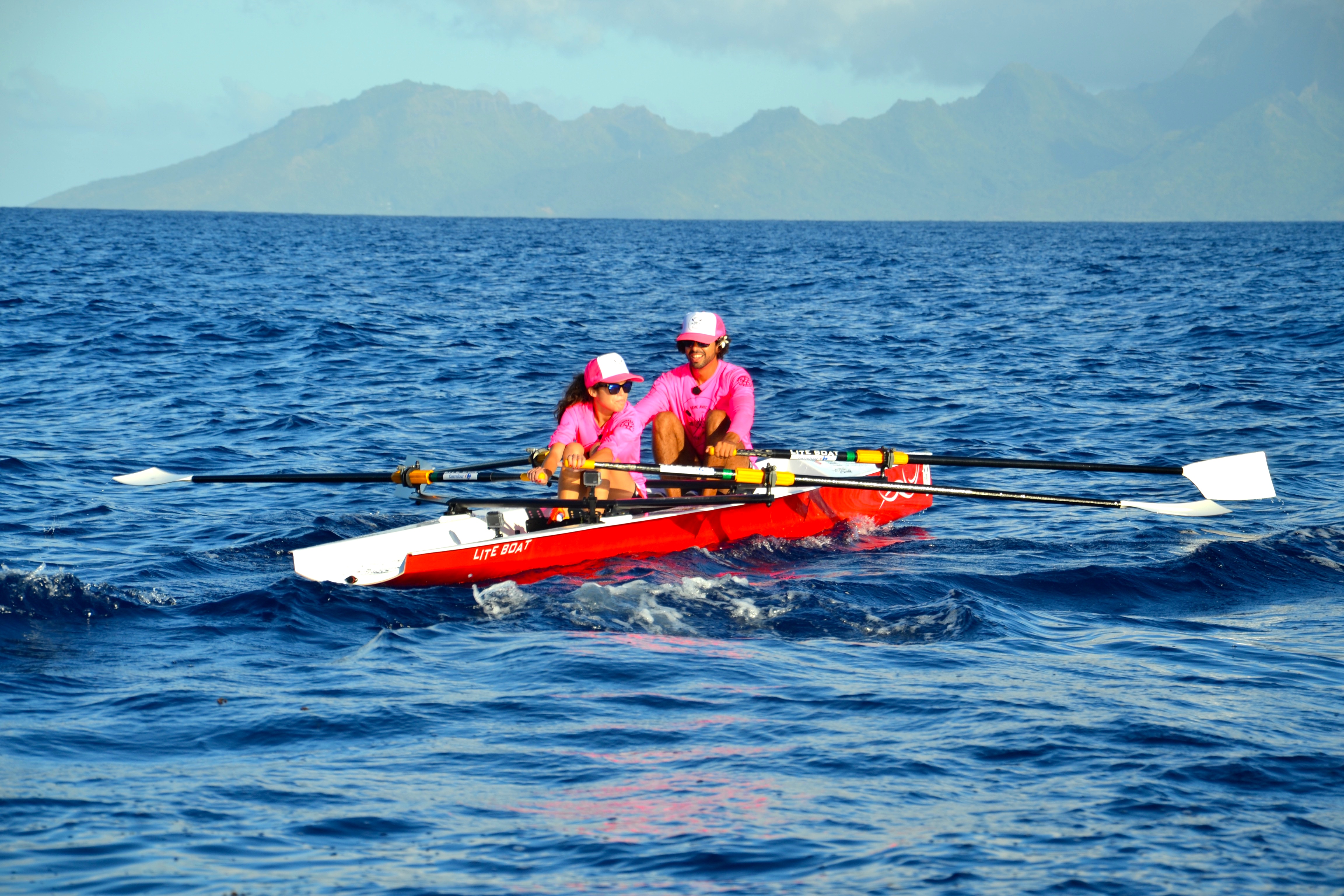 Over the last few months, we've followed a woman and her incredible project: to row from Tahiti to Moorea with just two oars, the support of a few sponsors, and crowdfunding from some generous supporters.
Alexandra Caldas, 21, who hails from just north of Paris, was born with cystic fibrosis, and underwent a double lung transplant just four years ago. She decided to pursue her dream to go to Tahiti, and to then row the 10.5 miles from there to Moorea—all while balancing college classes with training in Paris. Today, celebrated for her accomplishment and overflowing with energy, she recounts her journey, the end of a chapter that signals, without a doubt, new adventures to come.
Can you tell us how the crossing from Tahiti to Moorea began?
There was so much anticipation of this day—8 months of preparation led up to this date: August 5, 2017. I did not expect to be surrounded by so many people.
About a hundred rowers were there, all in pink lycra inscribed with the words: "Rowing with Alexandra" as well as several accompanying boats. I had not realized what would happen in the hours to come when I arrived at the rowing club in the morning to get the boat and join the procession.
How did you manage the physical effort? Did you have any moments of doubt?
During the difficult parts of the journey, I looked at all the people besides me, including my parents, who were on one of the following boats. In fact, I had the isle of Moorea to my back, and the smiles of all these people in front of me. Imagine about 90 rowers in front of your boat. There were cries, chants…it was incredible. That helped me motivate myself to keep going until the end.
Besides that, the ocean did not give me an easy time. There were waves about six feet high.
I had one moment of doubt, that moment when I was seasick, but in my head I thought of all those people who help me every day of my life: my donor, my relatives, various transplant recipients, others who have cystic fibrosis, my medical teams… but above all, the rowers who all came for the same reason: to talk about organ donation.
Many people came to support you. Can you tell us more about the atmosphere that prevailed both on land and on water?
The atmosphere was like a party—everyone was happy to be there. Smiles, laughter, but above all, a lot of hope. This crossing was even more special because of a few people: Terry Haymes, a boy with cystic fibrosis in Polynesia, and a few rowers in a Va'a— a traditional canoe — who have undergone a kidney or liver transplant.
What did you think when you achieved your goal?
A few years ago, before my transplant, I was told that I would never go to Tahiti. Why? Because it is very far away, there are too many medical risks, but mainly because my breathing capacity was decreasing day by day, and it was more and more difficult for me to breathe. When I hit my goal, I proved that the impossible is possible. I came to Polynesia and what's more, I rowed 10.5 miles across the sea with just oars!
What is your best memory?
My best memory is when I arrived at the Moorea channel: I felt such strong emotions, for the rowers, for the people who accompanied us, but especially for Matthieu, my coach and crew member, and of course, for me. We had just arrived on the Moorea lagoon. All the rowers surrounded us, and I shouted with glee at the top of my (new) lungs. I did it! I don't know how to properly describe this amazing moment.
Looking back, what message do you hope to have passed on?
I hope I have showed that transplants can work! I have proved that the impossible can be made possible, and I have given hope to young people with cystic fibrosis as well as those awaiting a transplant. I realized this from the many messages I received: from patients, parents, and many more.
Have you already thought about other projects?
I have other projects…if you want to know more, follow me on my Facebook page, Rame avec Alexandra—because this was only the beginning!

Since this interview, Alexandra has participated in the Virades de l'Espoir, demonstrations to give hope to patients and support medical research in cystic fibrosis. And as if it were necessary to prove that one crossing calls for another, she rowed from Paris to the Hauts-de-Seine, again just with an oar. Hats off to you, Alexandra!