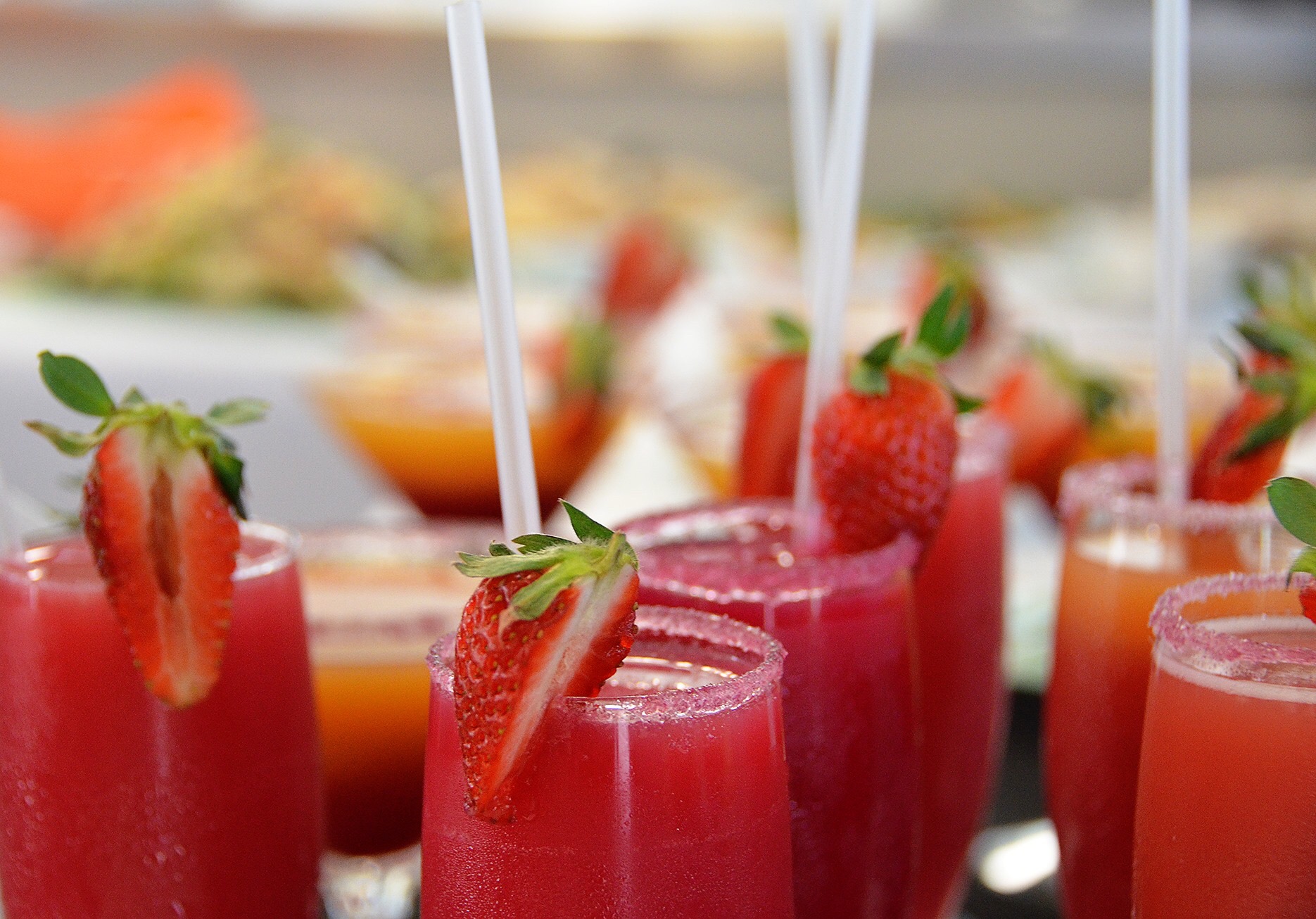 Avoid the weight gain and sugar comas this holiday season with five healthier twists on traditional holiday drinks.
Holiday parties are on their way, and with them come mugs of hot cocoa and holiday punch. Unfortunately, all of those tasty treats of winter can pack a pretty high caloric punch. But don't worry, we have the perfect list of holiday drinks—with a slightly healthier take—to satisfy all of your cravings this holiday season. 
Nature Nate's Honey Almond Eggnog
Eggnog is the quintessential holiday drink. Sweet and creamy, it can traditionally be enjoyed hot or cold, with or without a splash of rum. Alas, with its generous use of whole milk, heavy cream, and alcohol, too much eggnog can really do some damage to your waistline.
Fortunately, Nature Nate's has come up with a dairy and alcohol-free alternative. 
 Prep Time: 5 minutes 
Cook Time: 5 minutes 
Servings: 6-8 

Ingredients:  
– 4 cups unsweetened almond milk 
– 2 eggs, beaten 
– ¼ cup Nature Nate's Raw & Unfiltered Honey 
– ¼ teaspoon nutmeg 
– ¼ teaspoon almond extract 
– 1/8 teaspoon salt  

Directions:  
Whisk all ingredients over low heat in a medium saucepan, constantly. When liquid begins to steam and thicken, remove from heat. Cool and serve. Serve with honey sweetened whipped cream. Add a touch of almond extract to the whipped cream if desired. 
Chef Via Melissa's Holiday Chocolate Mint Drink
If you're a fan of mint-chocolate-chip milk shakes and peppermint hot cocoa, this guilt-free icy treat is the perfect holiday drink for you. Created by Melissa Eboli of Via Melissa, this smoothie is a healthy vegan twist on classic holiday flavors.  
Servings: 2 8-oz. glasses 
 
Ingredients:  
– 1 frozen banana (peel and break into chunks before freezing in a zip lock bag) 
– ½ cup ice 
– 1 cup vanilla coconut milk 
– 1 scoop vanilla vegan protein powder 
– 1/8 cup cocoa powder 
– 1 tablespoon chocolate chips 
– ¼ teaspoon mint flavoring 
 
Directions:  
Place all ingredients in a high-powered blender. Blend until smooth (15-20 seconds). Drink and enjoy!    
Homemade Gingerbread Latté by Cassie of Wholefully
Who can make it through the holidays without trying a few fun latté flavors? This liquid adaptation of traditional German Christmas cookies is a healthier alternative to the high fructose syrup and sugar-filled drinks found in coffee shops. Created by Cassie of Wholefully, this recipe is "a little bit spicy, [and] a little bit sweet," and is sure to "ease you into the Christmas spirit." 
 
Ingredients:  
– ½ cup strongly-brewed coffee 
– 1 tablespoon molasses  
– 1 tablespoon maple syrup 
– ½ teaspoon ground ginger 
– ¼ teaspoon ground nutmeg 
– ½ teaspoon ground cinnamon 
– ½ teaspoon vanilla extract 
– ¾ cup milk 
 
View the Wholefully website for full instructions on how to make this Gingerbread Latté. 
Natural Grocers' Kran-Bucha Mocktail
From fruitcake to sauce to cocktails, cranberries are a staple of the holidays—and for anyone who's looking for a little fermentation without the alcohol, Natural Grocers has the perfect cranberry kombucha mocktail for you! 
Total Time: 5 minutes 
Servings: 1 
 
Ingredients:  
– 3 ounces sparkling cranberry juice  
– 3 ounces cranberry kombucha  
– 1 ounce peach nectar 
– 1 tablespoon fresh lime juice 
– 1 ounce mineral water 
– thin lime slice, for garnish 
– frozen cranberries, for garnish 
 
Directions:  
Mix all ingredients together. Stir well and serve over ice. Garnish with fresh lime and cranberries.  
Lauralee's Spiced Christmas Tea
And of course, what would the holidays be without a family recipe? This citrusy spiced tea is a Christmas staple in my mother's kitchen. Not only does it taste amazing, but it makes the whole house smell like all the spices of the season, making it the perfect drink to brew before company arrives.   
Prep Time: 5 minutes 
Cook Time: 20 minutes 
Servings: 8 
 
Ingredients:  
– 3 oranges 
– 3 lemons 
– 2 cups pineapple juice 
– 1 tablespoon whole cloves  
– 2-3 cinnamon sticks 
– 5-6 teabags (black, preferably Earl Grey)  
– Up to 2 cups sugar or honey 
 
Directions:  
Squeeze oranges and lemons, and set juice aside. Place orange and lemon rinds in a 4-quart pot. Cover with water to near the top. Add cloves and cinnamon sticks. Bring to a boil and allow mixture to boil for 15 minutes. Add teabags and let steep for 5 minutes. Allow to cool.   
In a gallon jar, add 2 cups of sugar or honey—less if you prefer. Add pineapple juice and fresh orange and lemon juice to the jar. Strain contents of sauce pan into the jar. Stir the contents and refrigerate.  
Serve hot or poured over ice, and enjoy! 
 
Whether you drink these as a casual treat for a chilly night or serve them at a holiday party, these healthy drink recipes are sure to be a hit!