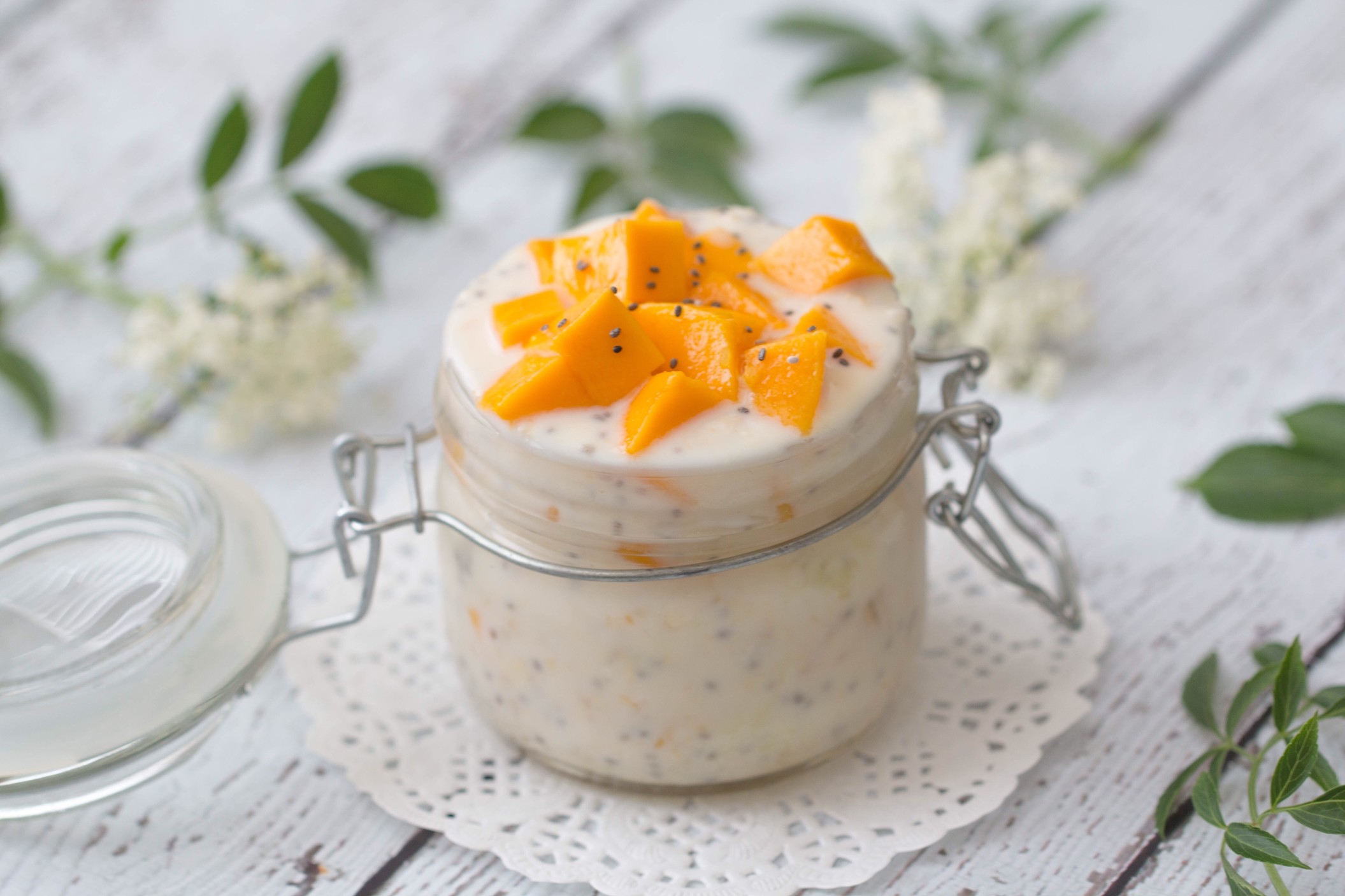 Overnight oats are a genuine craze. If you've been wondering how to make them, or just want inspo for new ones, check out these seven tasty recipes sourced from top nutritionists and food bloggers.
1. Strawberry Mint Overnight Oats
Chia seeds give this recipe from Toby Amidor, MS, RD, of Toby Amidor Nutrition its nutritional punch.
The strawberries and mint add color, and make it seem like a fancy breakfast health cocktail.
And just a bit of maple syrup gives it all-natural sweetness. Also, FYI, maple syrup packs a lot more good stuff than sugar, honey, or agave syrup. It  contains manganese, zinc, riboflavin and a whole host of other good-for-you nutrients. Almost makes you want to skip all the other ingredients and just drink it straight, no?
Protip: Don't do that.
Ingredients
1/2 cup Quaker® Old Fashioned Oats
2/3 cup nonfat milk
2 teaspoons chia seeds
1 tablespoon 100% maple syrup
3 strawberries
1 tablespoon finely chopped mint
1 (16-ounce) jar with lid
Directions
Combine oats, milk, chia and maple syrup in the jar and stir to combine.
Cover with the lid and place in the refrigerator overnight. In the morning, remove the jar from the refrigerator and stir to combine. 

If you'd like it warm, heat in the microwave (without the lid) for 2 minutes.

Thinly slice the strawberries. Top the oatmeal with the sliced berries and mint, and enjoy!
2. Chocolate Berry Overnight Oats
Q: What's better than chocolate for breakfast?
A: Chocolate and berries, of course!
Elisa Burgos, nutrition coach and cooking instructor with The Food Pharmacy, shared this delicious day-starter.

Ingredients
1 cup rolled oats
1 tablespoon cocoa powder
1 cup almond milk
Sweetener of choice to taste (maple syrup or date paste are great)
1/2 cup of berries (fresh or frozen)
Directions
Combine the oats and cocoa powder well. Stir in the almond milk and sweetener. Top with the berries and refrigerate overnight.
Serve for breakfast the next morning with a side of fresh fruit. Top with oil-free granola for a little crunch if desired.
3. Creamy Orange Overnight Oats
Lauren Pincus, author of The Protein-Packed Breakfast Club, says these citrusy oats have the flavor of a childhood treat.
With the bright orange stripe in the middle, just looking at them makes us happy, and the natural vitamin C boost will probably make your body happy.

Ingredients
1/3 cup old-fashioned oats
1 teaspoon chia seeds
1 packet stevia or preferred sweetener
2 tablespoons vanilla whey protein powder
1/4 cup unsweetened vanilla almond milk
2 tablespoons orange juice
1/3 cup plain, nonfat Greek yogurt
1 teaspoon orange (clementine) zest
1 large clementine or mandarin orange, peeled and sectioned
1 teaspoon slivered almonds and/or hemp seeds
Directions
Add the first 4 dry ingredients to a container with a lid or Mason jar. Mix well to combine.
Add the next 4 ingredients and mix well.
Add clementine slices and garnish with almonds or hemp seeds.
Cover and refrigerate for several hours or overnight.
If you'd prefer to layer it like a parfait, leave off the clementine and nuts/seeds and add them in the morning.
4. Carrot Cake Overnight Oats
This spiced version of the classic dessert from writer and photographer Marisel Salazar will warm you up in the morning.
Ingredients
Oats
4 tablespoons steel-cut oats (or 1/2 cup traditional rolled oats)
1 teaspoon coconut sugar (or favorite sweetener)
1/4 teaspoon ground cinnamon
1/4 teaspoon pumpkin pie spice
Pinch of sea salt
2 tablespoons Greek yogurt
1/2 cup non-dairy milk
1/4 teaspoon vanilla extract
1 organic carrot (the more orange the carrot, the sweeter it will be!)
Toppings
2 teaspoons cacao nibs
1 to 2 tablespoons toasted chopped walnuts
1 tablespoon raisins
1 teaspoon cashew butter
2 teaspoon toasted coconut flakes
Directions
Combine dry ingredients in a bowl.
Whisk wet ingredients into dry and let sit overnight.
When ready to eat, top with toppings.
5. Elderberry Syrup Overnight Oats
For a twist on berried oats, try this version from Kiley Gwynn of Mountain Rose Herbs.
The company offers the syrup for sale, as well as the chia seeds and spices.
Unless you already have Himalayan salt elderberry syrup in your pantry.
If you do?
Well, yeah, we're impressed.


Ingredients
1/4 cup organic old-fashioned oats
1/2 cup water
1 tablespoon organic chia seeds
1 teaspoon organic pumpkin pie spice blend
1 or 2 organic cardamom pods
1 pinch ground Himalayan salt
1 tablespoon elderberry syrup
1/2 cup organic milk of your choice
Handful sliced organic almonds
1 teaspoon organic coconut flakes
1 teaspoon ghee (optional)
Directions
Place first six ingredients in a small saucepan and let soak overnight.
The next morning, remove the cardamom pods. Add the remaining ingredients, except ghee.
Stir to create a porridge-like consistency.
Heat the mixture over low heat for five minutes, stirring occasionally.
Add ghee just before serving, if desired.
6. Chef Via Melissa's Vanilla-Cinnamon-Coconut Oats
This sweet and nutty recipe from Melissa Eboli of Via Melissa is the perfect pick-me-up.
Ingredients
1/3 cup oats
2/3 cup vanilla coconut milk
1 teaspoon honey
1/2 teaspoon cinnamon
1 tablespoon walnuts
1 scoop vegan vanilla protein powder
1 tablespoon coconut flakes
Directions
Add all ingredients except protein powder to a bowl or Mason jar.
Cover and soak overnight for 8 to 12 hours.
Remove from fridge and top with protein powder and coconut flakes.
7. Chef Via Melissa's Cardamom-Ginger Overnight Oats
In this recipe from Melissa Eboli, the oats get a kick from ginger and earthy cardamom.
Walnuts provide fiber and omega-3s, and, according to Healthline, walnuts are also "richer than most other nuts in polyunsaturated fats."
So, maybe we don't need to tell you this, but… go nuts!

Ingredients
1/3 cup oats
2/3 cup vanilla coconut milk
1 teaspoon honey
1/2 teaspoon cinnamon
1/4 teaspoon cardamom
1/2 teaspoon ginger
1 tablespoon walnuts
1 scoop vegan vanilla protein powder
Directions
Add all ingredients except protein powder to a bowl or Mason jar.
Cover and soak overnight for 8 to 12 hours.
Remove from fridge and top with protein powder and walnuts.