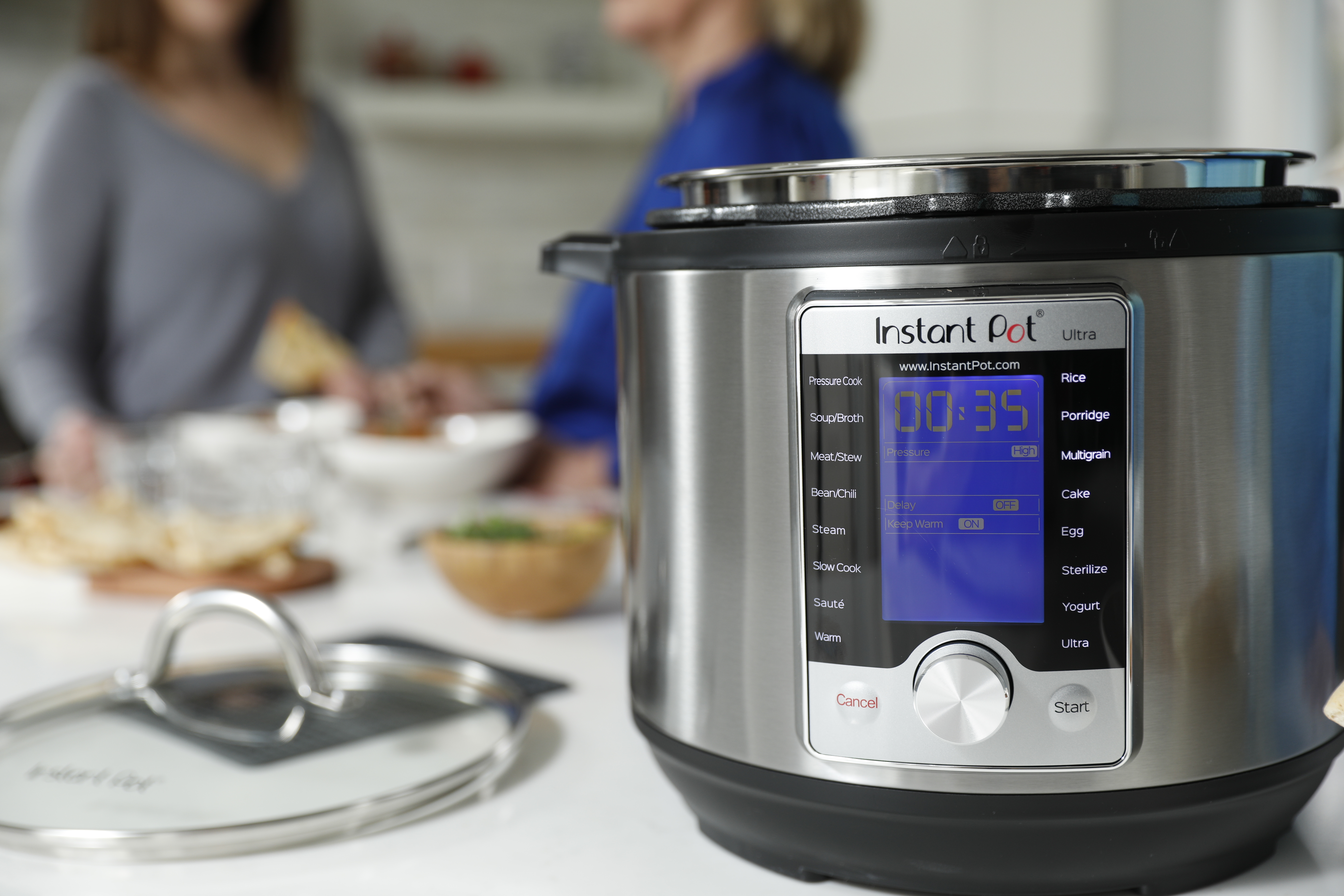 When it comes to cooking gadgets, the Instapot, a nickname for the brand Instant Pot, is a pressure cooker that has really taken off over the past two years. Find out why it's taken off, and check out five recipes that will inspire you to finally take it out of the box.
With a variety of dials, buttons, and digital settings, it seems so technologically advanced, you might even expect it to lift off! But while it may look like a thing of the future, this handy kitchen appliance actually had its start in the late 17th century, thanks to French physicist Denis Papin. According to Discover Pressure Cooking, in 1679, Papin developed the Steam Digester, a small cauldron with an airtight lid, which used pressurized steam to speed up cooking times.
As cookware and canning methods developed over the next three centuries, so did the pressure cooker. And by the time World War II rolled around, saucepan pressure cookers like the Presto were a staple in U.S. kitchens. But Instant Pot "smart cookers" aren't your grandma's cookware. Actually, these modern adaptations look more like slow cookers than traditional stovetop pressure cookers. But don't be fooled! While a traditional slow cooker can take all day, Instant Pot usually takes less than an hour.
The reason for such speedy cooking, according to the Instant Pot website, is thanks to a heating process called a closed-loop control system. Basically, this means that the pot uses built-in sensors to raise temperatures and pressurize the contents. It hen cools the temperature to release pressure. In an article about the science of pressure cookers, Fine Cooking explains that by having a lid with a locking gasket, pressure cookers inhibit the escape of steam, allowing "the cooker [to work] by raising the temperature of boiling water, thereby speeding up the time it takes to boil, braise, or steam."
What sets Instant Pot apart from a traditional stovetop pressure cooker and a slow cooker is its pre-set smart cooking programs. This means that the cooker can control the heating intensity, temperature, pressure, and duration of the cooking process all on its own. You just need to add your ingredients, select the appropriate settings, and set the table!
Incidentally, if you're concerned about safety—and you've heard something in the news about Instant Pot issuing a recall—know that there's probably no need to worry. The recall affects some of the company's multicookers, not the Instant Pot. And if you've seen that controversial episode of NBC's "This Is Us," that was a slow cooker—not an Instant Pot—and they are also considered safe.
So, if you love slow-cooker meals, but need quicker cook-times—or if, like me, you're afraid that the lid will fly off of your traditional pressure cooker and careen through your kitchen window—trying out an Instant Pot may be a good way for you to create some super-quick and healthy dishes!
A recent press release from Amazon reported that "Amazon.com customers purchased enough Instant Pot pressure cookers this holiday to make more than nine million bowls of chili at once." If you happen to be one of the lucky recipients of an Instant Pot, but still aren't sure what to cook, we've pulled together a list of healthy recipes for you to try.
1. Keto Low-Carb Chili
Speaking of chili, why not make some of your own? This bean-free chili from Maya at Wholesome Yum is a great option for anyone on a low-carb diet, and takes just over 30 minutes using the pressure-cooker function. Plus, on a cold winter night, this chunky chow is just the ticket!
Ingredients
2 1/2 pounds ground beef
1/2 large onion, chopped
8 cloves garlic, minced
2 15-ounce cans diced tomatoes with liquid
1 6-ounce can tomato paste
1 4-ounce can green chiles with liquid
2 tablespoon Worcestershire sauce
1/4 cup chili powder
2 tablespoon cumin
1 tablespoon dried oregano
2 teaspoon sea salt
1 teaspoon black pepper
1 medium bay leaf, optional
See how to get your yum on!
2. Vegan Holiday Roast
There are plenty of meat-filled Instant Pot ideas but there, but it can be difficult to find recipes that are vegan-friendly. Luckily, JL Fields has created a whole cookbook, Vegan Pressure Cooking, full of tasty one-pot meals, like this vegan holiday roast.
Ingredients
1 to 2 teaspoons extra-virgin olive oil
4 cloves garlic, minced
1 cup yellow onion, diced
2 cups carrot, diced
2 cups potato, diced
1 teaspoon sea salt
1 vegan stuffed roast (1 pound), thawed)
3/4 to 1 cup vegetable broth
1 tablespoon almond milk
1/4 teaspoon ground black pepper
1 teaspoon vegan butter, optional
See how to prep and cook your vegan roast.
3. Mediterranean Lentil and Chickpea Stew with Roasted Cauliflower
For some lighter fare that's full of spices, check out this chickpea and lentil stew from Nicky at Little Family Adventure. Perfect for anyone with a busy evening schedule, this protein-packed stew takes less than an hour to cook and can easily be frozen and stored for leftovers or pre-prepped meals.
Ingredients
1 1/2 cups lentils
1 medium onion, chopped
1 large sweet potato, chopped
3 carrots, chopped
1 red bell pepper, chopped
3 zucchini, chopped
1 28-ounce can tomatoes, diced
4 cups vegetable broth
1/2 cup water
1 tablespoon smoked paprika
1 tablespoon ground cumin
1 teaspoon garlic powder
1 teaspoon ground ginger
1 teaspoon ground sumac
1 teaspoon dried oregano
1 teaspoon sea salt
1/2 teaspoon black pepper
12-ounce can chickpeas (drained)
1 handful fresh cilantro, chopped
1 head cauliflower, cut into florets
3 tablespoons olive oil
2 garlic cloves, minced
1 tablespoon curry powder
1 tablespoon ground cumin
Find out how to assemble your own protein-packed stew.
4. Instant Pot Thai Peanut Chicken Soup
If you love peanuts and Thai-inspired food, this dairy-free recipe from Lindsay at The Lean Green Bean is ideal for an Instant Pot lunch. Clocking in at around 20 minutes, you can enjoy a healthy, hassle-free meal in less time than it would take to order take-out!
Ingredients
2 strips bacon
1/2 cup onion
1 1/2 cup sweet potato
1 cup red pepper
1 cup zucchini
1 cup summer squash
1 cup frozen corn kernels
1–2 tablespoons fresh ginger
3 tablespoons soy sauce
1 1/2 cups chicken broth
1 1/2 pounds chicken breast
1 teaspoon paprika
1 can coconut milk
1/4 cup peanut butter
Check out the full recipe to whip up your own Thai-inspired soup.
5. Instant Pot Turkey-Stuffed Peppers
While it can be tempting to treat your pressure cooker like a glorified slow cooker, there are actually some fantastic non-soup recipes out there! This Instant Pot version of stuffed peppers from Gina Homolka at Cooking Light is a great way to try pressure cooking with solid food, and makes a perfect appetizer or main dish.
Ingredients
4 large bell peppers
1 pound lean ground turkey
3/4 cup cooked brown rice
1/3 cup seasoned breadcrumbs
3/4 cup reduced-sodium marinara sauce
1/4 cup minced onion
1 ounce grated Parmesan cheese
3 tablespoons chopped parsley
2 teaspoons tomato paste
1/4 teaspoon kosher salt
Black pepper to taste
1 large egg
1 garlic clove
1/2 cup water
1 ounce mozzarella cheese
See the full recipe to try these turkey-riffic peppers.
So, if you were the lucky recipient of an Instant Pot this year, don't be afraid to take it for a whirl! With plenty of healthy recipes, and a huge variety of foods to choose from, you can cut down your cook time and enjoy meals that are not only good for you, but delicious and easy to make.