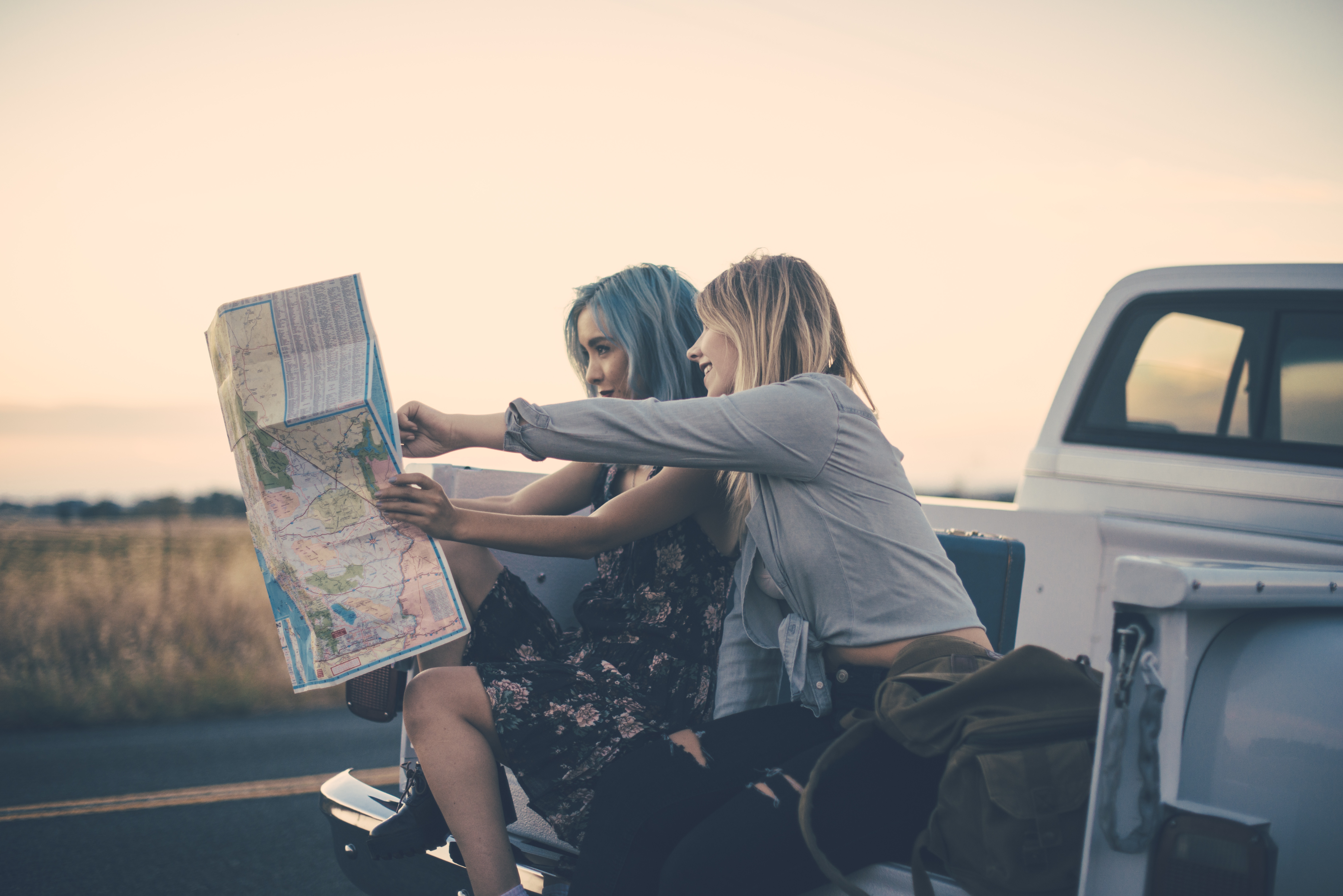 Struggling with how to stick to your special diet while you're on the road? If you're paleo, vegan, gluten-free or allergic—check out our tips before you hit the road.
As I write this, I'm on a train from Boston to New York. It's dinnertime, and I'm pretty sure the dining car will have a thrilling assortment of turkey and ham sandwiches, chips and cookies, and maybe nachos or mozzarella sticks.
Not exactly healthy…but the main problem? I'm a vegetarian. I've been a vegetarian for going on 20 years now, and I'm not inclined to change that because of a four-hour train ride. When I'm traveling, sticking to my diet can be tricky. Depending on where I am, restaurants may have few (if any) vegetarian offerings, and much as I love street food, it can be questionable unless it's specifically labeled "vegetarian." If you're paleo, keto, vegan, gluten-free, or on any kind of restricted diet, finding "safe" foods to eat on the road can be tough, and "accidents" can be serious trouble if you have allergies or other sensitivities. So what can you do?
Plan ahead…
If you're on a special diet, look into culinary options at your destination, including at the airport—airport websites can be super-helpful!—and, if pickings are slim, consider packing your own meals and snacks if you can. Our friend, certified lifestyle mentor and life coach Dai Manuel, who often follows a keto diet and recently moved to Bali with his family, says he packs snacks and meals ahead of time if he knows food won't be available. He also suggests staying hydrated and eating mindfully. "Don't be drawn in by the 'super-size me' offers or '2 for 1′ gas station deals," he says. "Pay attention to the foods you buy and how much you are eating, and ultimately just be smart about your overall food choices. You know what's good for you."
Another option when you're in the planning stage: Look into restaurants that specialize in your diet and make reservations in advance. In Paris last fall, I mostly ate on a budget—except for one glorious lunch at the vegan restaurant Gentle Gourmet, where I pulled out all the stops (and my credit card). And let it be known that New York City has a zillion gluten-free pizza options.
…Especially when visiting relatives
Let's face it, dinners with family and friends can be tough if you're on a diet. You don't want to be rude, but you want to stick to the plan. What can you do?
As always, planning ahead can help. Consider bringing your own food, and asking friends who are on your same diet what they do. Good hosts will often ask in advance if you have any dietary restrictions, and if they do, there's your cue! If that does happen, you might offer to bring something, and even sneak in an idea or two that the host already knows or is easy to prepare: "Thanks for asking! I've been following a vegan diet since January. I love your pear salad!"
Of course, if none of that happens, you might try taking a tiny bit of the questionable food and pushing it around your plate. But avoid evangelizing your new diet—no one wants a lecture at dinner. If anyone asks, dumb it down: "I'm on a diet and trying to stick to vegetables, thanks."
Just trust me on this. You don't get into the "Paleo? What's that?" conversation, because it will become the only topic of conversation while you are there…and then after you leave.
Ask around
One of my fondest travel memories is going to visit my friend Liz. She took us to this magical place: a totally (whoa) vegan (wait for it) diner (whaaaaat?!) That's right, all vegan. We're talking more than one type of veggie burger, and tasty shakes, and the best chili cheese fries I've ever had.  So many options, and all so good.
Which brings me to my next tip. While doing a simple Google, TripAdvisor or Yelp search can yield a ton of recommendations, don't forget to ask people you know. A really great source for vegan restaurant recommendations? Other vegans. Paleo? Other paleos. You get the idea. Ask your diet-cquaintances before you go and you will most likely be rewarded.
And don't forget to ask around when you get to your destination, too. I find that asking shopkeepers (especially if you've just spent money in said shop) helps.
Incidentally, for those of the veg persuasion, if you're ever in the Boston area, Veggie Galaxy is fantastic. And when in the Windy City, you must do The Chicago Diner. Meat-free since '83, y'all.
Private to my friend Liz: I'm coming at you for recs the next time we go to Montreal.

Go for the gadgets
Whenever I travel, my first stop is usually the local grocery store—where I can check ingredient lists to be absolutely sure—and/or farmers' markets, for local produce and treats. It's a great way to stay on budget, too. I also keep a few packable little gadgets and tools on hand to make things easier. Here's what I bring.
These take up little space in your bag—throw the spork, straw, and wrap or bag into a clear sandwich bag, stick it in a front compartment, and you're good to go.
Make smart airport food choices
As I mentioned, airport websites aren't bad places to start scouting out food options in advance. In fact, we're planning a trip to Japan next year, and I'm already planning for extra time at the airport because I hear the food is legendary. I can't wait. And if you plan to eat on the flight, don't forget to call your airline a couple of days in advance to request your special meal.
Finally, I thought I'd give a shoutout to my favorite airport chain for healthy snacks: CIBO Gourmet Market. They have outposts in several different U.S. airports—including Chicago O'Hare, LaGuardia, and JFK—and it's special-diet snack heaven, with sweet and savory options for vegans, those on gluten-free diets, and more. Recently, at the one in O'Hare, I went for black rice crackers, honey-and-blood-orange candies, and pear fruit snacks. I totally blew my airport food budget, but I regret nothing.
I hope these tips make your eatin' life easier when you're on the road. Happy traveling!