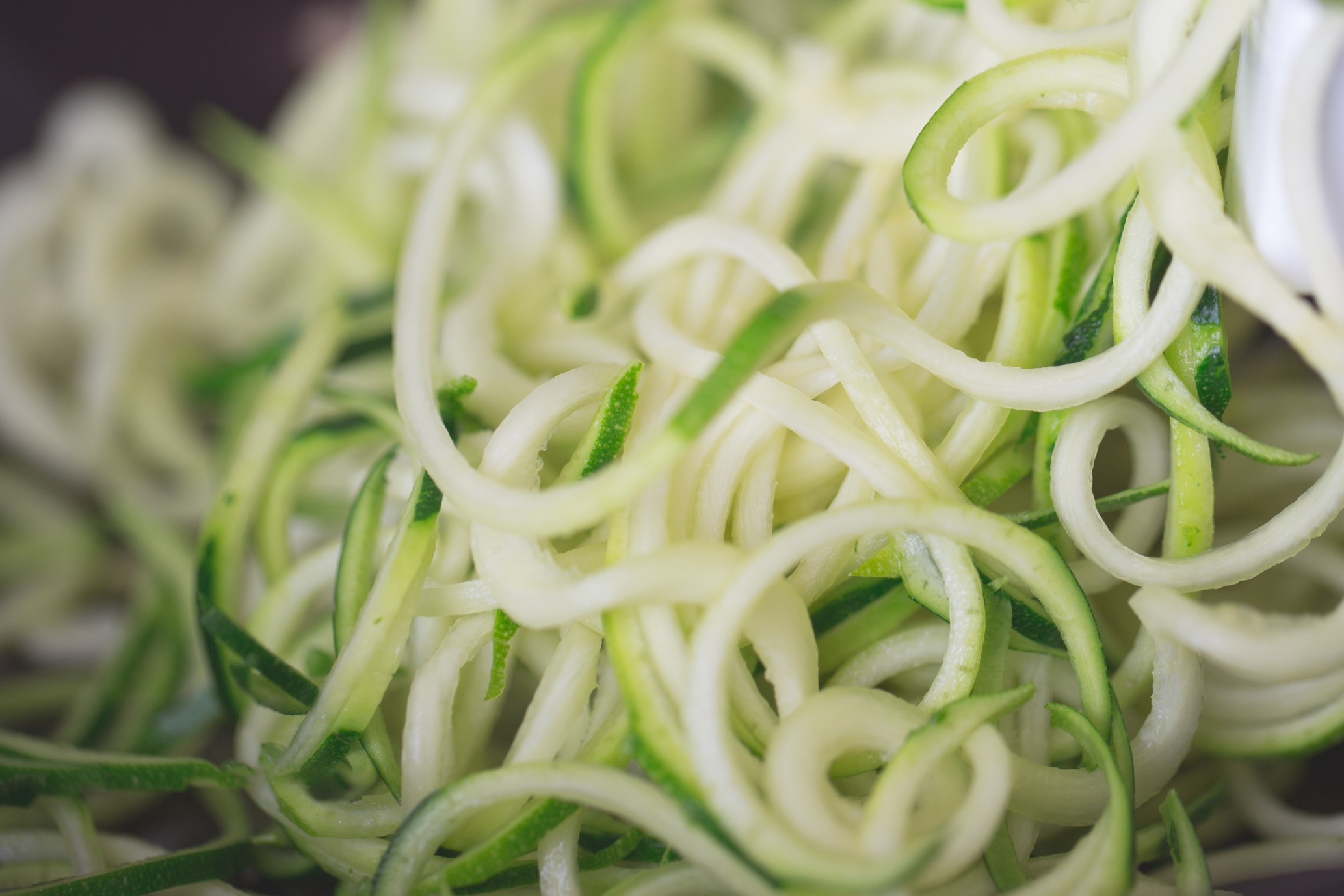 On a diet and want to cut back on carbs? Zucchini noodles could be the solution. Find out more about this popular carb substitute, right here.
Zucchini noodles (aka zoodles) are the ideal carb substitute for anyone looking for an alternative to wheat-based spaghetti. We'll introduce you to the wonderful world of zucchini, and explain exactly how to cook zoodles to perfection, with and without a spiralizer.
What is zucchini?
Zucchini—also called a courgette in some parts of the world—is a super-healthy vegetable that resembles a kind of oversized cucumber. According to Draxe.com, zucchini has a wide variety of potential health benefits, including:
Anti-inflammatory properties
Possible protection against diabetes
Low carbs and calories
Improved eye health
Vitamin C, potassium, and antioxidants
Improved digestive health
Beneficial effects to adrenal and thyroid function

Plenty of B vitamins
In recent years, zucchini has also been used as a low-carb, gluten-free substitute for spaghetti, noodles, and pasta. With their delicate, mild flavor that works perfectly as a pasta replacement, it's no surprise that more and more people are coming around to the idea of zoodles.
How to cook zoodles
Switching to zucchini doesn't mean you should have to miss out on all those classic spaghetti dishes you know and love. So, how can you make zucchini pasta in the comfort of your home? It's actually fairly simple.
First, you need to turn that zucchini plant into something resembling pasta. There are a couple of different tools that you can use when you're preparing your zoodles. Most popular is a spiralizer, a kitchen tool used to make fruit and vegetable ribbons. All you need to do is cut the ends off the plant and feed it into the spiralizer. Make sure you don't peel your zucchini before you spiralize it, or the moisture will begin to seep out. Within a matter of seconds, you'll have your zucchini ribbons ready to go.
Alternatively, you could use a julienne peeler. Although this method probably requires slightly more preparation time than a spiralizer, it's a simple way of creating long, thick zoodles. You can also use a standard mandoline slicer, a tool that creates big, juicy zucchini noodles. There's no real difference in quality between the zoodles made with the julienne peeler and the mandoline, although the mandoline's larger size may be a consideration if space is at a premium.
Prepped your zoodles? Congrats! Now it's time to start cooking. Be sure not to cook your zoodles for too long, or they'll turn mushy. Yuck. There are a few different cooking options to consider:
Eat them raw: It's perfectly fine to serve your zoodles raw, so for those who prefer a crispy, al dente option, you may not need to do any cooking at all.
Microwave them: Just pop your zoodles in the microwave and heat them up for about a minute.
Boil them: Boil a pot of water, add your zoodles, and let them cook for a minute. Simple.
Saute them: Add a tablespoon of olive oil and saute your noodles in a pan for about 2 minutes.
Bake them: Preheat your oven to around 200°F (92°C), line your baking sheet with a paper towel, and add the zoodles. Then just sprinkle a pinch of sea salt and cook for 10-15 minutes.
Which way is best? Popsugar recommends the saute route, but in all honesty there's no correct answer. It's all about how much time and effort you're willing to spend. Baking is probably the most time-intensive option, while eating them raw (no kidding) is easiest. It really just comes down to individual preference.
Now you know how to prepare your zoodles, it's time to whip them up into a proper meal. Check out these summery spiralized zucchini recipes for some low-carb inspiration.
Recipe #1: Zucchini noodle spaghetti salad
This spiralized zucchini noodle spaghetti salad recipe from Eating Bird Food is ideal for a light summer dish.
Ingredients
3 large zucchini, spiralized
1 yellow or red bell pepper, chopped
1 pint grape tomatoes, quartered
1 cup chopped cucumber
1/3 cup chopped red onion
Dressing
3 tablespoons apple cider vinegar or lemon juice
1/4 cup olive oil
1 teaspoon dijon mustard
1 teaspoon maple syrup (optional)
1/2 teaspoon onion powder
1/2 teaspoon dried thyme
1/2 teaspoon dried oregano
1/2 teaspoon dried basil
1/2 teaspoon pepper
1/4 teaspoon sea salt
Directions
Add zucchini, bell pepper, tomatoes, cucumber, and red onion into a large salad bowl.
Whisk together the dressing ingredients in a small bowl.
Pour dressing over salad and toss to combine.
Taste and add additional salt and pepper if needed.
Leave to sit in the fridge for 20–30 minutes before serving.
Recipe #2: Baked eggs with kale, cherry tomatoes, and zucchini noodles
For a healthy zucchini-based breakfast, this zoodles recipe from The Wheatless Kitchen is a great option.
Ingredients
3–4 cups kale, chopped
1 1/2 cups cherry tomatoes
1 large zucchini
2 cloves garlic, finely chopped
4 large eggs
Pinch of salt and pepper
1–2 tablespoon extra-virgin olive oil
Directions
Preheat the oven to 350°F (176°C).
Preheat a large skillet to medium heat.
Add the oil and garlic to the pan,. Stir frequently for about 30 seconds.
Add the tomatoes. Stir occasionally for 3–4 minutes, until they start to blister and soften up.
Add the kale and stir for 1-2 minutes until kale is slightly wilted.
Remove from heat, spread the zucchini over the top and give it a gently toss to incorporate the noodles.
With a wooden spoon or spatula, gently move the kale mixture around to make 4 holes within the pan.
Crack an egg into each hole, then carefully place the skillet into the oven.
Bake for 5–6 minutes.
Serve straight from the pan.
Recipe #3: Zoodles with kale pesto and edamame
Quick and easy to throw together, this delicious recipe from As Easy As Apple Pie is the perfect option for a light lunch.
Ingredients
1 portion kale pesto
4 zucchini (26.4 ounces)
1 tablespoon extra-virgin olive oil
1 clove garlic, minced
1/2 teaspoon chili powder
7 oz shelled frozen edamame, defrosted
2.1 oz blanched almonds
Directions
Prepare the kale pesto and set aside.
Wash the zucchini.
Use a spiralizer or a julienne peeler to slice the zucchini into noodles.
Heat the extra virgin olive oil in a large skillet over medium-high heat.
Add the garlic and chili powder.
Cook until the garlic is fragrant.
Add the zoodles. Saute for 2 minutes.
Add the edamame, season with salt and pepper and saute for another 1 or 2 minutes.
Remove from heat and toss the zucchini noodles with pesto until coated.
Top with almonds and serve.
Oodles of zoodles making your mouth water? There's only one thing to do — grab your spiralizer and try one of our spiralized zucchini recipes for yourself.