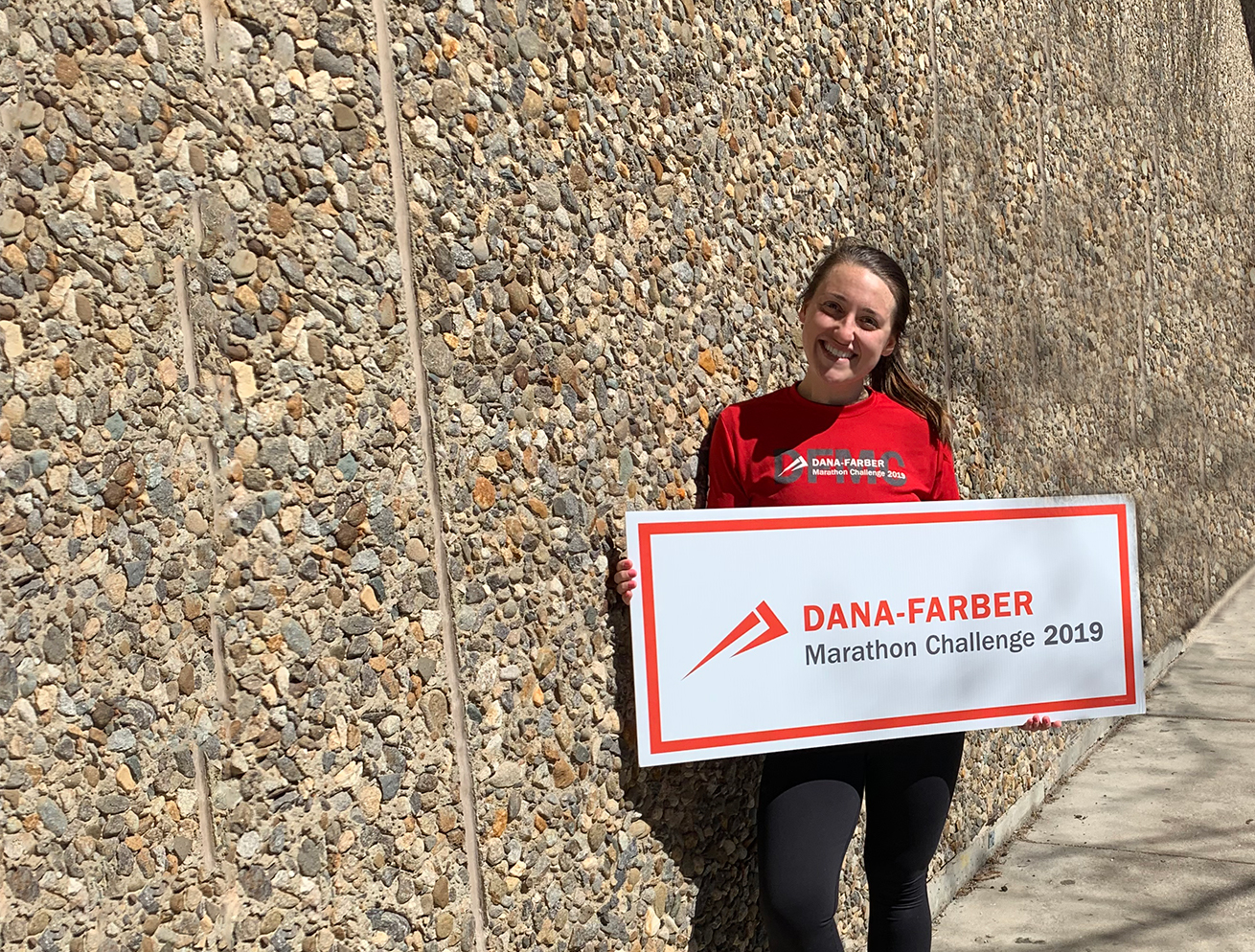 A friend of our blogger wanted to run the Boston Marathon. We got the lowdown on why and how—and details on her training program, too. Read on to find out more.
Every year the Boston Marathon attracts over 30,000 participants from all over the world with the shared goals of supporting the local community of Boston and promoting an active and healthy lifestyle through sport. Run since 1897, the Boston race is the world's oldest annual marathon, and today, in order to compete, participants must either meet stringent qualifying time limits based on age and gender or pledge to raise funds for an organization whose goals are aligned with the Boston Athletic Association's mission and strategic focus areas of health and fitness.
To get more insight on the upcoming race, I talked to my friend and native Bostonian, Tara Deggendorf, who will be running in the 2019 Boston Marathon for the Dana-Farber Cancer Institute, one of the world's leading adult and pediatric cancer treatment and research centers. This cause is dear to her heart because her father has been battling non-Hodgkin's lymphoma for nearly 20 years. Read more about the amazing work the Dana-Farber Cancer Institute has done to help save her father's life, Tara's long-term personal health goals, and how using an activity tracker has played an important role during her weight-loss journey.
When did your weight-loss journey begin, and can you describe your transformation?
In January 2017, I slowly started changing my lifestyle. However, since my dad was sick during this time, I didn't really start losing weight until October 2017, and from then to now, I have lost 140 pounds and my BMI is under 25—an accomplishment I just reached this week.
When did you apply to run the Boston Marathon, and how long have you been training?
I have been training officially since the second week of December. However, I have been running since June. My first goal was a 5K, so I wasn't initially planning on running long distance. When I found out my dad had to go through chemotherapy and needed to have a CAR T-cell transplant through Dana-Farber, I put in an application to run the marathon for Dana-Farber in November. I remember thinking, "I'm never going to get chosen." But then they said, "Congratulations! You've been chosen to run the marathon." I remember thinking, "Well, now I have to train for a marathon!"
Can you elaborate on your dad's illness? How is your dad currently doing?
In 2001, my dad was diagnosed with cancer for the first time. The first cancer was lymphoma and he had a tumor on the back of his neck—it was a big one, almost the size of a softball. He underwent chemotherapy until it was treated until he was in remission. The second time was in 2012, and this time, the cancer had spread all throughout his jaw. It almost felt like tooth pain, but the dentist said that there was nothing wrong with his teeth and that he should get it checked out. Our family went back to Dana-Farber and they treated it with radiation and surgery, and he was in remission again until 2017. In 2017, Dana-Farber noticed that his cancer came back and this time it was on one little piece in the middle of his body. His doctors didn't want to radiate him until the cancer was bigger, because radiation is so powerful and they didn't want to radiate his whole body. From June 2017 to February 2018, the cancer didn't change at all. From February to June 1, 2018, the cancer had spread through a large part of his body. Fortunately, chemotherapy removed most of my dad's cancer, and after having a CAR T-cell transplant done this fall, my dad is currently in remission.
So, you've been using a non-Withings activity tracker during a large portion of your training. Can you talk about how it has helped you during your training so far and which features of the Withings Steel HR you are excited to use moving forward?
There are a lot of things I like about activity and sleep tracking. I like that it tracks how many steps I walk in a day, not because I necessarily care about how many steps I walk daily, but because I care about how many calories I burn after walking so many steps. I'm excited to use the Health Mate app to track my health-related data. And everyone's fitness goals are different. I want to get to the point where I just want to maintain my weight, and I'm pretty much there, which is very exciting. I'm also excited about the Withings Steel HR's 25-day battery life and water-resistance feature.
What are your long-term goals post-marathon?
I think post-marathon, I just want to get more lean muscle. So I think I'm going to focus more on weightlifting. I don't want to say I won't do as much cardio because I like to run now. Will I run 20 miles a weekend? No, not doing that anymore. But I'll probably do a 10-mile run at least once a week, and two or three 5–8 mile runs each week as well. I will still run, it just won't be as excessive as it is right now.
Do you think marathon training has changed your perspective on health and fitness?
Yes. I think there's a lot to marathon training that people don't realize, and maybe it's just me because I was so naive about being healthy before, but it's a massive undertaking and a massive time commitment. Everything about marathon training has to be about marathon training. I run, and this is at the basic level—four times a week—so I will be ready for the marathon. The two days I cross-train, I lift weights because I want my heart to be ready for the marathon. I choose what I eat in the day so I can fuel my body properly to run the marathon. Everything I do—when I wake up, I look at a map of the course—isn't that crazy? And I look at how many hours of sleep I got the previous night to make sure I am well-rested to run this marathon. I prep meals on Sundays and I have to think, "Until Saturday morning, what is going to fuel me enough to get me to run a 20-mile run?" People say that this marathon lifestyle "consumes you"—but it has to consume you. You can't run a marathon and not eat the right things. You have to eat right, feel right and rest right. It's a lot of work.
Please describe the meals you eat.
I'll give you my full day-to-day. I eat only organic, and I weigh all my food with my food scale. I want to note how expensive it is to eat organic. I eat one fried egg, one slice of turkey bacon, and four ounces of Trop 50 orange juice for breakfast. I have a morning snack, and I eat half of a Granny Smith apple as well as organic peanut powder. For lunch, I have some kind of meat and vegetable like chicken and broccoli, and if I'm doing a long run that day, I am having a bag of popcorn or a bag of pistachios. Sometimes I'll have a protein shake because they are the same number of calories, but it has 15 grams of protein. I have an afternoon snack of two slices of turkey rolled up and two pieces of cheddar cheese. If I have a 10–12 mile run that day, I'll have a granola bar. For dinner, I'll have a meat and vegetables. For an evening snack, I'll have either a granola bar or half of a protein shake. Overall, I'm trying to increase my protein intake during the day.
Do you drink alcohol, or have you cut that out completely?
I'm not going to say I don't drink, but I'll drink once every two months. If I'm visiting a new city, I'll drink, but I'm not really a drinker.
How important do you think eating in moderation and cheat days are for your weight loss journey?
I live by the motto "Everything is good in moderation," because I can't always be perfect. You have to give yourself a cheat day. I typically let myself "cheat" either Saturday or Sunday night, but Monday through Friday, I'm killer. I would never eat unhealthily unless I compensated by working out. Last night, for example, I ate pulled pork mac n' cheese, but I also ran three miles and burned 1000 calories. So I was fine.
Can you describe your fundraising efforts, what your goal is, and how much money you've raised so far for Dana-Farber?
To date, I have raised $7,618.21 and my goal is $10,950. I officially started fundraising on January 1, and at first, I promoted Dana-Farber at work and through social media. I also hosted a fundraising event at Lansdowne Pub, which helped raise more than one thousand dollars, so that was great. I think I raised so much money so quickly because of my story and because of how passionate I am about Dana-Farber.
Do you consider yourself a runner now?
It's so weird, because I went to a women's conference and we had to say things we didn't believe, and I always said I wasn't a runner, but I am a runner. I can run 22 miles straight. It took me until two weeks ago to realize this, but I can now confidently say that I am a runner.
Has the rest of your family been motivated by your fitness and weight-loss journey?
Yes! My sister is actually doing the Pan-Mass challenge, which is also through Dana-Farber. My whole family is trying to be healthier. I am definitely the healthiest, but we are all in pursuit of a healthier life.
If you would like to help Tara reach her goal and donate to the Dana-Farber Cancer Institute, you can contribute here.