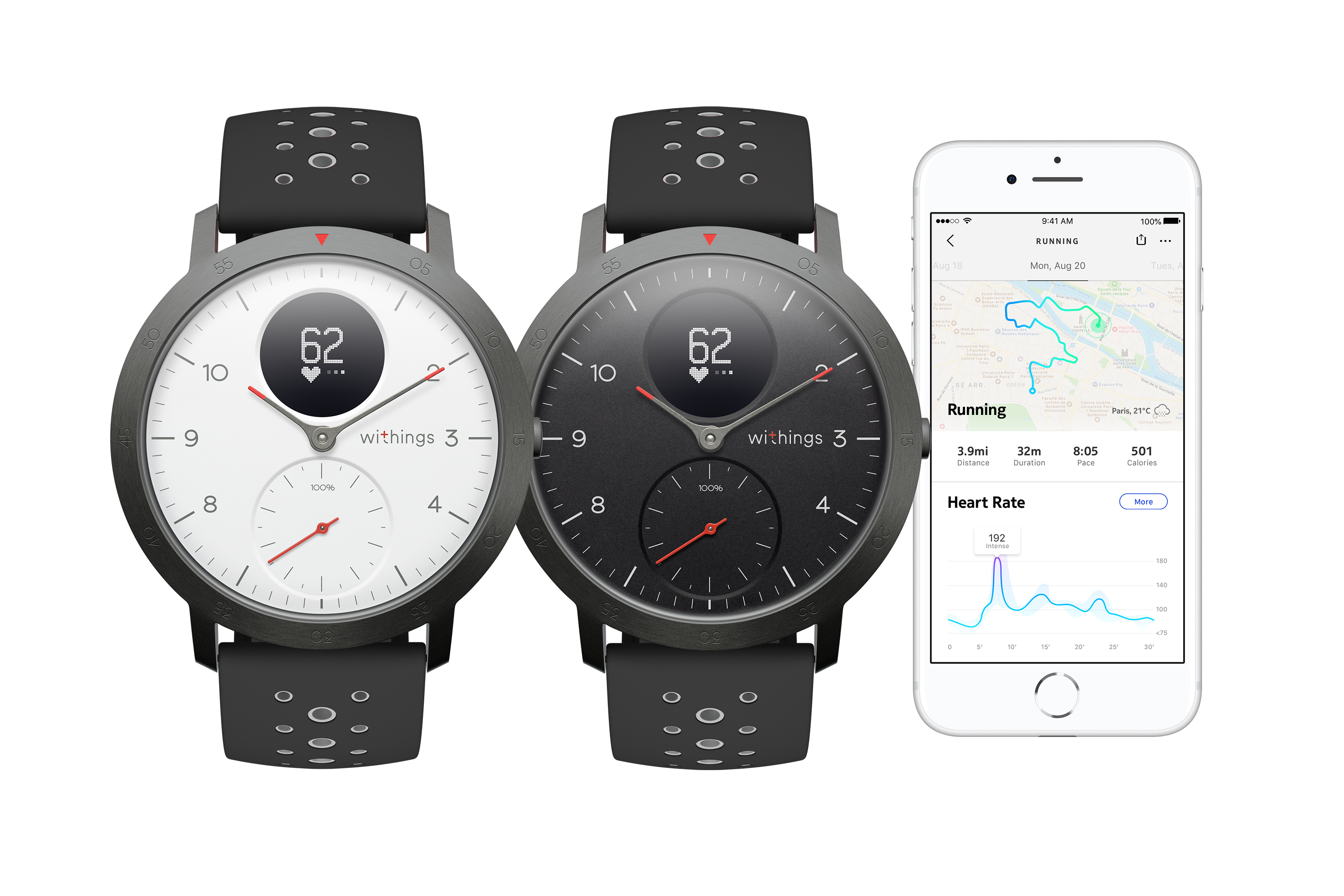 So you have a Steel HR Sport…but do you know everything you can do with it? We've got the lowdown.
If you have a Steel HR Sport, you know that it tracks more than 30 activities, heart rate, sleep, and more—but we thought we'd tell you about these features in a little more detail.
Follow your heart
Steel HR Sport tracks walk, run, swim, and sleep, as well as distance and calories burned—but over the course of your training session, you can continuously track your heart rhythm, too. Continuous heart rate mode is activated automatically when running, or you can perform a long press on the button to start workout mode. Check the Health Mate app to see how much time you've spent in each heart rate zone so you can adapt your training's intensity to your objectives.
Stay connected on the go
You can also receive notifications right on your wrist. All you need to do to personalize your experience is to open Health Mate, tap Devices, and then tap Notifications.
Map your route
When you do any distance-based activity, you can end your session and get an in-app map that shows exactly where you've been plus duration, distance, pace and even calories burned. You can enjoy the map as a personal scrapbook item or go the extra mile and share it with friends, family or all of social media to brag about where you've been, and what an awesome athlete you are, even if you just took a long walk. Got questions? Learn more about Connected GPS
Understand your nights
Simply wear your watch to bed to better understand your sleep. Steel HR Sport automatically recognizes your sleep cycles and provides you with a thorough recap of your nights, which you can access in Health Mate. You'll find your Sleep Score, which is calculated using a variety of metrics including length of your sleep, its depth, interruptions and consistency.
Add a new sport or activity
If you practice a sport that's not on the list of activities Steel HR Sport recognizes, you can add it to the Health Mate app. After several sessions, your activity tracker will start to recognize the movements linked to the activity and then recognize them automatically over the course of your next session.
If you haven't launched training mode on your watch at the beginning of your session, Steel HR Sport will detect your movements and add an unknown activity to the Health Mate app. You can then manually edit the activity in the app.
For more detailed information, try activating the workout mode, and then authorize Health Mate to access your location to use connected GPS. This will help the device to draw a map of your path and to recap your training session with data such as elevation, distance covered and pace.
Discover your Fitness Level and VO2 max
When you're running, walking or biking, Steel HR Sport calculates your cardio fitness level based on your maximum oxygen consumption (VO2 max) estimation. This data, powered by FirstBeat, corresponds to the maximum amount of oxygen you consume over one minute during intense physical effort. The more oxygen you consume, the higher your VO2 max is and the more oxygen your muscles receive—and the more fit you are. Bear in mind that you need to run for at least 10 minutes for your Steel HR Sport to calculate your Fitness Level. Still have questions? Here's what you need to know about VO2 max, and how to improve it.
Challenge friends
Our data shows that users who invite their friends to take part in the step challenge walk 25% more than those who don't. In the Health Mate app, click on Programs and then invite your friends to join on the leaderboard. Your friends don't need an activity tracker: everyone can participate with the free Health Mate app.
Automatic time zone changes
If you're a frequent flier, you'll appreciate what our watches do when you change time zones. As soon as you open the app, your watch will know the local time and snap to it—resetting itself to the correct time without you needing to do the math or touch your watch.
Workout pause
And there's one more new feature to sweeten the deal: You can now put your workout on pause—whether you need to stop to chat with a neighbor, pause for a red light, or tie an undone lace. Data during a pause is not taken into account when calculating your performance. This feature works with the app as a standalone or in conjunction with your watch.

And that's it! We hope you have fun with your Steel HR Sport.