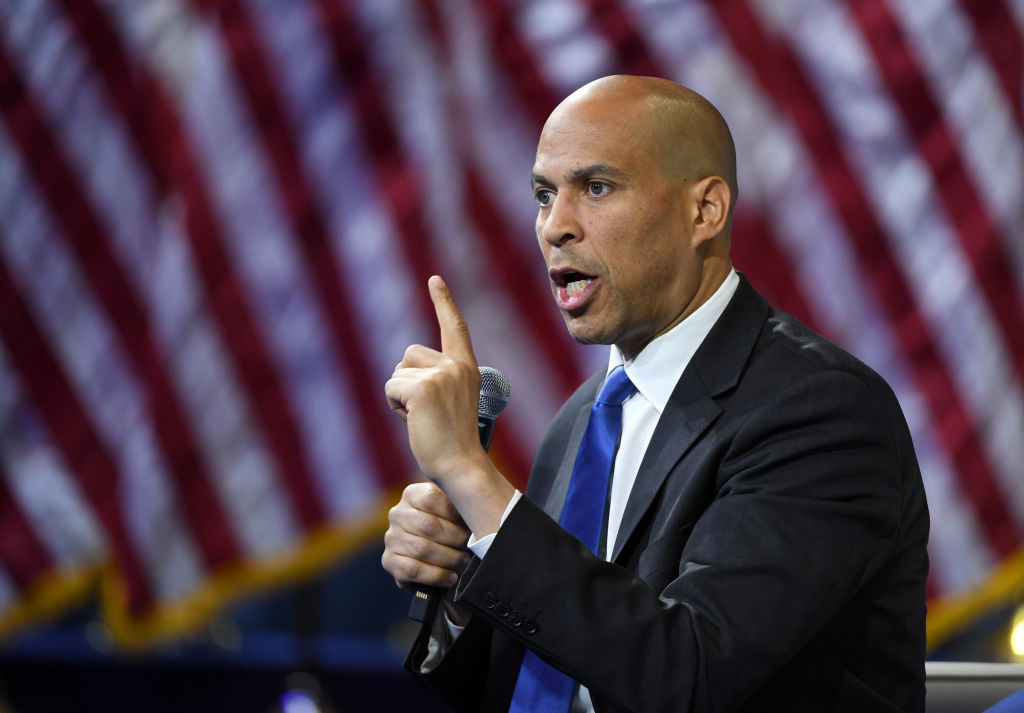 Raw sewage and contaminated water may not be a problem for you, but they're causing life-threatening health issues for millions in the U.S. Here's what you need to know—and what's being done about it.
Dengue fever? Hookworm? You may be thinking, "Never heard of 'em" or "Those are tropical diseases, right?" but the truth is, in the U.S., they're a problem—an estimated 12 million Americans suffer from these and other debilitating and life-threatening diseases linked to extreme poverty. How does this happen? The short answer: unsafe housing conditions, contaminated drinking water, or sanitation issues such as raw sewage can cause people to come in contact with bacteria and other pathogens in food, water, and soil. Lack of access to healthcare and lack of coordination among government agencies can make the situation worse.
On Oct. 23, New Jersey senator and presidential hopeful Cory Booker, pictured, introduced a bill designed to combat diseases of extreme poverty, including dengue fever, toxocariasis, cysticercosis, Chagas disease, toxoplasmosis, and trichomoniasis. We'll talk more about that in a bit, but first, we thought we'd give you a little more information on three of those diseases.
Dengue fever
Dengue fever is a mosquito-borne illness. Its symptoms include fatigue, nausea, vomiting, headaches, and—yes—high fever. It can be mistaken for the flu, but if it progresses, it can lead to dengue shock syndrome (DSS), resulting in massive bleeding, shock, and death. The best medicine is prevention: although a vaccine for adolescents was approved in 2019, there is currently no vaccine for the general population, and no specific drug to treat it.
According to the CDC, local outbreaks of dengue fever most recently occurred in Hawaii, Florida, and Texas. (But interestingly, according to Booker, doctors aren't required to report cases of dengue fever and other diseases of extreme poverty to the CDC.)
Chagas disease
Chagas disease is caused by a parasite called Trypanosoma cruzi (T cruzi), which is passed on through the triatomine bug. Symptoms in the first acute phase include fatigue, body aches, loss of appetite, and diarrhea, as well as swollen glands, which a doctor can detect. After the bite, the person may feel better within a few weeks, but the infection remains in the body—and the second phase, known as the chronic phase, can last for decades and lead to cardiac and gastrointestinal complications. It can be life-threatening.
A 2016 estimate indicated that 240,000 people in the U.S. were infected with T cruzi — although the estimate didn't include undocumented immigrants, which could raise the number even higher.
Hookworm
Hookworms are parasitic worms that are spread through feces—often by walking barefoot on contaminated soil—and live in the small intestine. Symptoms may include abdominal pain, diarrhea, weight loss and fatigue, and may lead to anemia and affect the physical and cognitive growth of children. Poor sanitation exacerbates the risk, especially for children, particularly if they don't have clean water to wash their hands. Fortunately, drug treatments are available.
While there's a widespread notion that hookworm is not an issue in the U.S., the data begs to differ: A 2017 study in the American Journal of Tropical Medicine and Hygiene found that 34.5% of samples collected from a low-income county in Alabama were positive for hookworm. The problem? The county was so poor, it couldn't afford a septic system—so residents had to devise their own sewage lines, such as PVC piping leading to a ditch outside. Which seemed safe—but when it rained, the sewage spread.
What can be done?
As we mentioned, Cory Booker introduced a bill, STOP (Study, Treat, Observe, and Prevent) Neglected Diseases of Poverty Act, which will authorize the Secretary of Health and Human Services to carry out activities relating to neglected diseases of poverty. If passed, the legislation will also provide resources for a public health surveillance system, facilitate research for new and affordable diagnostic tools and treatments, and create a task force to help prevent, diagnose, and treat neglected diseases of poverty.
The bill is endorsed by the American Society of Tropical Medicine and Hygiene, the Center of Excellence for Chagas Disease, the Center for Rural Enterprise and Environmental Justice, Drugs for Neglected Diseases Initiative, the Global Health Council, the Global Health Technology Coalition, and PATH.
While we do not have a take on the feasibility of this individual bill, and even if the bill does not pass, it does seem that putting the spotlight on these diseases that plague some communities more than others can only help with education, prevention, treatment, and possible cures.