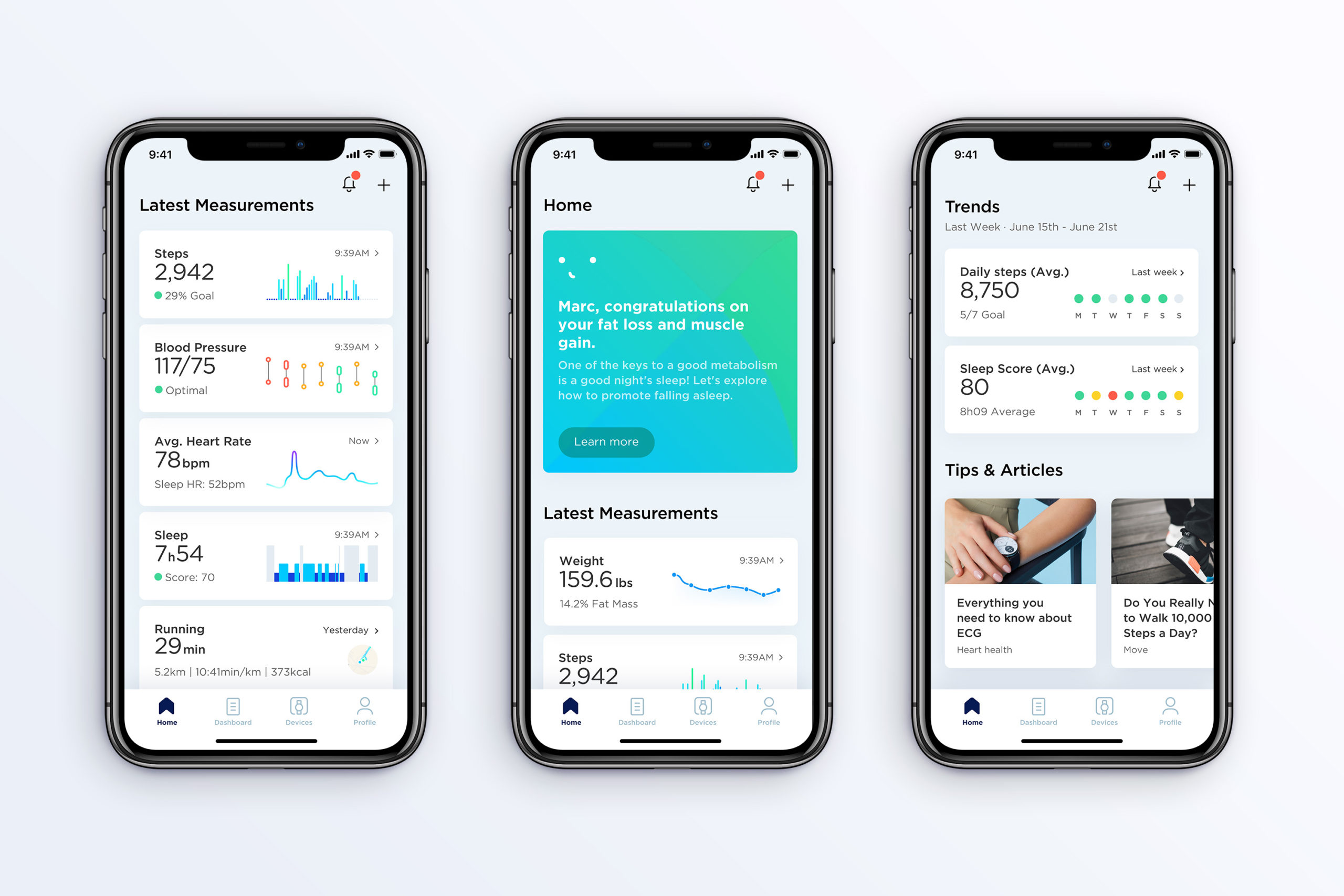 Withings is the worldwide leader in connected health devices, and all Withings devices sync with the highly-rated Health Mate app. As there has been more than a decade of innovation since releasing the first smart scale, you may not know all the things Health Mate can track as well as the features you can start enjoying right now even if you don't own a device.
Taking control of your health starts with Health Mate, the simple and smart app available for iOS and Android that supports an impressively large array of health data.
Whether you're looking to lose weight, get more active, monitor blood pressure, or even sleep better, Health Mate unleashes the power of Withings health devices, backed by a decade of expertise. In the app you'll find health data that is easy to understand, personalized, and fully leverageable by you and your doctor.
No device? No problem!
If you own a Withings device, the metrics seamlessly sync to the app. But if you don't own a device, you can still enjoy health tracking through free features and programs in Health Mate, including the leaderboard, health insights, setting goals, earning badges, pregnancy mode, and meditation.
What does the app support?
There are a stunning number of health metrics that can be tracked in Health Mate, and, as always, there is unlimited storage so you can hold a complete journal of your health over the long term. Even better, you don't even need to own a Withings device to start tracking your health and enjoying the programs within.
CARDIOVASCULAR MONITORING
Atrial fibrillation*
Irregular heart rhythm
Valvular heart diseases*
Oxygen saturation via SpO2*
Arterial stiffness via pulse wave velocity*

SLEEP ANALYSIS
Sleep cycles
Sleep Score
Heart rate
Snoring
Interruptions
Breathing disturbances
Sleep apnea detection*

HYPERTENSION MANAGEMENT
Systolic blood pressure
Diastolic blood pressure
Heart rate

WEIGHT & BODY COMPOSITION MONITORING
Weight
BMI
Fat mass
Muscle mass
Water %
Bone mass

ACTIVITY TRACKING
Steps
Heart rate
Floors climbed
Workouts via 30+ sports
Fitness Level via VO2 max estimation
Connected GPS

BODY TEMPERATURE
Temperature
Fever symptom tracking & advice

*Indicates a metric that is available in select geos due to medical clearances
What are the key reasons to use the app?
DEVELOPED WITH DOCTORS
Health content in the app has been vetted by professionals and is based on science. Withings has a global Medical Advisory Board, composed of eminent medical, research, and scientific leaders. For example, the in-app pregnancy tracker program has obstetrician-reviewed insights at every stage of pregnancy and the blood pressure monitors were crafted with the help of cardiologists and associated hypertension recommendations are based on international standards.

SHAREABLE REPORTS
Easily share health reports with your doctor or health coach in a few taps. Vital parameters including your ECG record, blood pressure, and more can help health professionals help you. Health Mate includes access to a full report that can be shared via PDF. Health Report empowers doctors to better follow up on care and even anticipate complications to better manage treatment.

TAILORED DATA INSIGHTS
Knowing your data is good, but knowing how to interpret it is better. Health Mate uses AI to highlight relevant data and enriches the experience with an interpretation of your results.

EASY TO USE & UNDERSTAND
This one app for Withings products gives a holistic view of your health in the palm of your hand. Easily set goals, reminders, and more. All results are clearly displayed and come with normality ranges based on official health guidelines and color-coded feedback to help you know precisely where you stand.

COMPATIBLE WITH YOUR FAVORITE APPS
Health Mate and Apple Health / Google Fit work together to gather all of your data in one place for easier health tracking. Health Mate is also compatible with 100+ top health & fitness apps including Strava, Noom, Lose It!, MyFitnessPal, and Runkeeper.
Includes free targeted programs
PREGNANCY TRACKER easily follows pregnancy weight gain to show if expectant mothers are on the right track. The feature also includes obstetrician-reviewed content at every stage.

LEADERBOARD shows the rankings of friends and family so everyone can see progress. Data shows that people who challenge one or more friends end up walking 25% more.

MEDITATION via Petit Bambou, the leading meditation app in France, is provided by Withings for free in Health Mate to introduce users to relaxation and mindfulness techniques.
So, now you know everything Withings Health Mate has to offer. If you haven't tried it, download it now to be empowered to take action—and start mastering your vitals.