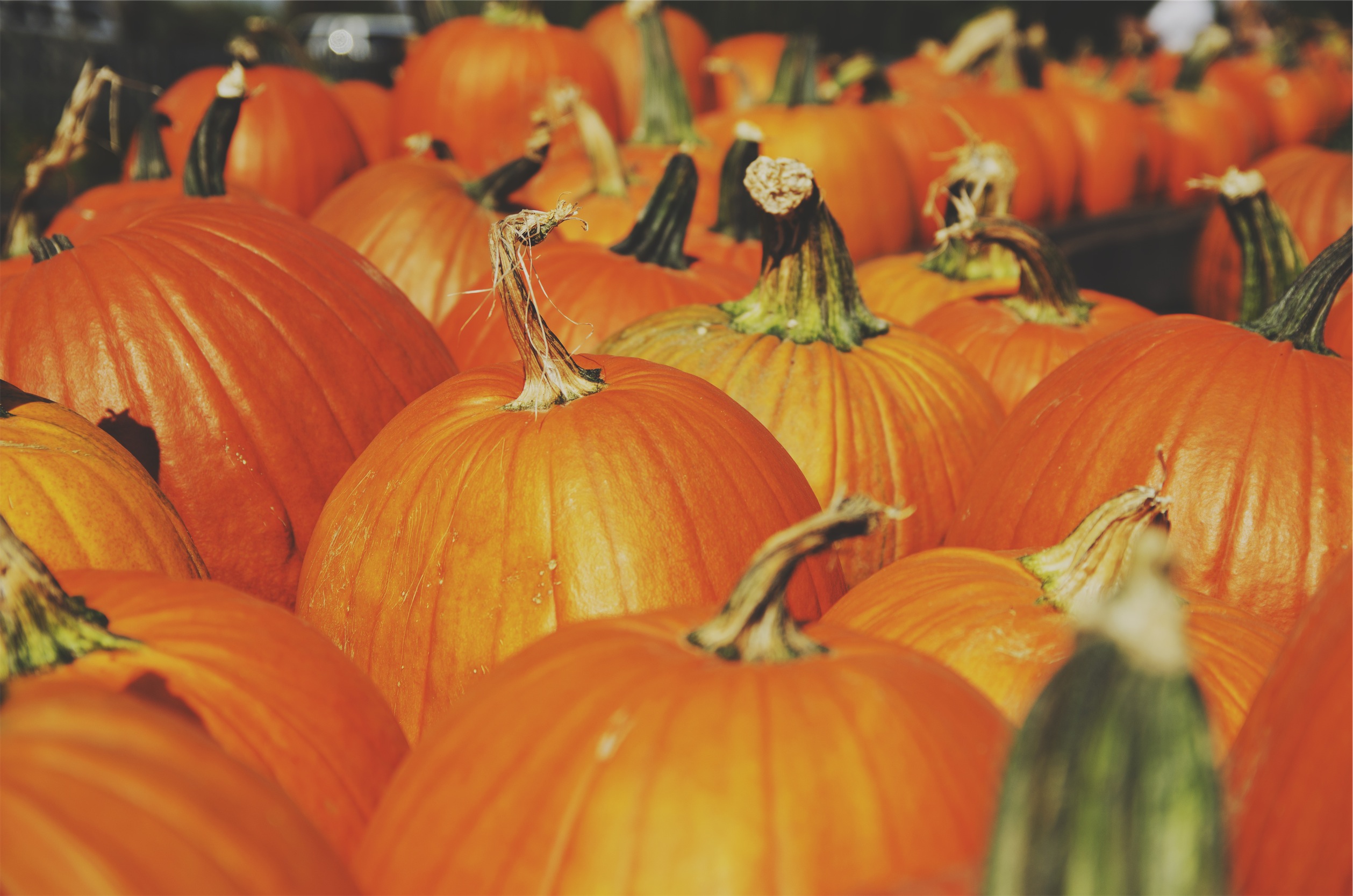 Pumpkin is cheap in the autumn, tasty, and astoundingly good for you. But if you're trying to keep fit and avoid gaining the "Fall 15," how do you have your pumpkin and eat it too? Our author has some brilliant ways to pump up your pumpkin intake this fall.
I've said it before, and I'll say it again, pumpkin is my favorite food flavor. Lemon is a close second, nipping at its heels, but I love pumpkin even above chocolate. I, ladies and gentleman, am the target audience for the Pumpkin-Spiced-Everything craze that sweeps the nation at the first hint of crispness in the air.
The word pumpkin derives from the Greek word "pepon," meaning large melon. The gourd comes in a variety of hues ranging from palest orange to ruby red, and even albino versions that present as pure white, pale gray, and robin's-egg blue. The largest pumpkin on record hails from Wisconsin, weighing 1,810 pounds and was the size of a dumpster.
As a food writer and cookbook author, I love recipes for both healthy foods that comprise the cornerstone of a sound diet, and sweet indulgences. In my book Bourbon Desserts, a cookbook admittedly dedicated to the decadent, I write about the sublime flavor pairing of pumpkin and bourbon, and share recipes for goodies like Pumpkin Gingerbread Trifle with Bourbon Whipped Cream, Pumpkin Buttermilk Cake with Bourbon Buttermilk Syrup (pictured),  and my famous Bourbon-Pumpkin Pie Milkshake.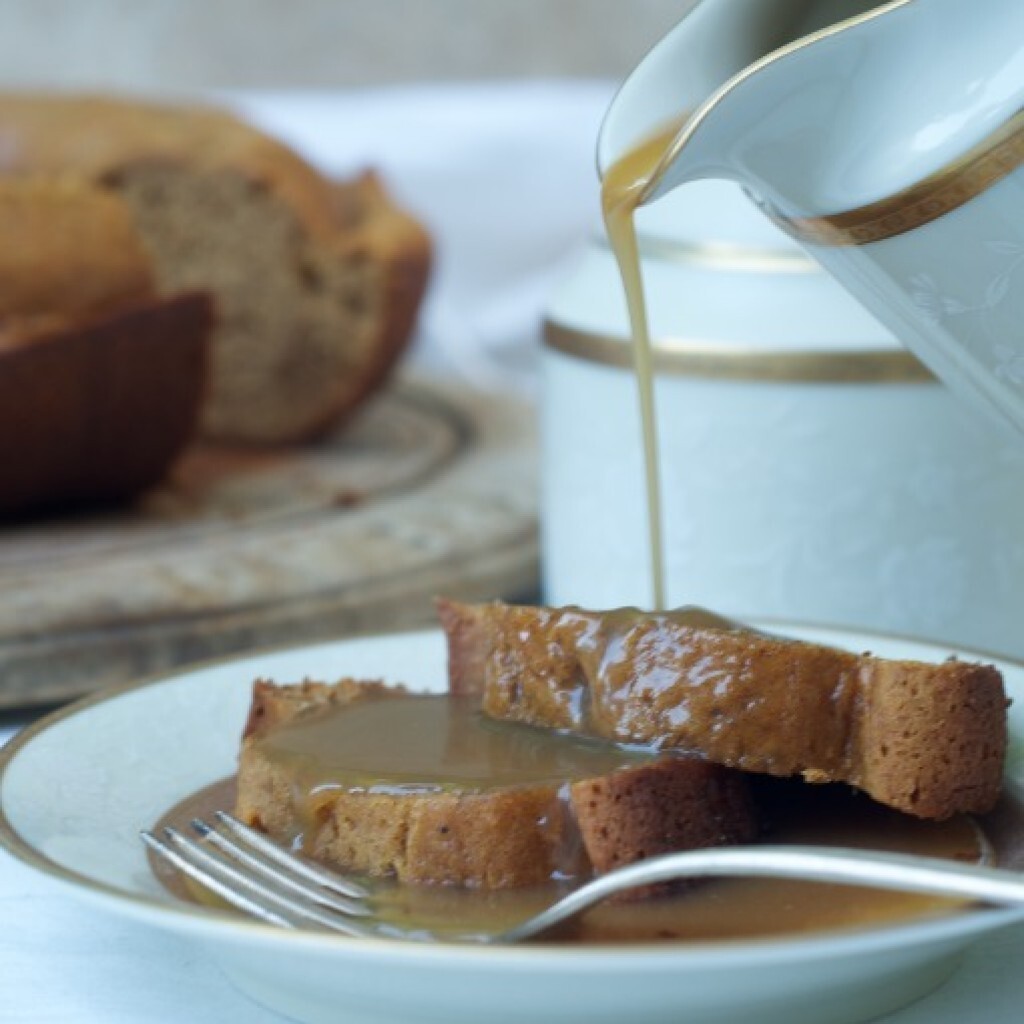 I make no secret of the fact that these rich pumpkin treats are all about the luscious orange gourd's flavor satisfaction and won't count one teeny bit toward your "five a day." In short, enjoy your Thanksgiving slice of Pumpkin Pie, but keep it real… don't pretend it's a substitute for a side of steamed broccoli.
Everything in moderation, I say, when it comes to food and caveat emptor: Buyer beware. Don't get tricked by a Starbucks Pumpkin Spice Latte and all those other foods that sound healthy and wind up with a big wallop of sugar and fat, and none of the nutrition promised by their names. Most pumpkin desserts count no more toward eating a serving of vegetables or fruits than a slice of carrot cake or a jumbo blueberry muffin.
Moral of the story? Dessert is fine, but budget for it by eating a diet of mainly low-fat, high-fiber, plant-based foods.
4 Healthy & Delicious Ways To Enjoy Pumpkin
1. Wake Up with the Flavor of Pumpkin
Craving something cold and creamy, with a depth of pumpkin flavor? Well instead of my sinful milkshake, you could try my saintly high-protein Pumpkin Breakfast Shake.  It's easy.
In a blender, combine 1 small banana, 1/3 cup plain Greek yogurt, 1/3 cup cup pumpkin purée,1/3 cup unsweetened almond milk or skim milk, 1 scoop vanilla protein powder, 1/2 teaspoon pumpkin pie spice, and about a cup of ice cubes. Blend on high until smooth, and enjoy.
Caution: Homemade is best, but if you're using canned, do not confuse pumpkin purée with pumpkin pie filling, as it is pre-spiced and contains sugar.
2. Roasted Pumpkin Seeds
According to certified nutrition and wellness specialist Jamie Logie, of the website Regained Wellness, and author of the book Taking Back Your Health, pumpkin seeds are a nutrition-packed snack and a great substitute for high-fat, packaged, and processed chips when you're craving a crunchy, salty snack. When you're roasting a pumpkin, he advises, "Don't forget to hold onto the seeds. They contain protein, vitamin E, and are rich in monounsaturated fats and oleic acid which help in lowering bad LDL cholesterol and raising the good HDL cholesterol." These low-cost gems are a great antioxidant source. And they taste delicious. "They're awesome roasted with heart-healthy olive oil and little bit of sea salt."
How to Make 'Em:
One medium pumpkin should yield about two cups of roasted seeds. Preheat your oven to 350° F. Scoop the seeds from the center of the gourd and into a large mixing bowl. Using your hands, separate the seeds from the stringy pulp. Transfer the clean seeds to a colander, rinse them under cold water, then shake and toss them to dry. Lightly coat a baking sheet with olive oil (about 1/2 tablespoon) and lay out the seeds in a single layer. Bake for 30 minutes to dry them. Transfer seeds to a large mixing bowl, and toss with 1/2 Tablespoon olive oil, and 1/2 Tablespoon Sea Salt. Return them to the oven and bake until they're crisp and brown. They will continue to crisp as they cool.
Jazz Them Up: Instead of salt, toss with Garam Masala, Cumin, Chili Powder, or Smoked Paprika for extra punch.
3. Celebrity Chef Protip: Purée Pumpkin the Old-Fashioned Way
Buy and roast pumpkins at the height of the season to use throughout the year. It freezes beautifully, and I recommend storing it in 1 cup portions. Simply measure and fill zip-top freezer bags, making sure to press out excess air. Stack them flat, one atop the other before freezing, to save on freezer space
Chef Noel McMeel of Lough Erne Resort in Belfast, Northern Ireland (venue of the recent G8 Conference) and author of the cookbook The Irish Pantry, recommends this simple method:
"You don't need to cut a pumpkin open before you roast it. Just jab it with a knife once or twice to vent the steam, place the pumpkin on a baking tray, and pop it in the oven at 350 F° for about an hour," McMeel teaches. "You'll know it's ready when you can smell the pumpkin aroma, and you can easily stick a fork into it." Set it aside to cool before carving a circle in the top, and lifting off the "lid" to get to the good stuff.
Once you've scooped out the seeds and guts, McMeel tells us, peel off the outer skin with your hands if it's falling away from the flesh, or use a chef's knife to "fillet" off that outer layer. "You'll be left with delicious pumpkin flesh you can purée in the blender or food processor. I like to use it as a substitute for oil or butter when I bake."
Extra benefit: Humble and hearty, McMeel says the "good old pumpkin is very rich in B vitamins which give you extra energy — the nice natural kind like from a good night's sleep, not crazy artificial energy like from caffeine. It helps folks cope with stress."
4. Pumpkin Butter — Lay It On Thick for Health
The great thing about pumpkin butter is that you can use it as a delicious, moistening spread for bread and toast without the need to invoke fat-rich butter or cream cheese. Sure, it has a little sugar, but this condiment also offers a respectable dollop of the orange gold that, according to Logie, contains fiber, that keeps you regular, balance your blood sugar level, and make you feel fuller for longer.
So spread on a dollop of beta-carotene across your bagel, and help ward off certain types of cancer, heart disease, and premature aging.
Chef Noel McMeel's Pumpkin Butter
MAKES ABOUT 3 CUPS / 715 MILLILITERS PUMPKIN BUTTER
4 pounds / 1.8 kilograms whole pie pumpkin
Olive or rapeseed oil for brushing
1⁄4 cup / 60 milliliters apple cider
1 cup / 175 grams brown sugar, packed
3 to 4 tablespoons pure maple syrup, to taste
1 tablespoon ground cinnamon
1⁄2 teaspoon freshly grated nutmeg
1 teaspoon vanilla extract
1 teaspoon freshly squeezed lemon juice
Pinch of salt
Preheat the oven to 350°F / 175°C and line a baking sheet with foil.
Wash the pumpkins and carefully slice the stem off the top with a very sharp knife. Cut the pumpkins in half from stem to tail, scoop out the seeds and guts with a sharp, metal spoon, and reserve the seeds to roast and eat later, if you like.
Brush the inside of each half with oil and place them face down on the prepared baking sheet. Roast for 45 minutes to 1 hour, depending on the size of your pumpkins, or until the skin and flesh are pierced easily with a fork. The pumpkins should roughly have the texture of a baked potato. Allow the pumpkins to cool for 30 minutes on your baking sheet, then separate the skin from the flesh with a large, sharp metal spoon.
Place the cooked pumpkin in a blender and blend until smooth. You should have about 4 cups / 950 milliliters of purée. Reserve any excess for another use.
Blend in the cider, brown sugar, maple syrup, cinnamon, and nutmeg until fully mixed.
Spoon the mixture into a medium saucepan. Cover with a lid and prop the lid ajar with a wooden spoon. Over medium-high heat, bring the mixture to a low boil. Lower the heat and cook for about 10 minutes, stirring occasionally, allowing the mixture to thicken to a spreadable consistency. Once it's thickened, remove the pumpkin from the heat and stir in the vanilla.
***
Related: The Insider's Guide To Fabulous Fall Vegetables