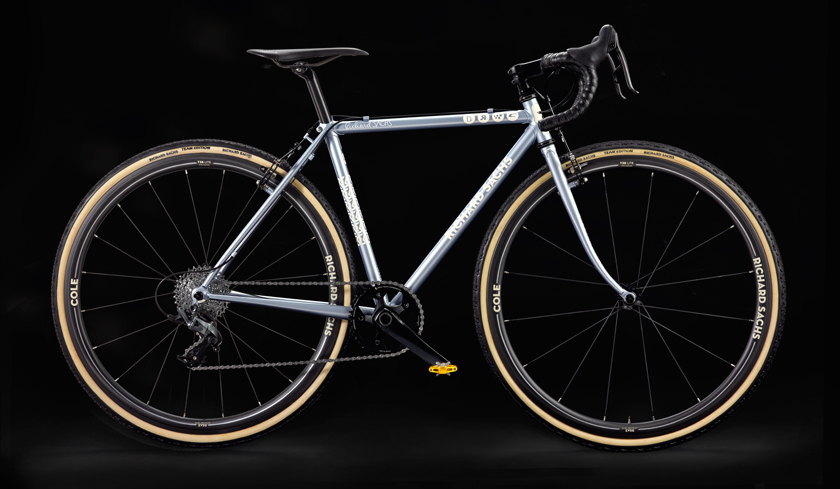 Richard Sachs Cyclocross team member BrittLee Bowman shares thoughts on cross, work/race/life balance, and more.
BrittLee photographed by Carlos Alejandro
Withings: How did you get into Cyclocross?
BrittLee: I started riding bikes when I was in my senior year of college. I rode a bike to get to class, to commute and eventually to hang out with my friends who were really into riding. I tried bike racing in different ways: velodrome track racing and then road racing. When my road racing season ended I wasn't ready to stop riding, so I tried cyclocross and immediately fell in love. This was in 2008, and I had just heard of cyclocross. You had to be good at riding your bike, going hard, riding in mud, running in mud. It seemed like a really fun challenge — getting muddy was just part of the game. I didn't own a bike that year, but I competed in two races in the 2008 season. I bought a bike at the end of the season and decided I would go all-out the following year.
This is your third year on Richard's team? How have you grown as a racer?
My first year on the team I wanted to perform well because it meant a lot to me, but my results weren't totally hitting the marks. Last year I felt like I did well and had a lot of accomplishments I could be proud of. Over the past couple of years I've gotten to know my strengths and learned how to train better. I'm really optimistic that this year will be better, in terms of results. I also think my relationship with Richard and Deb has really grown. Our team is truly a great group of people, and I appreciate the positivity and support we all share on the team.
How does it feel to step on to the podium for two consecutive weeks?
Coming into the season I said to my coach that I wanted to get on a UCI podium. I said that out loud, so athlete or non athlete, once you say it out loud, you have to do it. It became such a daunting task. Once I said it out loud I had the option of failing. I've placed 4th and 5th at Highland Park Cyclocross (HPCX) and Charm City Cyclocross before, but not still not in the top 3, so finally getting on that podium was awesome. I knew my chances were high at these races since I had already come in fourth and fifth in previous years.

BrittLee is all smiles as she takes to the podium.
Photo by Dan Chabanov
You're headed to Koppenburg, Belgium — are you excited to compete in Europe?
I'm really excited for this trip. It's going to be an insanely hard race, but an amazing experience. The race is Sunday November 1st. I can't wait to see the differences and similarities between a U.S. and Belgian CX race.
Do you have a favorite track?
I love racing in Gloucester. When you finish the race you can just walk into the water in your skin suit — it's just such a great environment for a race. I went to school in Providence and the NBX race is in Warwick, RI so my friends and family come to watch these two races which is always a good time. My uncle always brings a little trumpet and I always know where my family is along the course when I can hear the trumpet.
How do you train on and off the bike?
My training on the bike is fairly structured. I'll do specific interval work and hit a certain number of base miles before the season. An important piece of cyclocross training is sprucing up on the skills of carrying the bike, dismounting, remounting, getting over barriers. For me it's important to practice these skills constantly, to improve. I do a little bit of running before the season, but I don't run for more than a half hour. I also do some core work and yoga to make sure the rest of my body can support the extra stress on my legs. From March-August I compete in road races. I stop racing mid summer so I can start training for the cyclocross season. The only months of the year I don't race are February and August. I've learned over the past few years that it's best to give myself a month break between seasons to give my body time to reload.
How has the Activité Pop influenced your training?
I have a better understanding of what my performance is going to look like on the bike since I have been tracking my sleep. When I was in Providence I could see that I had a bad night, just 4.5 hours of sleep, and then I spent the next day car shopping and celebrating my birthday so two late nights in a row led to me getting sick. For the next few days I was really focused on getting in bed by 9:00 and making sure to check my data in the morning to make sure I was getting enough sleep to recover. I've totally adapted to the sleep tracking and I rely on it to help me train.
I really like the activity tracking features as well as it helps me to better understand how much activity I'm getting on non-race days. One of my most active days ever was when I had a friend visiting me in New York and we just walked around the city all day. It was exhausting, but awesome to see all those steps. For me, an hour of walking around on concrete is more exhausting than riding my bike because my body isn't used to it. I've gotten to a point where I hear myself thinking "now I need to improve my Fridays, because I know my weekends are covered."
Have you tried using the Smart Body Analyzer?
Before I had the scale I never really paid much attention to my weight, but now I can, and it's really useful. I stayed at my boyfriend's house for a few days, away from my scale. I kept telling him he was overfeeding me (he loves cooking). When I got home, the proof was right there. I lost four pounds in the past three weeks after I got home and back to the scale.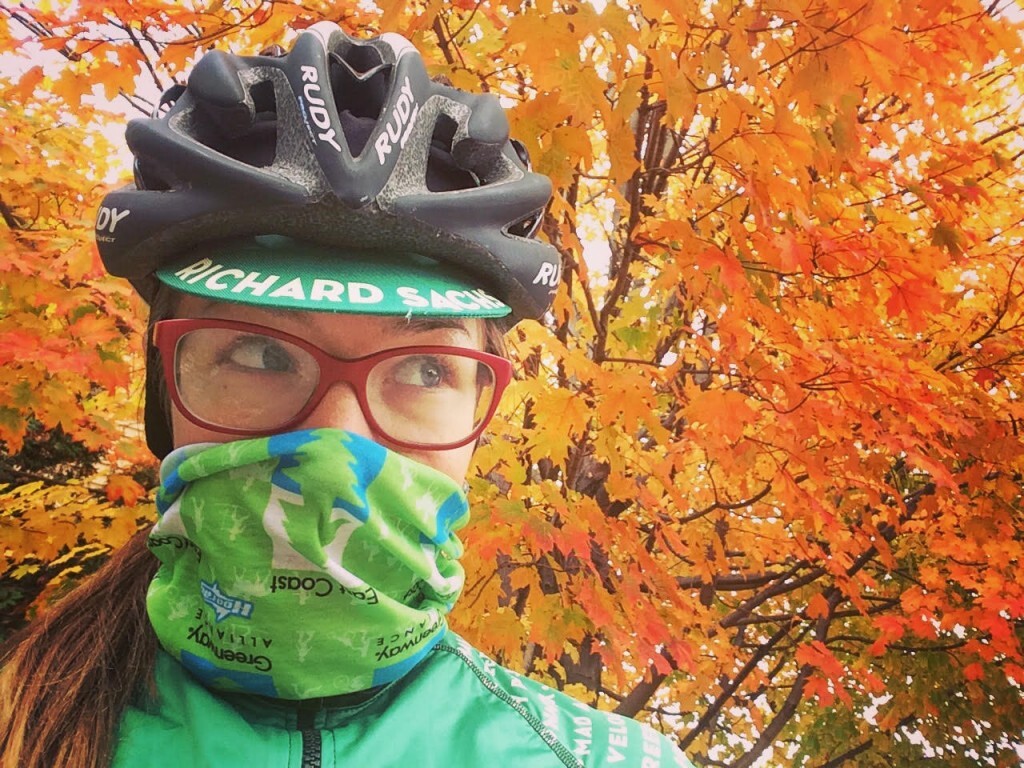 What's your diet like when training?
I eat pretty well most of the time. I love ice cream. I wouldn't file that under healthy, but I do have a healthy love for it. I eat a balanced diet — lots of fruits and veggies, I don't eat a ton of meat. I love to make recovery shakes after rides with a chocolate-flavored protein powder, almond milk, water, almond butter, goji berry powder, chia seeds, bee pollen, a frozen banana and frozen blueberries. My boyfriend is a racer too. He invented this delicious concoction.
What do you do when you're not racing?
I do a couple of different things for work. I'm currently working part time for Cannondale Bicycle Company working on the products and branding for the women's collection. I also manage a women's road team, the one I race for from March-August. I do everything from managing social media to getting sponsors and designing our uniforms. It takes a lot of time, but it's a creative passion project so I don't mind. Plus, we've got a great group of women who are now close friends as we've spent the past couple of years getting to know one another.
As a designer, what are some of the things you value in product design?
I went to Rhode Island School of Design where I studied industrial design. This definitely gives me a better appreciation for well designed products like Richard's bikes and the Withings products as well. I feel incredibly lucky to get to race on Richard's bikes. Our uniforms are really cool too because they were designed by House Industries and are more beautiful than the typical logo-ridden suits.
How do you balance work/life/full time athlete?
It's hard work. There are a lot of times when I have to say no to friends because I'm training or racing. I can't tell you how many times I've turned down weddings or family parties because of a race. Cyclocross is really important to me and I'm lucky to have a family that loves, supports and understands me.
Favorite cyclocross moment?
When I crossed the finish line at nationals last season January 2015, I was elated. I felt so amazing. The race was hard and muddy and everything about it was challenging. I finished 14th and I just felt amazing. I had said I wanted to finish in the top 20, and told myself I would be blown away if I finished in the top 15, so you can imagine what it felt like to come in 14th place. Someone took a photo sequence of me crossing the finish line and I remember smiling and I couldn't control how big it was. There's a series of photos, and my smile is getting bigger and bigger in each one.
Any fears when competing?
Honestly, when you start racing a lot of fear just goes out the window. When you start races you're just kind of like **** it! And you just go for it. I'm more afraid when I'm road racing than racing cross. For road racing, you're on pavement and you go faster and if there's a mistake, consequences are worse. I've fallen more times in cyclocross. It doesn't happen much in pro races, but it is easy to stumble. Sometimes I fear the person behind me catching up, but when those thoughts pop up, I just push them out.
Thanks BrittLee for taking the time to chat with us!
Check out more BrittLee here:
Instagram
Twitter
Like what you read here? Get the scoop on all thing's Cyclocross.
Get to know RS Cyclocross rider Sam O'Keefe
Sach's Appeal: An interview with Richard Sachs