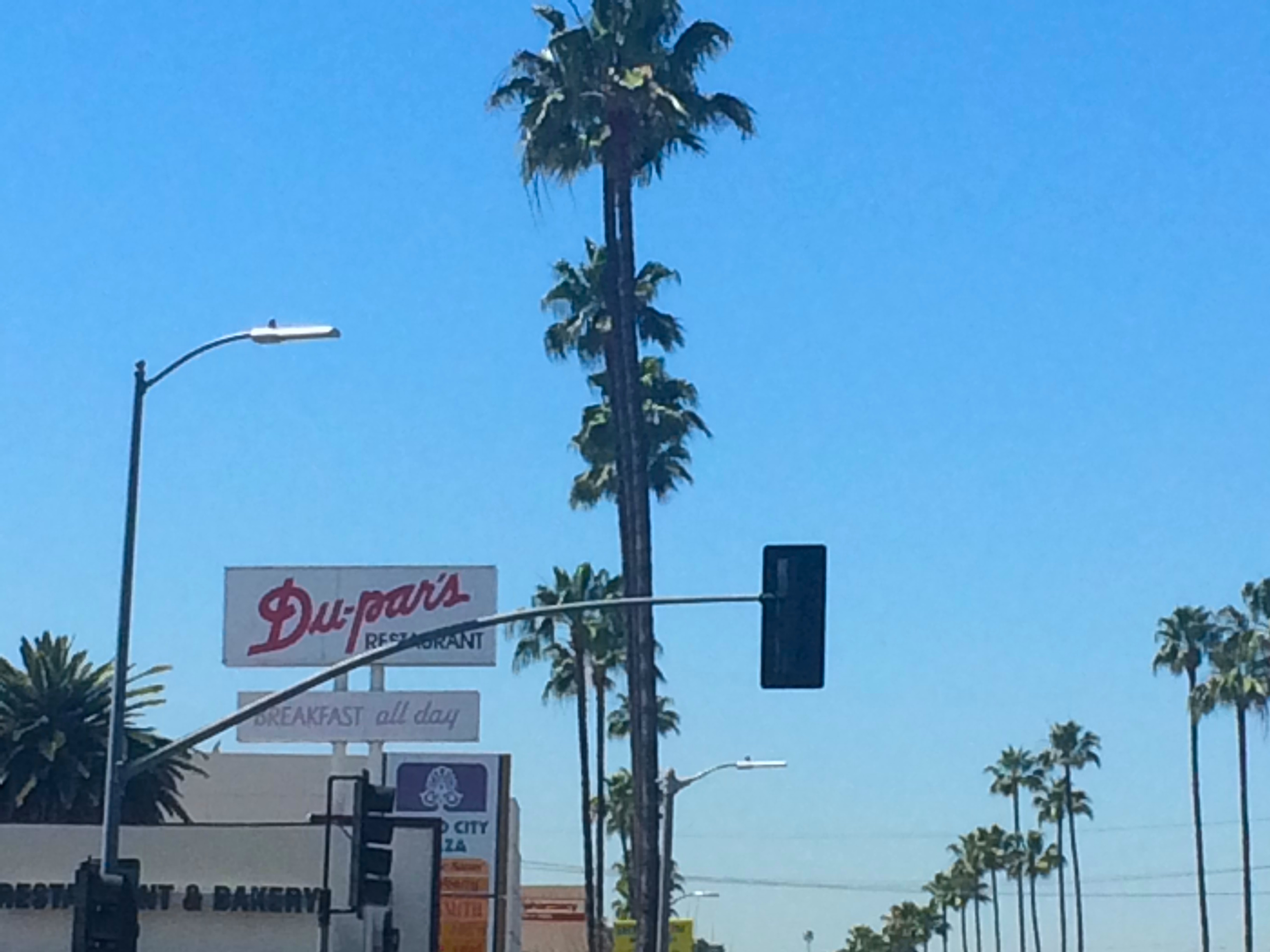 Actress Jeanne Simpson takes a self-guided 10,000 step tour with the help of a book that encourages people to get fit and get hep to local history at the same time. Read on for her urban adventure that includes cool showbiz landmarks, tasty grub en route, and fabulous ideas for creating your own 10k tour anywhere in the world.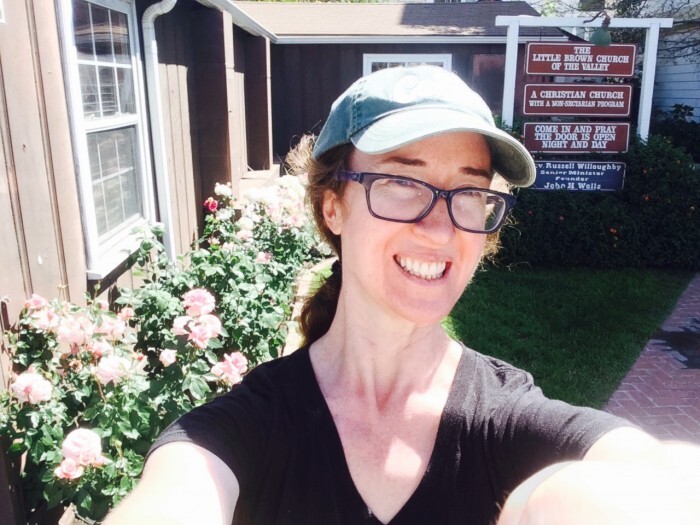 Actress Jeanne Simpson Walks the Walk
Want exercise that feels like an adventurous vacation? Have an activity tracker or the free Health Mate app? Then throw on some Bermuda shorts, strap on a fanny pack, and get ready to clock 10,000 steps as you play tourist in your own town. I did it recently with the help of Paul Haddad's amazing book 10,000 STEPS A DAY IN L.A.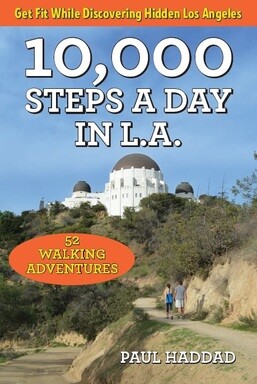 L.A. lends itself to this kind of exploration because it has hills, canyons, mountains, beaches, and areas filled to the brim with Hollywood history. Each chapter features a different neighborhood, and Haddad begins by giving the reader/walker a quick preview of the terrain, surface, parking and fido-friendly nature of that particular adventure.
I decided to stick close to home and selected the Studio City walking tour which begins about 10 minutes from my home. Although I have friends who have done these walks in groups and with their canine companions, I'm currently a cat owner, and my friends were busy, so I ventured out solo. The book gives a map of each walk, but also gives detailed directions which are so helpful for someone like me who is directionally challenged.
My 10,000 step Studio City odyssey begins…
I started at the Little Brown Church on the corner of Coldwater Canyon Ave. and Moorpark Street. The book informed me that this is the church where Ronald Reagan married Nancy Davis in 1952! Thing is, I have driven past this church almost a million times and had no idea about its history. It looks a bit like a dollhouse and its doors remain open 24/7, so it's never a bad time to wander through. My next stop was the Weddington Golf and Tennis Court where Haddad recommends you stop to down a delicious clubhouse-made milkshake, but I kept on trekking.
Rattlesnakes, pies, and movie sets — oh my!
The walk then takes you past a giant rattlesnake sculpture on a wall and through a butterfly garden. By the way, I saw no rattlesnakes on this tour, but I recently came across one on a hike with my sister and nephew in Fryman canyon so… maybe the sculpture is fair warning? Then I was walking by CBS Radford studios which was a lot originally built for silent movies by Mack Sennett in 1928 and the inspiration for the name Studio City. Many legendary TV shows like Leave it to Beaver, Mary Tyler Moore, and Seinfeld were filmed here. Plus, I have a personal showbiz connection to the lot — I've been lucky enough to work as an actor there shooting episodes of Hot in Cleveland and Parks and Recreation.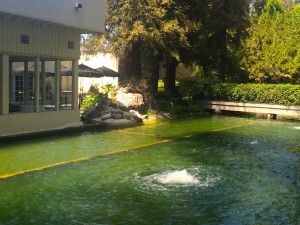 The walk then took me to Du-par's Restaurant and Bakery which is an old-timey diner with lots of pie and cakes in the window. In case you're ready to take in some calories — Haddad recommends the rhubarb pie. The adventure continued with a mural from 1970 called "From Prospector to Director" charting the history of L.A. from the gold rush to the Oscar rush. And then my route directed me to a silent movie theater site which is now a bookstore, to Carney's which is a train car cafe serving up legendary hot dogs. And finally I was at the Sportsmen's Lodge, a rustic resort hotel that began as a trout-filled fishing hole in the 1880s… but is now a thriving hotel with lots of wedding tackles being thrown in a variety of banquet halls.
10k steps — it's a wrap!
So, 500 steps after that, I was back at the Gipper's wedding grounds where it all began. The whole walk took me two hours and twenty minutes, but would take longer if you make any stops for tempting pies, milkshakes or hot dogs. Haddad was extremely accurate because, yup — I got all my steps for the day on the trail all while taking a fascinating tour! He also gives you detours to get extra steps, if you're willing to go the extra mile.
I was sore and needed to stretch afterward, but it was such a joy to discover all these cool landmarks in my own hood while I was clocking steps and burning up calories. If you find yourself in L.A., I can't recommend the walks in this book enough. Before you go, just remember that good shoes and water are key. The only downside was the occasional look of pity people gave me assuming I must have run out of gas because almost no one walks in this driving-obsessed city. But I was so happy that I braved the pavement and discovered the sites and suburban bliss that is Studio City, CA.
Not in Los Angeles? No problem.
It turns out there are whole five and six day USA walking vacations that have been mapped out for you in many books and websites. Some internet favorites seem to be the walking tours of Alaska, South Carolina, Georgia, Montana, Napa and Sonoma areas, New Mexico, and Vermont. If there's a walking tour available for your neighborhood or city, I strongly recommend taking it, and if not, you can always invent your own 10,000 step walking tour using your Withings activity tracker or the Health Mate app. You might even map out a tour of your own personal family landmarks. For example, you could map out a route from the hospital where you or your children were born to the site of your first kiss to your favorite place to get ice cream, etc. It would make a great and unique anniversary present for someone who prefers a healthy and nostalgic walk over a big expensive dinner. Or research the history of your own neighborhood and discover local landmarks or fun facts to build a tour around. It could be a fun family project that would help everybody in the family get fit together — including the dog.
***
Want more inspiration? Check out:
Rx for Exercise: Doctors Reach for Activity Before Meds
Data Study: How to Hit 10,000 Steps Every Day
Meet Celebrity Trainer Irene Bremis