650 million guests have visited Anaheim's Disneyland Park since it opened in 1955. In addition to being one of the most magical places on earth, Disneyland boasts sprawling parks that can make for a very active vacation. Read on to see how actress Jeanne Simpson, our blogger, tackled the park, ordered from the secret menu, and tracked it all with her Withings Activité watch.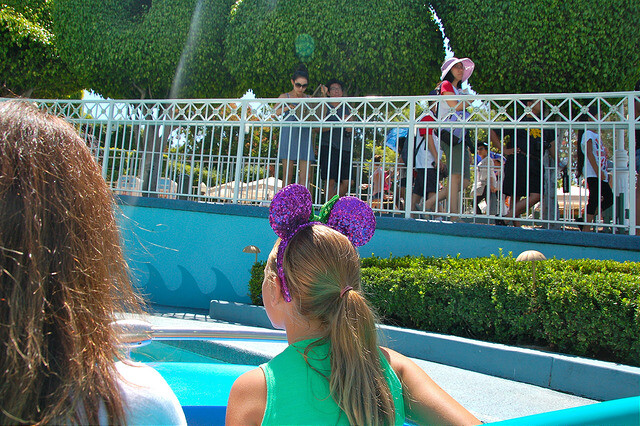 My family recently embarked on a two-day odyssey to Disneyland. While we love going to Disneyland for many reasons, surpassing 10,000 steps each day is an added bonus. Disneyland is divided into two parks: California Adventure and the Magic Kingdom, both of which offer ample opportunities for walking and healthy snacking if you know where to look.
Ready for a California Adventure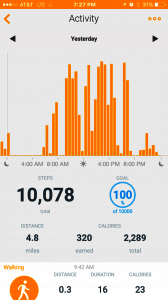 We hit up California Adventure on the first day. According to my Withings Activité Pop, I clocked almost 1000 steps just walking from the parking lot to the tram to the entrance. The park has an amazing replica of Radiator Springs, the town featured in the Pixar movie, Cars. Walking through it is like walking around inside the movie and serves as a nice distraction from all the steps you are taking. California Adventure park also features a Bugs Life Land, Paradise Pier, Hollywood Land, and Grizzly Peak, all with a wide array of rides to choose from.
If you need a break from rides and want to pack some extra exercise into your day, head over to the Grizzly Peak area, which includes a Redwood Creek Challenge Trail. While not a ride, this area offers a network of simulated Redwood Forest hiking trails, stairs, rope bridges, rock climbing walls, a zip-line and side-by-side slides.
After spending about eight hours at California Adventure, my Pop revealed that I had taken 10,078 steps, traveled 4.8 miles of Disney terrain and burned over 2,000 calories total. There are only two major dips in my step-o-meter, shown below, which were lunch and dinner.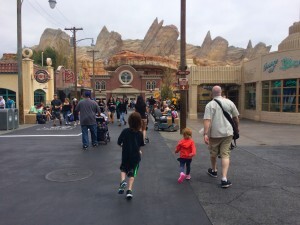 I recommend hitting Flo's V-8 cafe in Cars Land for a healthy lunch. Their menu has no fried food and includes items like roasted chicken and vegetables. Pooh Bear would not have gotten stuck in Rabbit's hole if he had ordered the low-calorie meal I selected for lunch, a veggie tater bake with a side of fruit and an iced green tea. There are many healthy options like this in the park. This virtuous lunch enabled me to snack on the delicious fried dough dipped in cinnamon sugar known as the Disney churro later that afternoon. After all, that churro fueled me through three round trips from the Little Mermaid Ride to Mater's Tractor Pull.
 
Hitting the Magic Kingdom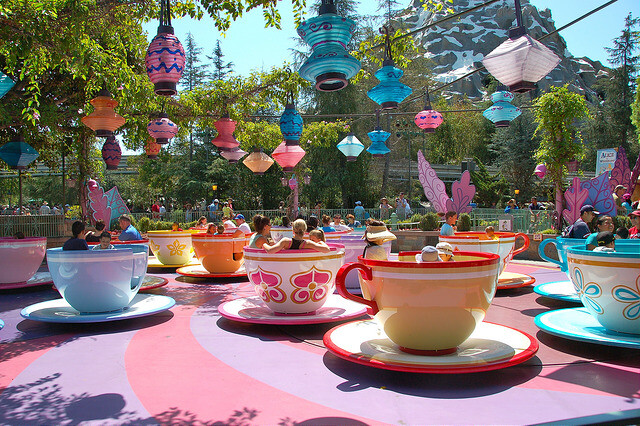 The next day, my family ventured into the beloved Magic Kingdom, which contains all the beloved Disney World rides like the Teacups, Peter Pan, Space Mountain and Splash Mountain. The Tiki Room has also been there since the doors opened. And if you like ice cream, don't miss the Dole Pineapple Whip sold exclusively in front of the Tiki Room. One cup of this gluten-free, vegan, 90-calorie pineapple soft serve is a grand slam of goodness! Plus you can enjoy it in the company of singing animatronic birds and chanting Tiki masks. It's a feast for the eyes, ears, and tongue.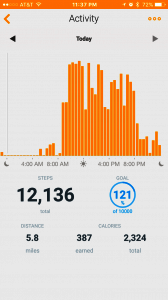 The biggest spike in my steps was the distance from the Teacups in Fantasyland to Splash Mountain in Critter Country. It's clear by my graph that there was some time spent waiting in lines or rides, but the biggest dip is during mealtimes again. I was not so virtuous in the lunch department on day two and indulged my desire for fish and chips at the Golden Horseshoe saloon. I gobbled up almost 1600 calories in one meal here, but it was delicious and ranked high on "The Top 8 Most Delicious Meals to have at Disneyland" on The Secret Menu website.
As with most Disney tales, there is a happily ever after to my gorging because I ended up walking 12,136 steps during day two, covering 5.8 magic miles and burning 2324 calories. For more tips on how to navigate Disneyland with your health in mind, check out the Healthy Disney website.
If your "Once Upon a Time" includes a trip to a Disney theme park this summer, be sure to trade in your glass slippers for comfortable shoes, keep yourself hydrated, and enjoy the wonderful world of walking over 10,000 steps a day the Disney way.
***
Jeanne Simpson is a working actress, dancer and choreographer in Los Angeles. Get to know more about her here.