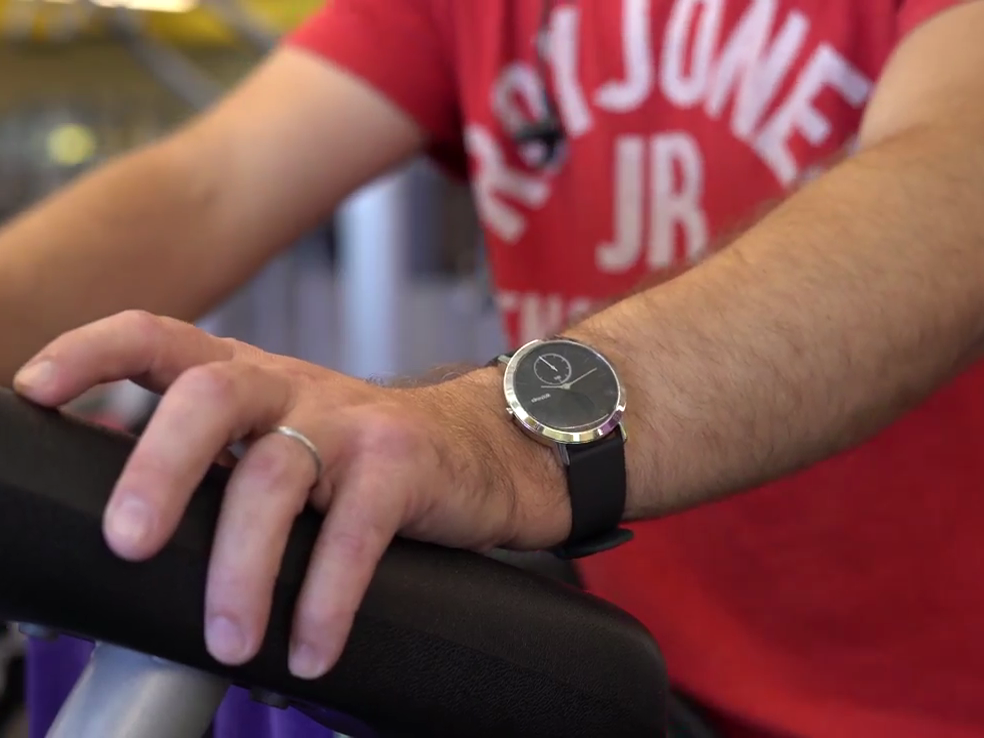 You are now the proud owner of a Steel HR, the first analog activity-tracking watch with heart rate monitoring. Congratulations! Without further ado, here's a short tour through the new features that this watch has to offer.
The Basics of Steel HR
Steel HR automatically detects walk, run, swim, and sleep. Do any other sports or exercise? No problem! The free Health Mate app, available on Android and iOS, lets you manually log more than 40 different activities, so you can get credit for all your movement.
At the top of the watch face you'll find the digital screen, one of the new features of Steel HR. This screen lets you view the information collected by your tracker directly on your wrist. Simply press the watch button, located to the right of the watch face, to see the following data:
Date and time
Heart rate
Daily step count
Distance traveled
Calories burned
Set alarm time
8,000, 9,000…With just a glance at the activity dial on your watch, you can see how many steps still separate you from your daily step goal. This feature is great for motivating you to get out a stop early on the subway or bus to squeeze in a few extra steps.
And of course, your watch gives you the time. Wherever you are in the world, Steel HR automatically adjusts to the corresponding time zone as soon as you launch Health Mate in your new location.
What Else Does Steel HR Do?
Heart rate monitoring
The main innovation of Steel HR is the ability to track your heart rate. Steel HR takes measurements throughout the day and night, so you can fully understand how your heart rate varies, a useful indicator of overall health.
Workout mode
Steel HR automatically initiates a continuous heart rate monitoring session when you run. As soon as you finish your workout, you can view a detailed report of your workout in the app, including workout duration, calories burned, and a graph of your heart rate.
If you want to initiate a continuous heart rate monitoring session during an activity other than running or swimming, follow these steps:
Press and hold the watch button for 2 seconds to launch Workout mode. Your heart rate will now be measured continuously.
Press and hold the watch button at the end of your workout to deactivate Workout mode.
Notifications
Steel HR also allows you to enable smartphone notifications, which appear directly on the digital screen of your watch.
Thanks to a simple vibration, you can see in real time when you have an incoming call, message, or calendar event. The name of the person contacting you or of your calendar event will display on the screen.
Tips for Staying Motivated
Customize your step goal
The Health Mate app lets you set a daily step goal that works with your current fitness level and objectives.
Android users: Click on 'Goal' on the Activity widget at the top of your timeline, and drag up and down to adjust your step goal.
iPhone users: Click on the Activity widget at the top of your timeline. Click on the 3 dots at the top right of the screen, and choose "Change my step goal."
Set an alarm
Does the sound of your alarm in the morning set your teeth on edge? Us too. That's why we implemented a more pleasant way to wake up—a series of silent vibrations to help you wake gently at your preferred wake-up time.
Verify that Bluetooth is activated on your smartphone
Open Health Mate, and scroll through the widgets at the top of your timeline until you see the blue sleep widget.
Tap on 'Set your alarm' or on your currently set alarm time. Drag your finger up or down on the screen to set a new alarm time.
Challenge friends
The Health Mate app lets you compete with friends for the top step count, even those who don't own an activity tracker. All they have to do is enable in-app step tracking in Health Mate to participate. A study reveals that people who invite friends to a weekly step challenge are more active than those who go it alone, so send out those invitations!
Charge & Style Your Steel HR
How to charge Steel HR
With a battery life of up to 25 days, Steel HR is the ideal companion to an active lifestyle. After 25 days, if your watch is not charged, it will enter power reserve mode. Steel HR will continue to track steps and sleep for an additional 20 days, but not heart rate. To recharge Steel HR, follow these steps:
Connect the USB port of your charging cable to your computer or other device powered by electricity.
Align the charger posts with the contacts on the back of the watch face.
It should not take more than 2 hours to fully recharge your watch.
How to swap out your wristband
36 mm model: All Activité wristbands (Steel, Pop, Sapphire) are compatible.
40mm model: Only wristbands sold with your watch are compatible.
To change your wristband follow these steps:
Turn your watch over, and locate the knob of each spring bar.
Pull the knob of the top spring bar to the left side to remove the wristband piece.
Take your new wristband piece and insert the left side of the spring bar into the slide slot.
Pull the spring bar knob to the left, and hold it there as you put the wristband in place.
Release the knob. Now repeat these steps for the other piece of your wristband, pulling the spring bar knob to the right this time.
Enjoy your shiny new Steel HR, and don't hesitate to contact Support if you need any help.