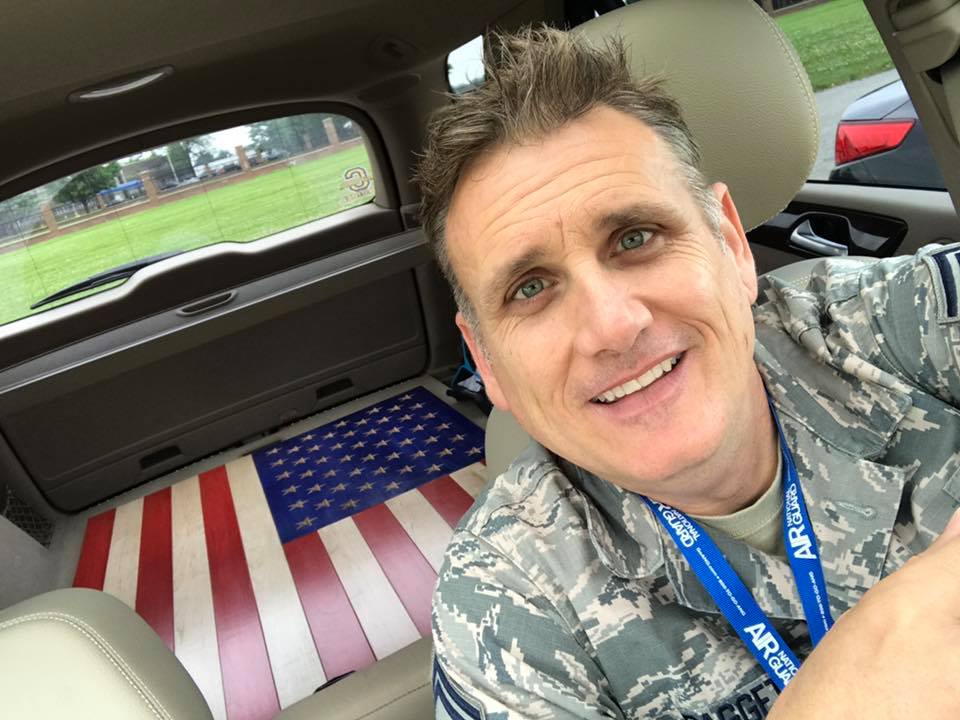 Husband, father, and United States Airman Michael "FatDag" Daggett is all too familiar with the battle to lose weight. A loyal member of the Air National Guard for 24 years, Michael worried that one issue would force him out before he reached full retirement: his waistline.
After neglecting his PT test for over two years, Michael knew he would be unable to pass and feared that the Air National Guard would ask him to leave. Fortunately, with the help of Weight Watchers and his Body Cardio scale, he dropped almost 90 pounds in 6 months. Now, he runs the blog FatDag.com to share his experience with weight loss and inspire people to embark on weight loss journeys of their own.
Check out our interview with "FatDag" to discover how he stayed focused on his journey, why he takes selfies, and more.
Withings: On your website and podcast, you talk about the importance of having a "why" when it comes to weight loss. For you, that "why" boiled down to the realization that if you didn't find a way to change your life, you were going to lose it. How did your "why" keep you on track, and what advice would you give to help individuals who are looking for ways to remind themselves of what their "why" is?
Michael Daggett: There are as many solutions to a problem as the mind can imagine. Something so simple as wanting to cross the street has multiple "hows" – you can walk, run, zig-zag, skip, hop, or even go blindfolded; but none of these will be compelling enough to actually get you to take the actions necessary to cross the street if you don't understand why you are doing it in the first place. When it comes to losing weight and getting healthy, there is no secret to the possible "hows" to get it done. If you get caught up in the how, you can have success, but in order to feel accomplished and truly appreciate the journey, you need to understand why.
Every time I attempted to lose weight, there was a distinct reason: my why. However, in my previous attempts, I was so focused on how to get health, that as soon as that got boring, I'd give up and revert to my old habits. Eventually my why would come nagging at me again, and it got me to give it another attempt. It wasn't until I switched my focus to why that I truly transformed myself. After living an unhealthy life and being overweight in the military, I made the decision once and for all that I was tired of just getting by. I knew that my career was on the line, and I no longer wanted to just barely pass. I never wanted to be in that position again.
The why is what is driving you to take the action. You need to do some soul searching to pinpoint the root and then write it down. Seriously, grab a pen, grab some paper, and write a letter to yourself explaining exactly how you feel and why you want to make a change. The more you open your heart, the greater your success will be. The letter is not meant to be shared. It's for you to read. I encourage you to read it often—daily if needed—whatever it takes so that you never forget it. There will be a point in your journey when you forget why you're doing it because you're either getting some great success or running into some roadblocks. In either case, reading your why as it was written when you started will get you re-focused and back into that mindset. Along the way, you can also use a journal or dry erase marker on your bathroom mirror to offer snippets of encouragement to yourself that tie back to your why. It's important to check in often so that you never let the why slip to the back burner.
The before and after photos of your weight loss journey are amazing and they provide instant inspiration for anyone scrolling through your website. On your podcast, you mention the importance of before and after photos in giving a perspective that the mirror can't provide. Did you take photos throughout the weight loss process, or did you wait until you were closer to your goal to make the comparison?
I hated photos of myself when I was overweight. There came a point in my life where I was getting tagged on Facebook more and more often, and it made me angry—so much so that I locked down my profile so that no one could tag me. I quickly began to realize that people were tagging me because we had a good time together and they wanted to share—it was my own hang-up about how I looked that was getting in the way. My friends and family liked me regardless of how I looked, and they wanted to share.
I figured out that good or bad, this was what I looked like, and I could either continue to miss out on life, or I could accept how I looked and enjoy it. With the acceptance came the desire to change. Since I knew how I looked to the world, I decided I wanted to look and feel different about myself. So, I began to take a lot more photos and selfies. With every photo I simply said, "Yes. This is what I look like, and no, it doesn't have to stay this way." I think accepting myself and taking the photos led me to want to change. Rather than living in denial, I tackled the issue head-on and got it done.
In multiple episodes of your podcast, you mention that you were always someone who celebrated your achievements with food. For social eaters and individuals who use a food reward system, this can be a really difficult habit to break. How were you able to overcome this habit, and what advice would you give to individuals struggling with the same problem?
I forced myself to stick to the plan early on. No matter what came my way, I was able to resist the temptation to overeat. There were many days where I had to go to bed early to stick to the plan because I knew my willpower would fade in the evening. This level of dedication forced me to look at the food choices I had made during the day and evaluate them for what they were. Once I started seeing that the days I ate candy, fried foods, or other foods high in calories were the same days that I was the most tempted to overeat. I also recognized that the days that I made smart choices, I felt better. I started paying closer attention to how I felt, and more often than not, it made me want to continue making healthy choices.
On occasion, I do still celebrate with food, but because I'm mindful of how it makes me feel, the events are few and far between, and the celebration truly is a celebration. I've redefined what a "celebration" is, and "just because it's Friday," is no longer an excuse to overeat.
Throughout your weight loss journey, you had a "wingman" who motivated you with daily e-mails. Many people who are trying to lose weight struggle to find a strong support system, but fortunately you've created the "5AMClub" to help provide people with a sense of accountability and community. How did you come up with the 5AM Club, and how does it work?
Initially, I thought that the secret to weight loss was working out, and while it has tremendous benefits, there are some things that you need to know. One: If you're working out and overeating, it doesn't work. Two: If you work out once a month, that doesn't work either. In all of my previous gym attempts, I tried to get intense with my workout, trying to make a difference too quickly, and that led to me taking a few days off to recover. I also struggled with making the workout a priority. I tried to do it at lunch, but often a meeting would creep in. Then I tried after work, but I was too tired to consistently go.
As I looked at my calendar, I realized that the only time that was consistently free was 5am. So, I asked a friend about her gym membership and she told me to "join us tomorrow at 5am. There's always a treadmill open, and no one suddenly calls a last-minute meeting." So off I went. My goal was to go daily and do as little as possible so that I could return the next day. I wanted to build a habit of "going to the gym," and to build that habit, I had to go daily.
Now, not everyone can go at 5am. I get that. So the 5AM club understands that—since we know it's 5:00 somewhere—the term 5AMClub simply means "Move More." The time of day doesn't matter. The activity doesn't matter. The location doesn't matter. If you're deliberately taking an extra step, you're in the 5AMClub. Sometimes, when I have to get a late evening workout in, I like to say "5AMClub—Paris Style."
On your blog, you update your daily weight using the Body Cardio scale and Health Mate. What do you love most about your devices and how has tracking your weight had a positive impact on your lifestyle?
I've been using a Withings scale and the Health Mate app for many years. Before I made the purchase I would manually write my weight on the bathroom mirror with a dry erase marker. I would keep a few days up there at a time to study the trends, however I would also get sloppy. If the data point didn't fall in line with the desired trend, I would not write it down. I realized that this data was an important part of the journey, and the ability to see the data over a longer period was what kept me pointed in the right direction.
I did go a little overboard and I used a third party app called IFTTT to auto-Tweet, post to Facebook, and update my website. Basically, I want anyone who follows me to understand that I'm still very much focused on my goals because that focus is what keeps me in the game. I weigh myself daily and process that I weigh the same whether I hop on the scale or not. Getting on the scale—even on the days I don't want to—helps me identify the problem and adjust the plan to get the results I want. Ignoring a problem never reveals a solution.

Big thanks to Michael for taking the time to chat with us! Be sure to follow the Withings blog for more inspiration, tips, and real-life success stories.