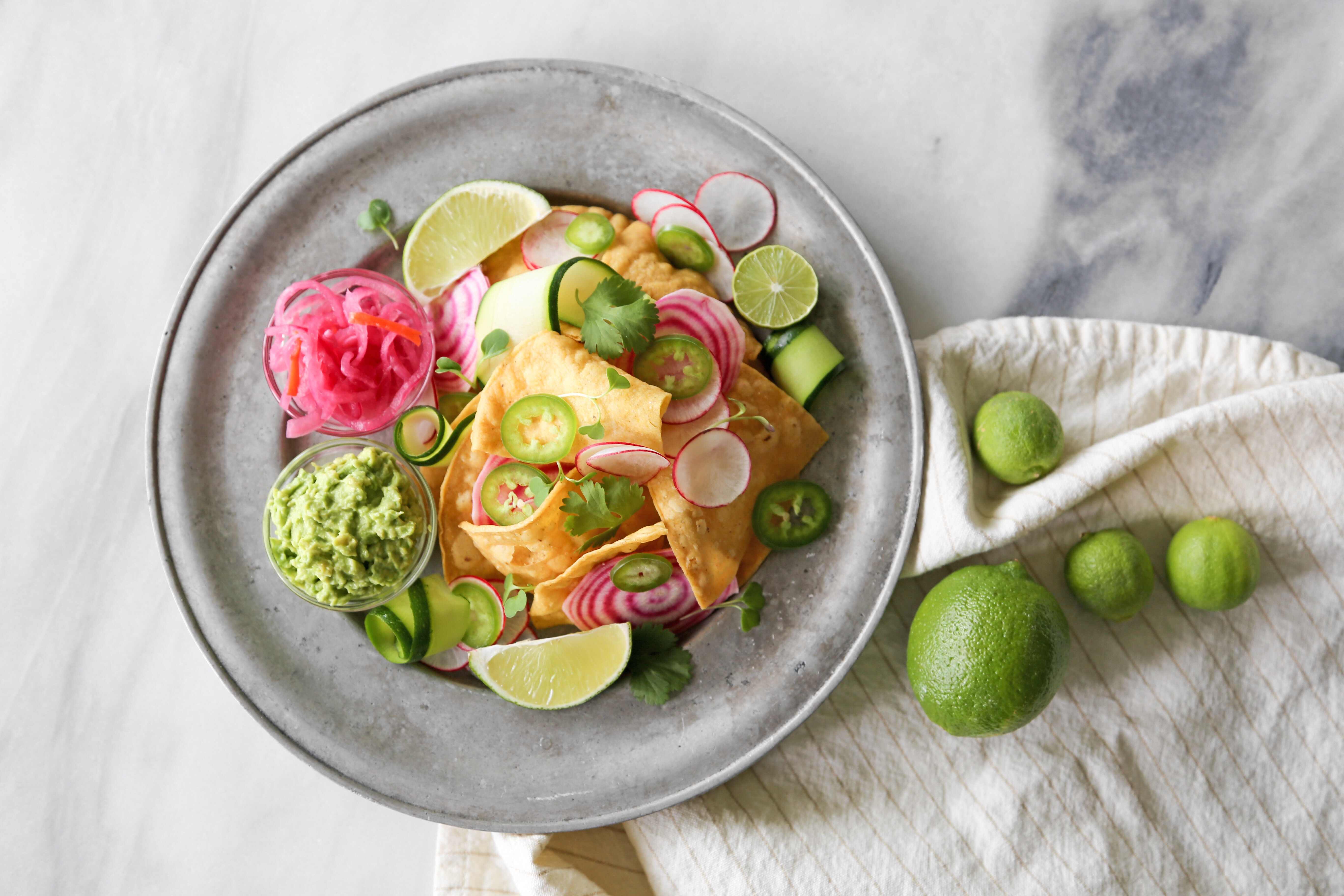 Summer is the perfect time for boat rides, swimming holes, and long walks through the park—but when it comes to cooking dinner after a long day of fun, turning on a hot oven may be the last thing you want to do. Fortunately, we've compiled a few healthy recipes that can be served cold and don't require hours in a hot kitchen.
From fruit salads to chilled zucchini pastas, here are a few dinner ideas that will keep you cool on hot summer nights.
Watermelon, Avocado, and Cucumber Salad
Recommended by Kristen Link of Wellness by Kristen, this delicious dinner dish requires no stove or oven time. Not only that, but with fruits and veggies like watermelon and cucumber, which are comprised of over 90% water, it will rehydrate you after a long day of outdoor activities.

Serves: 2
Ingredients: 
½ red onion, thinly sliced
2 cups watermelon, cubed (and super chilled)
1 English cucumber, quartered
½ avocado, cubed
2 tablespoons avocado oil
1 tablespoon lime juice
1 tablespoon mint, chopped
1 pinch salt
1 pinch cayenne (optional)

Instructions: 
In a large bowl, whisk together the avocado oil, lime juice, mint, salt, and cayenne (if using). Toss in the red onion, watermelon, and cucumber. Top with avocado and serve immediately.
Zucchini Noodles with Cilantro Pesto 
This dish from nutritional chef Melissa Eboli of Via Melissa is a fun twist on a traditional pasta salad. By replacing noodles with zucchini, the recipe not only cuts out the stove element of dinner, but helps pack more veggies into your day.

Serves: 4
Zucchini Noodle Ingredients: 
Cilantro Pesto Ingredients: 
1 cup walnuts (or 1 whole avocado to make nut-free)
½ cup olive oil
5 garlic cloves
1 ½ cup spinach
¾ cup cilantro
½ tsp sea salt

Instructions: 
Zucchini Noodles: 
1. Cut both ends off of the zucchini. Using a handheld or electric spiralizer, slice zucchini into long strips and place strips in a bowl.
Cilantro Pesto Sauce: 
2. Add the remaining ingredients to a food processor (or high-powered blender) and blend until smooth.
3. Top zucchini with pesto sauce and enjoy!
According to Judy Barbe, registered dietician and author of Your 6-Week Guide to LiveBest, this summer favorite is not only quick to assemble, but is rich in fiber and protein that will keep you full and far away from the snack drawer.

Serves: 4
Ingredients:  
2 cans tuna, drained
1 can garbanzo beans, drained
20 Kalamata olives, drained, pitted, halved
½ lemon, zested and juiced
3 tablespoons fresh mint, coarsely chopped
3 tablespoons fresh oregano, coarsely chopped
2 tablespoons olive oil
1 tablespoon capers, drained
1 teaspoon ground cumin
Salt and pepper
2 cups sliced cucumber, quartered
20 cherry tomatoes, halved
3 tablespoons red onion, sliced
½ cup feta cheese, crumbled
2 heads Romaine or 3 cups other salad greens

Instructions: 
1. Combine beans, olives, lemon zest, mint, oregano, olive oil, capers, cumin, salt and pepper in a medium-sized bowl. Stir to combine. Gently mix in tuna. Refrigerate for 30 minutes or overnight to allow flavors to develop.
2. Lay greens on a plate. Top with cucumber, tomato, onion, and feta. Spoon tuna bean mixture over greens.
Sesame Noodles 2.0
Chef Laura Lea Goldberg of LL Balanced created this recipe as a healthy alternative to the "inflammatory vegetable oils and copious Hellman's" of her Mom's Original Sesame Noodles. And for an added bonus, this dish can be easily personalized by adding pulled rotisserie chicken or your favorite veggies!

Serves: 6
Ingredients:  
1 8-ounce box spaghetti noodles, cooked according to package directions
¼ cup tahini paste
¼ cup unsweetened, unsalted peanut butter
¼ cup toasted sesame oil
2 tablespoons low-sodium Tamari (or sub soy sauce)
1 tablespoon honey
1 tablespoon sriracha (or sub 1 teaspoon honey)
2 cloves garlic, finely minced
1 packed teaspoon freshly grated ginger (or sub ¼ teaspoon ground)
½ teaspoon sea salt
6 tablespoons water

Instructions: 
1. Combine all ingredients except noodles in the order listed in a medium-sized mixing bowl, and whisk to incorporate thoroughly. Stir half of the sauce into the bowl of noodles. Taste and add more sauce as you like. Cover and refrigerate leftover sauce, which can be added later if noodles dry out in the fridge.
2. Place in a tightly sealed container in the refrigerator for at least 1 hour before enjoying. Noodles will keep for 5 days.

So whether you're craving a lighter fruit salad or a hearty plate of noodles, these cold recipes are sure to rejuvenate you and satisfy your dinner desires without starting a heatwave in your kitchen.