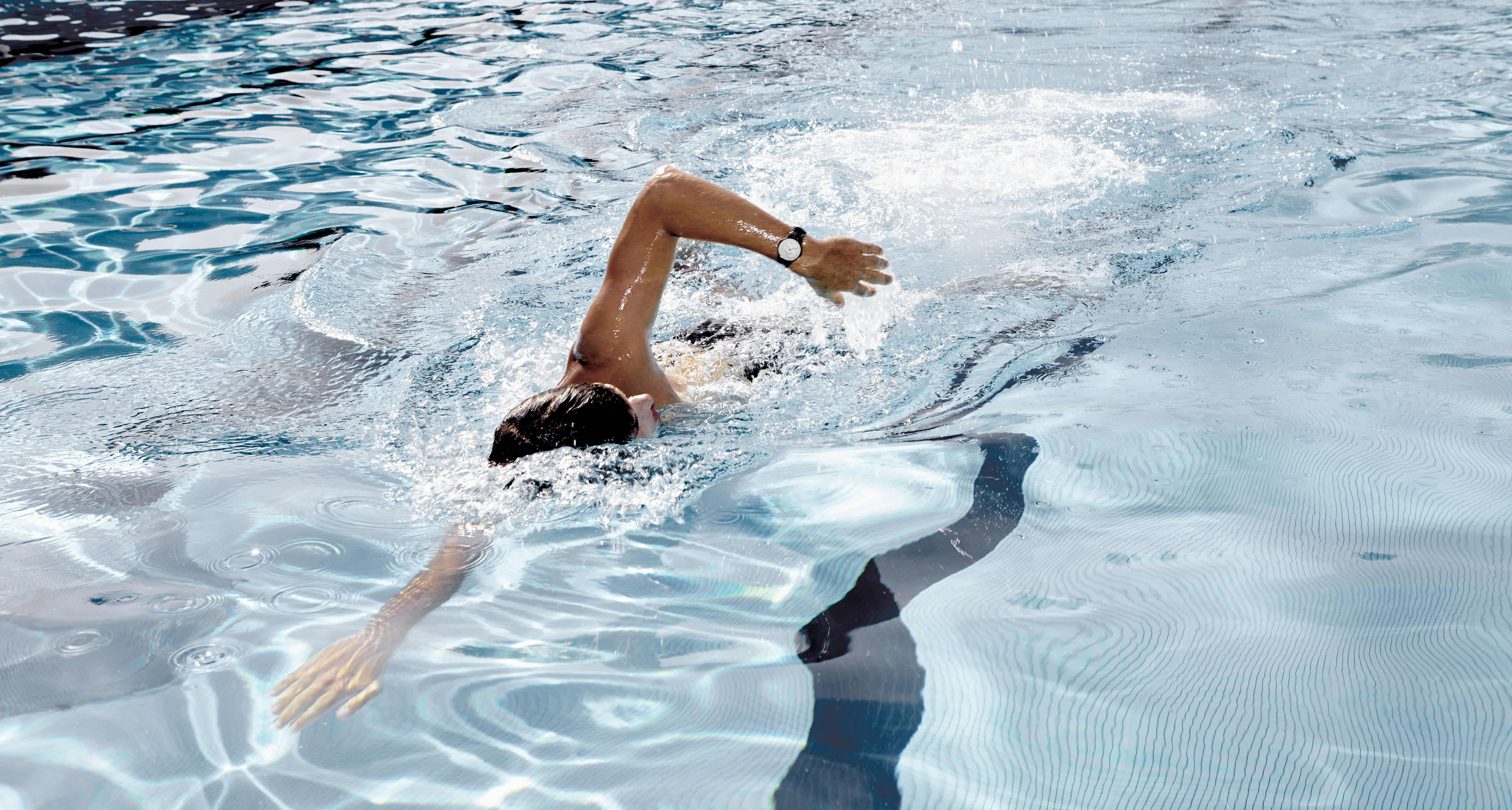 What says summer more than taking a dip in the water? Not much—and the recent uptick in logged swimming sessions suggests that our users agree. But apart from their affinity for the water, a dive into our user data revealed a few characteristics that set swimmers apart from other active users. Read on for the surprising results.
Between March and June 2017, the number of users logging swimming sessions increased about 35%, with a similar summer peak also observed in 2016. While we would expect these swimmers to demonstrate better health than non-active users, it seems that swimming in particular might endow some additional benefits.
Swim More, Walk More
In addition to logging active time in the water, swimmers appear more active on dry land as well.
Comparing the average daily step count of swimmers to non-swimmers, water-dwellers come out clearly on top. Male swimmers clocked 17% more steps, while female swimmers logged 28% more steps than those foregoing the H2O.
Perhaps swimmers are more health-conscious and thus tend to walk more during the day, but we can't say for sure. Still, it's worth noting that logging one type of exercise doesn't seem to cause the "I already worked out so I can spend the rest of the day on the couch" inactivity that we might expect.
Some countries in particular demonstrate this overall high activity level of swimmers. In fact, swimmers in Russia, Belgium, and Canada walked 26%, 25%, and 24% more respectively than non-swimmers in each country.
Wait, There's More…
The benefits keep on coming—swimmers also scored better in various health markers, from sleep quality to heart health.
When we examine sleep data, swimmers log an average of 10 minutes more shut-eye than non-swimmers, and spend 4 fewer minutes awake during the night, at 22.6 minutes compared to 26.3 minutes. Swimmers also fall asleep somewhat faster, after just 4.7 minutes rather than 5.9 minutes.
In addition to sleeping well, swimmers appear to have healthier cardiovascular systems, as demonstrated by their lower pulse wave velocity, at an average of 7.06 m/s, versus 7.11 for non-swimmers. Their blood pressure was also lower, averaging 126.3/77.9 mm Hg versus 128.8/79.7 mm Hg for non-swimmers. While these differences may be small, they are significant.
The Bottom Line
Any exercise will be beneficial to your health, but those who choose to swim over other activities demonstrate even more improved health markers, such as increased step count, better sleep, and a healthier heart.
In case you needed extra reasons to grab your bathing suit and go for a swim in the heat, now you've got them!
Study Methodology:
This study was conducted by Nokia based on anonymous data from more than 53,000 users of Nokia activity trackers in the United States, Canada, France, Germany, the UK, Spain, Switzerland, Belgium, Finland, Italy, China, Russia and Japan from March 2017 – June 2017. Nokia guarantees the confidentiality of personal data and protects the privacy of all its users, and all data used in this study is anonymized and aggregated.