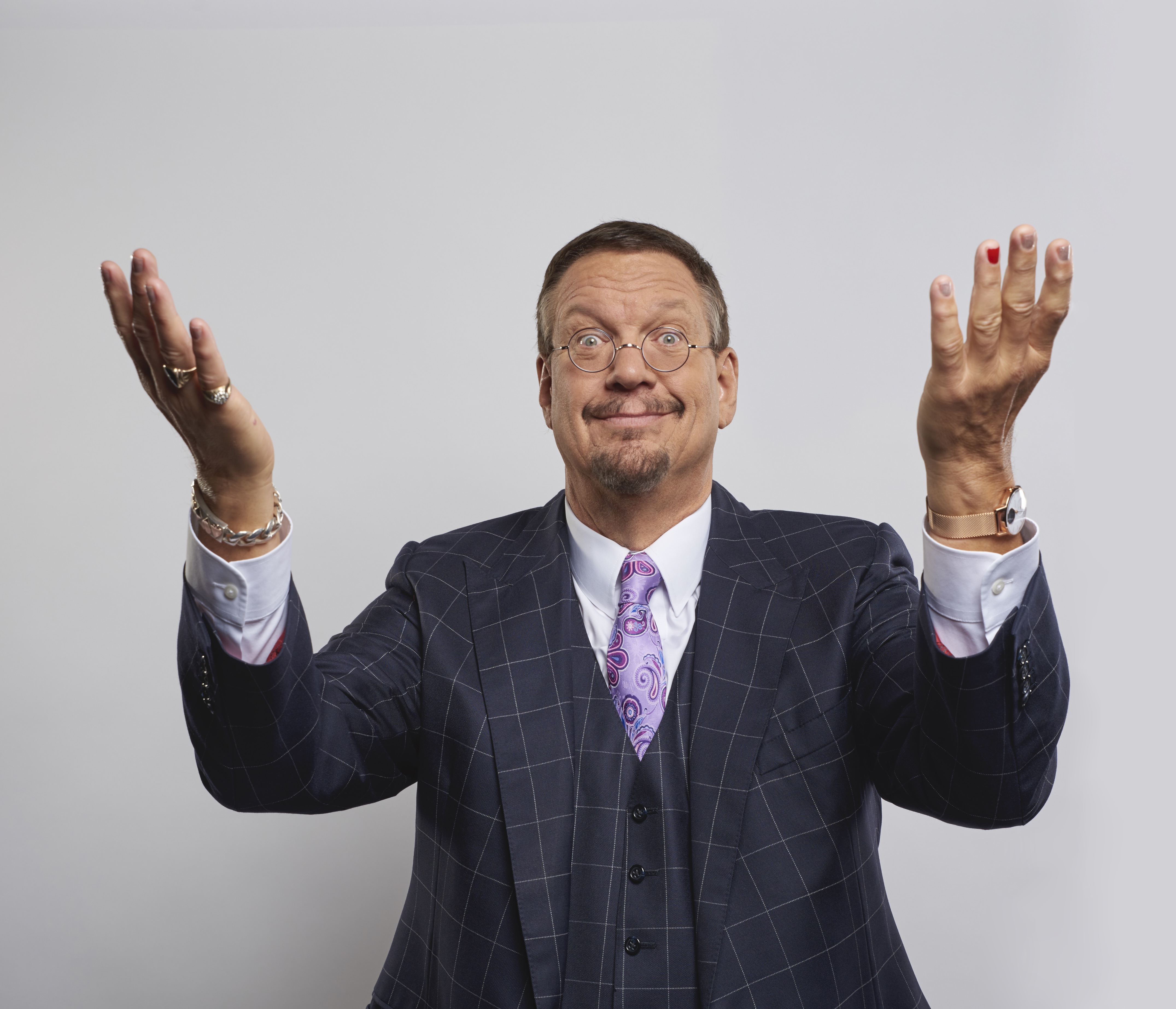 Our friend, magician and bestselling author Penn Jillette, sent us an update on his plans for 2020. Bonus: cute dog photo.
You know Penn Jillette likes to keep us updated on his New Year's resolutions. Here's his update as he looks ahead to 2020.
It Looks Like I've Made It to 2020 – Some Thanks for That
by Penn Jillette

So, CrayRay—Ray Cronise, the man who is responsible for saving my life by helping me (making me) lose over 100 pounds—has a new book out called The Healthspan Solution: How and What to Eat to Add Life to Your Years, written with his buddy Julieanna Hever, who is also a food expert who knows everything. CrayRay was the person who told me over five years ago to buy a Withings smart scale, and that started me on my road to not spending all my time knocking on heaven's door with every mouthful. Emily, my wife, who gets maybe more credit than CrayRay (sorry, CrayRay) for keeping me alive, has been cooking recipes out of the book, and they are so wicked tasty and healthful.
If you cook or can con someone into cooking for you—pick it up, eat happy, and don't die.
Speaking of not dying, there's another book I'm reading called How Not to Diet: The Groundbreaking Science of Healthy, Permanent Weight Loss by Michael Greger. I wrote a book called Presto about how I made over 100 pounds disappear. I tried to make my book funny and personal—CrayRay and Julieanna book, and Greger's book too, are full of real info. Greger's book is so full of footnotes and citations that you can lose a few pounds just carrying the bastard around (and the book makes clear that exercise doesn't help you lose weight, so never mind). Teller is reading these too, and it looks like he's going totally plant-based (he's had a Withings scale for a while). There's just too much information on how to eat right and live happier and healthier. Teller's not stupid, and if he were, I wouldn't write it, because he points a .44 Magnum in my face in the Penn & Teller show.
So, it looks like I'll make it into 2020. Just by reading these books and having Emily cook from them, I've lost 8 pounds in a week of the few pounds I've put back on in the past 5 years. Withings reminds me (and also my friends and doctors) every day of my weight and body composition. It keeps me focused and on track. My weight is going down nicely. I'm swimming in my backyard pool (and my Withings watch tracks that) and I'm walking our dog, and my Withings watch tracks every step but thankfully doesn't track the humiliation I feel having a dog.
It's my children's poodledog with a stupid effete haircut. The haircut is stupid, and a stupid haircut was one of my demands when I caved and got them a dog. I wanted it to be a full-size poodledog and always called a "poodledog" (in honor of Frank Zappa) and I would never care for it. But when they are out of town (visiting Grandpa), I walk the dog and my Withings watch tracks our route, distance, heart rate, and speed as he drags me a couple miles (and over my 10,000 steps) every day. I guess even the poodledog is adding to my health.
It's hard to keep weight off. It's hard to be healthy. But my groove is deep now, and Emily, CrayRay, Julianna, Michael, Withings, and a stupid poodledog named Potato (after the start of my diet) are keeping me alive and ready to go into 2020. Thanks to all of you.