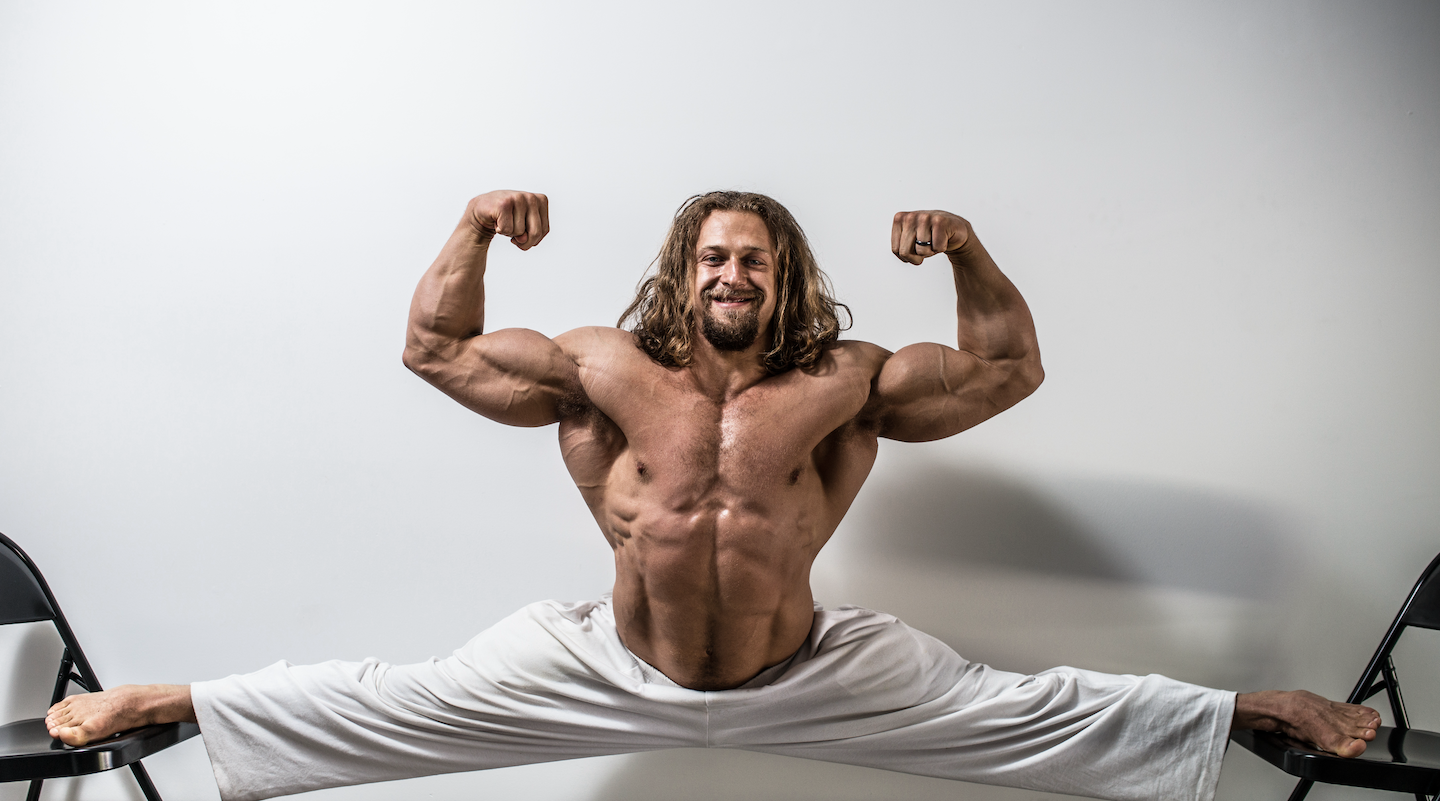 Jon Call, also known as Jujimufu, is famous for his highly entertaining videos displaying incredible strength and agility. In addition to his athletic capabilities, Jon is also known for adding humor and good cheer, and we got to experience that with him in this most recent interview.
In 2015, Jon Call's chair split video garnered him tens of thousands of followers overnight, and since then he has continued his athletic journey while advocating for more inclusive and open weightlifting communities. Originally hailing from Alabama and now based in North Carolina, Jon caught our eyes in a recent video where he weighed himself on his Withings Body+ scale and proceeded to do a backflip—with an extra 33 pounds strapped to his chest. Note—please do not try this feat at home. We wanted to know more about this daring athlete, so we caught up with him to find out more about Jujimufu.
How long have you been a Withings user, and what inspired you to purchase a Body+?
Last year in 2020 before COVID hit, I was trying to control my eating volume to make sure my weight was trending upwards because I was preparing for a powerlifting meet. I used to write my stats down on a paper spreadsheet, and that was really annoying because the technology exists to make sure that you don't have to do that, so I purchased the Body+. I've also been preparing for a bodybuilding show, so when I need to update my coach on my progress, I just screenshot the weight trends from the past week and send them versus manually writing everything down.
Were you a fit kid growing up?
Probably up until age 13 I just played video games inside the house all day long. And then I got bullied, so long story short, all my friends I had as a young child dumped me when I was 12, and it was a really hard time in my life. After some time I eventually made a new friend who was in martial arts, taekwondo specifically, and he invited me to a class. That's where I fell in love with the martial arts, and that led me into fitness.
What is your biggest health challenge?
Sleep is good now, but I used to wake up five times during the night to go to the bathroom, which was incredibly annoying. I thought this was just what happened to larger guys with more muscle tissue and consequently water going in and out. I went to see the doctor, and at 250 pounds with a neck circumference of 18 inches, the doctor said I might be getting up often at night because of sleep apnea, and he could prescribe me a CPAP machine just based on my size measurements. However, he also brought up the fact that my family has a history of sleep apnea, and after being prescribed and using a CPAP machine, I only wake up once a night, and that's improved my sleep.
For example, you can't smell your partner's farts, and you know how people like to cover their head in pillows and blankets but can't breathe? With a CPAP you have a hose feeding you air, so you can literally bury yourself and breathe, and it's really cool. These are reasons in themselves to get a CPAP machine as it's more fun to sleep. You get used to the hose, you figure out how to orient it, but, you know, you feel way better not having to wake up as much.
What type of exercise or activity would be completely opposite of what you do now?
Road racing, because it's really locked into a very short range of motion for a very long duration of time. Everything I do now is the opposite of long duration; it's explosive, and there are a variety of movements where a lot of mobility is involved. So cycling is pretty far off from what I do as it makes you smaller but increases endurance, while the training I do makes me stronger and bigger. All the respect in the world to the competitive cycling guys, but if you ask what the opposite sport would be for me at this point, it's road racing. You put me on a bike? I die.
Is there a point at which weight interferes with agility or even muscle?
I don't think weight interferes with muscle, but it 1000% interferes with agility. People know me for the barbell chair splits with weight, and though it's very difficult to do, folks think that me being bigger makes it harder. That's not true, as that's not actually agility but instead strength through a different range of motion. So, my muscles kind of help me with that, and me having a larger upper body actually makes it look kind of crazy, because "Oh, giant buff dude with weight."
But with flips, having more muscle mass makes it infinitely harder. Gymnasts, for example, will step on a scale, and their coaches will look at them and say, "You gained half a pound. What did you do?" They get on them because half a pound in the air is like a night and day difference in terms of your aerial acrobatic maneuvers and your ability to actually pull out your skill, set through your full routines, etc.
For me, between 13 and 26 I was also trying to get strong and small, which is a normal thing in weight class training, but in my late 20s, speed went away real quick, and I had to decide whether I was going to trade some of my skill set for size since I knew I couldn't do flips forever. I ended up choosing muscle and size.
How do you avoid injury when you're doing videos?
Some videos take two hours or even days to prepare for a clip that's eight seconds long. And why does it take so long? Because I have to figure out how to do it without dying. And then there's even a point where no one can even relate to the exercise in the first place. For example, I'm not trying to impress anyone with doing 10 more pounds in an already intense exercise, so I'll cash out versus pushing it further. Then there's the humility and taking the time to just listen to your body. "Oh, my right hamstring is a little tight. Maybe I should not do this right now," and then you work around it. I also wrote a book about overcoming training injuries as well!
What is the biggest piece of advice you can give to someone who is scared of the weight room?
How about bringing the weight room to you? Seriously, that's what I did. A lot of the videos I started making that went crazy were in my dining room where I was screaming and yelling and setting things on fire and wearing stupid costumes. I couldn't do that in a normal gym back then, but now I can because people know who I am. Again, when I first started, I was working out at home. Get a barbell, a couple plates, some dumbbells, and go make yourself feel good.
Thanks to Jon for his words of wisdom, and we look forward to more great videos. You can keep up with Jon on Instagram or at his website.