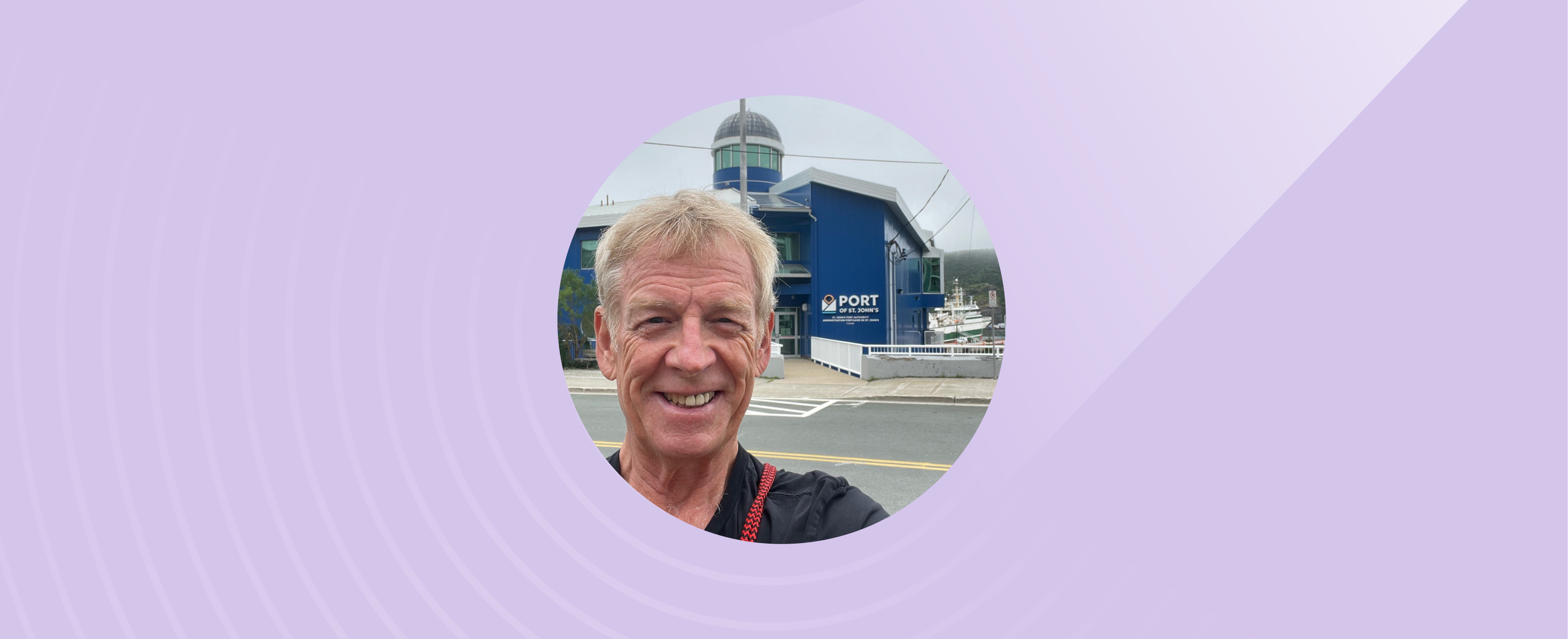 Alan Forde, 67, is a retired businessman living in Mississauga, Canada, just outside of Toronto. Forde's successful career was one that included a lot of dinners, travel, sleep disruptions, and an inability to maintain a regular exercise program. At that time, he didn't give it much thought, saying, "I basically carried 220 pounds really easily."
Alan's weight journey has been up and down; he's lost more than 40 pounds on separate occasions, once in 1985 and again in 2004. However, Alan found himself more than 40 pounds heavier once again after experiencing hip issues, but he hadn't committed to losing the weight until he experienced two more wakeup calls.
Taking a friend's loss to heart
During a round of golf, Alan saw a friend of his who "looked terrible." His friend was 53 years old and wanted to lose weight, but he had just sold his business and was off to Las Vegas first to celebrate a few days later. Forde recalls that on the second day in Vegas his friend said, "'I don't feel very well. I'm going for a nap,' and that was it! His wife found him, and he was dead."
His friend's death forced him to think about health beyond his weight, and that's when he took action on a heart issue he had been experiencing but hadn't visited a doctor for. Over the previous 18 months, Alan's heart rate would race at times, usually after spicy chicken wings and beers. However, on December 3rd, 2019, not too long after his friend's death, Alan finally went to see a doctor about his racing heart rate. "She gave me an electrocardiogram, and when she saw the results, she told me I was experiencing atrial fibrillation."
Alan met with a surgeon shortly afterwards, and the surgeon was adamant that alcohol was causing this issue and that he had to reduce his drinking before receiving surgery. "So I cut my drinks in half from 35 drinks a week down to 17 or so." Alan was given medicine temporarily before he was scheduled to receive his surgery at the end of February 2020, but then the pandemic hit, and of course, it wasn't just his surgery that was affected.
Global pandemic leads to personal health realizations
Big vacation plans scheduled for that month also took a turn for the worse. "We were going down to Florida to celebrate my 65th birthday on Anna Maria Island. So there I am with my wife, we got a month-long place, I got airplane tickets for the kids and their partners, and nobody could come because everything was halted." The global health crisis was well underway, and with Alan trying to figure out the damage to his portfolio along with the evolving knowledge of the virus, he decided to commit to a healthier lifestyle.
He saw the emerging reports that people with existing health issues including being overweight could lead to greater chances of receiving the worst of the virus. "I'm not afraid to die, but I am really afraid of getting a stroke and being incapacitated or unwell for a long time." So after receiving his ablation surgery May 21st of 2020, he bought a Withings Body+ scale in June of that year and was committed to losing weight.
Cheers to less drinking and a healthier lifestyle
"I had lost weight before, so I knew I could do it again, but this time was different. Rather than losing it solely through lots of exercise, I committed to drinking less." And Alan did. He reduced his alcohol consumption from 17 drinks down to six or eight per week, "depending on Wine Wednesdays and stuff like that." In addition to consuming less alcohol, Alan also began eating healthier foods.
And what was the result of this lifestyle change? Within a year and a half, Alan went from 215 pounds to 168. "My doctors would like me to keep at this number, about 170 pounds, so staying here will be the most important challenge for me now. Beyond losing weight though, the scale has paid off in other ways. I've lowered my blood pressure, I get better sleep, and I even receive unexpected compliments!"
When asked what advice Alan has for other people setting out on or thinking about their health journeys, Alan says, "Just find out why you want to lose weight, then get help from someone qualified and commit to yourself by regularly tracking your weight and nutrients."
Thanks to Alan for the inspiration. Do you have a story to share with us? Reach out at success@withings.com
Disclaimer: The information in this article is not intended to be a substitute for medical advice from a physician or other healthcare professional and is not a substitute for the advice of a legally qualified healthcare professional. If you have specific medical questions, please consult your doctor or healthcare professional promptly. Nothing in this article should be construed as an attempt to offer or render medical advice.