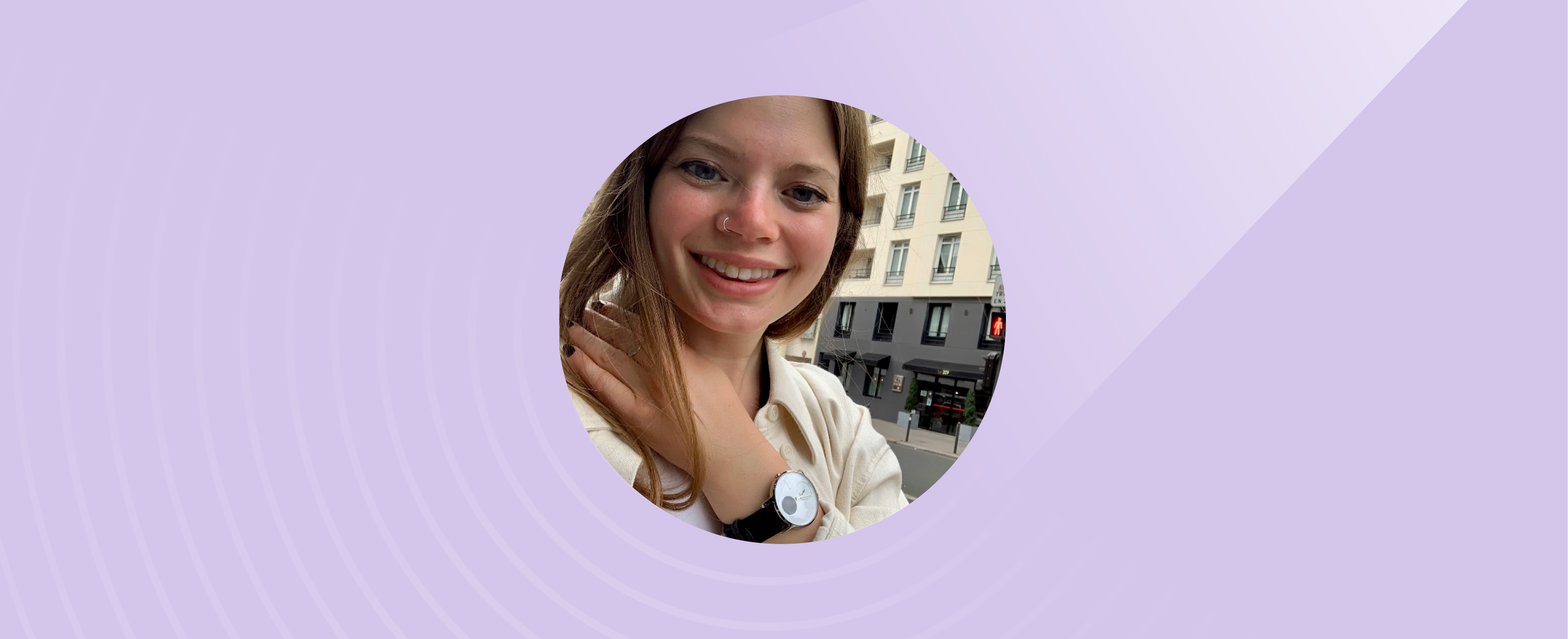 Find out what happens when a talented young American living abroad experiences a lockdown and then tries smart devices for the first time.
As a whip-smart, motivated 20-something who hails from a suburb of Cleveland, Ohio but now lives and works in France, Brianna Horn, pictured, is living the Emily in Paris dream.
But unlike Emily, she's a real person. And real people have real bodies to take care of. And though she's young, the pandemic created unique health challenges that her fictional counterpart never experiences. Fortunately, Brianna found the extra motivation she needed from Withings devices, and her positive experience even made her think of her family's health back home.
When not working, Brianna is a self-described "big nerd" who loves reading about international relations, doing yoga, and trying out vegan restaurants and recipes. We were lucky enough to get to know her because she landed a job at a French company called Shipup, a service Withings uses to communicate customers' package statuses. Brianna provides Withings with excellent ideas and support, and when we asked her some questions about her experience trying out Withings devices, she was kind enough to answer. 
Did you ever have an activity tracker before using the Withings hybrid smartwatch?
No. I only used the steps app on my iPhone, that's it. I was always really against the idea of having a connected watch. Because like everyone, I'm really addicted to my smartphone, and I want to spend less time on it, not more. And I especially don't want another computer on my wrist, where you're constantly getting pinged with notifications. So for me, I just want to see the time and monitor activity—and that's it.
How did you like using the Withings watch for activity?

Like most people during the pandemic, I kind of lost some of my fitness and health habits, especially because there was a lot of stress. But I couldn't quantify any of it. I thought, "I feel like I'm sleeping less. I feel like I'm moving less because we are confined inside, but I don't really know." So having the watch empowered me to regain more control over my health, my time, and my activity. Now I have a better idea of how much I'm walking. Because we had a curfew in Paris, I started walking for an hour in the morning since I realized I couldn't go out after. Then I started going to bed earlier. Getting up to walk in the morning and tracking it with the watch—is great. I love it.
I also absolutely love the continual heart rate monitoring because I don't have a lot of time to work out like most people. So I only do a 30 minute high intensity interval training workout, three to five times a week. With the watch I can tell if I'm actually doing it based on the heart rate because it shows the intensity.
Any other watch features that appeal?
Yes. The other thing I love is the stopwatch and the timer. I absolutely love that. And I think my favorite feature is sleep monitoring. It's amazing. This has really motivated me to prioritize my sleep and try to become more regular now that I have an idea of nights where I'm not sleeping. I'll try to compensate for it the next night—so I just feel like I have more control of my health. I'm so happy to have this watch. I love it.
Basically, I like this watch because I think it's really beautiful and stylish. And the fact that it doesn't, by default, have flashing things on it. I like that. It's just analog. I've gotten so many compliments on it, and so many people around me are like, "Oh my gosh, I'm gonna buy one."
And because I miss my dad a lot, and I love him so much…well our one common passion is we both love walking, so I sent him one so we can compete with our steps in the app.
So you also used a Withings smart scale… how'd that go?
Although I didn't have a lot to lose originally, I did gain, for me, a lot during the pandemic. And I've now lost more than half of that, not from starving myself, nothing extreme. Just being healthy.
Was the weight loss from keeping an eye on it? Walking more?
Yes, and just being more aware. And honestly, maybe it sounds odd, but I think a lot of it was just my sleep improvement.
That's not odd at all… there's a lot of research on this, and Withings has done data studies that show that lack of sleep is correlated with weight gain.
Yeah… I started prioritizing sleep and trying to go to bed at the same time every night because before I was letting myself stay up super late scrolling. OK, I still do that sometimes [laughs] but I think by having more control over everything— it's a big relief. Most people are in the same vicious circle that I was in: stress, late nights, and then gain. So just the fact that I can be in control of my health data and understand what's happening, then I feel more serene about my wellbeing and I'm not obsessing over it either. It's amazing.
Thanks to Brianna for the inspiration! If you want to share with us, you can always reach out: success@withings.com