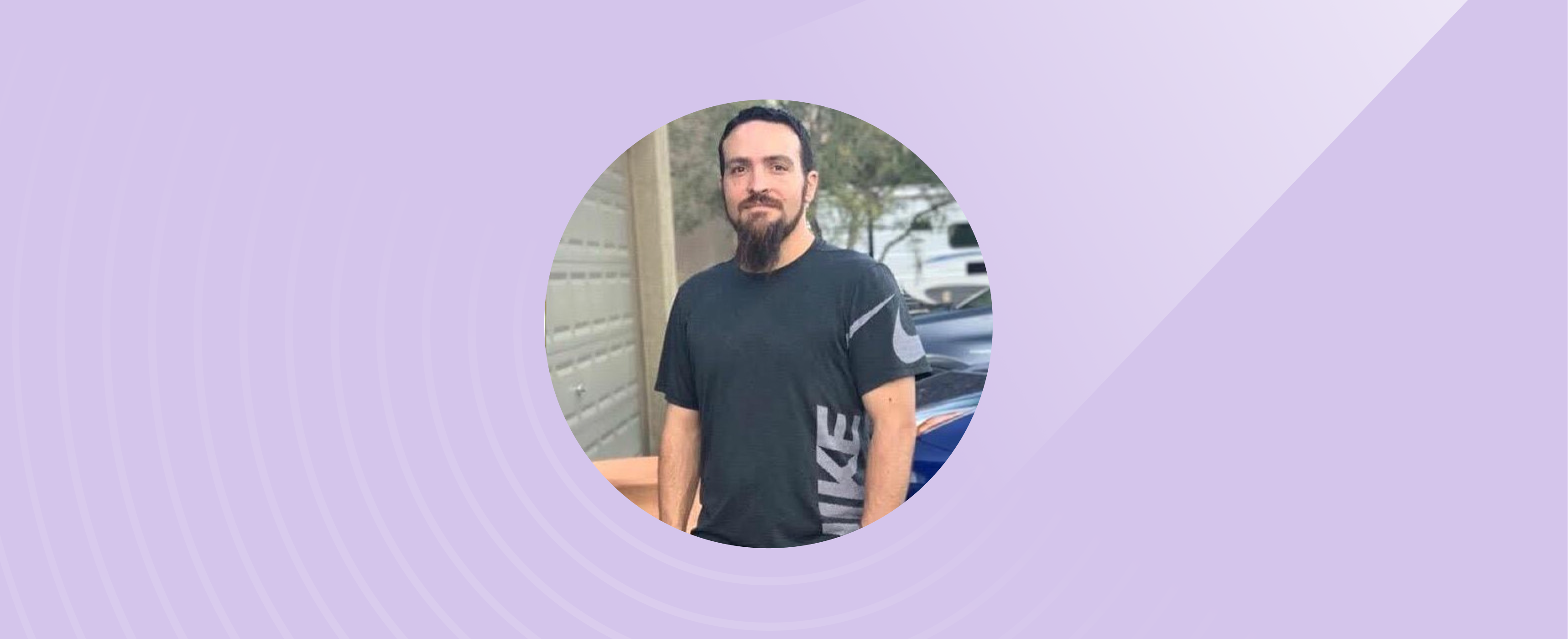 Get to know a software engineer and army veteran who was on multiple medications to manage diabetes, high blood pressure, and other conditions. Find out how he got there, and then made a change that completely transformed his physical and his mental health.
Chris Moore, 39, is a software developer and former army vet who struggled for years with weight, even as a kid. He told us his family comes from a tradition of cattle ranching, and he describes them as, "meat and potatoes type of people." According to Moore, everyone in his immediate family has struggled with their weight, including his mom, dad, and siblings.
When Chris reflects on these earlier years of family weight struggles, he believes food trends played a large part, saying, "I grew up in the 80s, right? There was a low-fat craze. Everybody was saying, 'Make sure to eat oatmeal!' and that you needed to have sandwiches, Cheerios, and replace fats with sugars. So you had people who weren't necessarily ignorant about food, but were getting bad information from lots of different authorities."
After finishing high school, Chris enlisted in the Army and was stationed in Alabama. Issues with weight persisted, and Chris struggled to stay under the Army's weight requirement. "I struggled to hit some of the metrics for pull-ups and running, but I was able to get by, but really only squeaked by each time."
Life piles on more challenges
Chris eventually married and had kids. However, with no community to exercise with outside of his immediate family, his weight issues worsened. He says he was consuming between 3,000 and 5,000 calories a day of highly-processed food and was deficient in the right nutrients while overloading his system with insulin stimulated by these same foods.
Shortly after, Chris was diagnosed with a pituitary adenoma, or a brain tumor, which then led to him being diagnosed with type 2 diabetes, hypertension, high blood pressure, and high cholesterol—all by the time he was 32. "I think they had me on 7 or 8 different prescriptions, and my health continued to get worse. I'd walk 100 yards, and my legs would cramp up, so I'd have to stop in the middle of the parking lot, and just getting 300 yards took me 15 minutes or more."
Chris was already 240 lbs, but he then suffered a lower back injury that required surgery and left him bedridden for six months. He then gained another 45 lbs. "I was destined for heart disease, renal failure or stroke in short order, if complications from diabetes didn't take me first."
Daring to take the first step leads to a giant leap forward
Chris got a Withings smart scale from his workplace as part of a wellness program, but getting the scale wasn't magic—because he wasn't comfortable stepping on and actually using it until two years later. In 2018 he was ready and began a lifestyle change focusing heavily on diet. It was then that he started actively stepping on and monitoring weight fluctuations using his smart scale.
As the weight came off, he introduced daily activities and maintained his lower carb regime until his weight stabilized around 160 lbs. Chris's initial weight loss took around one year, and since then, "I have maintained clean eating and exercise while keeping the weight under control."
Compared to the 3,000 to 5,000 calories Chris consumed before, he now eats approximately 2,100 calories a day that are mostly from meat, dairy, and vegetables while avoiding processed foods and seed oils. In addition to paying attention to nutrition, Chris also now exercises for 60 minutes each day.
And what are the results of Chris's efforts? They're incredible. "I lost 111 lbs, I am in full diabetic remission, and I no longer need medication to manage anything."
Building muscle, building community
Equally important to Chris's progress has been the sense of community he's developed throughout his health journey. "Before my weight loss, I kept to myself, I didn't really have a community outside of my household, and I didn't have the community I used to have in the Army. I didn't have any energy, and I didn't feel like I could do anything. As I started to get the weight off, I really started to feel better, and once I got to the gym, I was able to build communities and friendships that I'm not sure I would have been able to before."
Seeing results makes it all worth it
When people at the gym seek out Chris for advice, he cites his Withings Body+ smart scale as a key tool to reaching a healthy weight and maintaining it. "I've got an older model at this point, but it really helps to track and keep a log, to let you know where you're standing. For 50 bucks entry point, you can get into something that'll give you good information and make it trackable. If you want something that does a little bit more with body composition you're in the $90 price point. You can't beat that."
Personally, we think you also can't beat great stories from real users about improving physical and mental wellbeing. Chris's health journey is inspiring on many levels, but especially for anyone who needs to reconcile with their nutritional past, and then make room for a healthier, more active future.
Thanks to Chris for the inspiration. If you want to share with us, you can always reach out: success@withings.com
Disclaimer: The information in this article is not intended to be a substitute for medical advice from a physician or other healthcare professional and is not a substitute for the advice of a legally qualified healthcare professional. If you have specific medical questions, please consult your doctor or healthcare professional promptly. Nothing in this article should be construed as an attempt to offer or render medical advice.