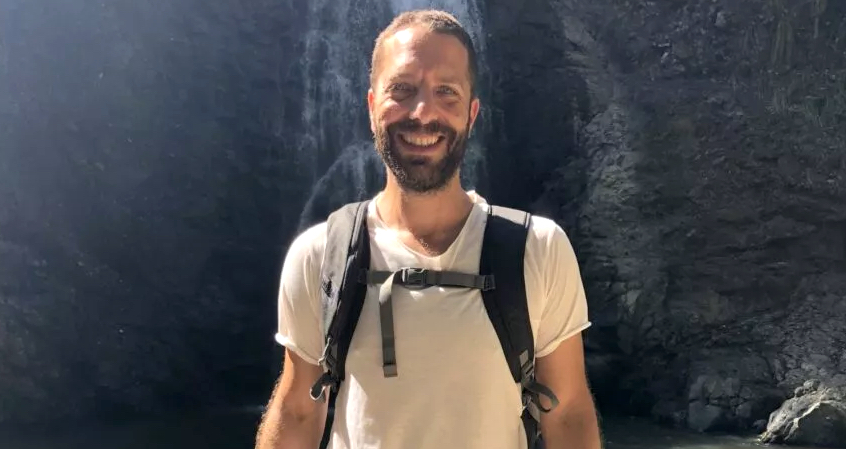 Franck Charpentier, pictured, is 49 and lives in the Paris region in Vanves working as a IT Data & ML architect. Apparently, the snoring that bothered his partner woke him up to his health issues—and he set out on a journey to improve.
The unexpected consequences of a very busy life
Franck says his weight gain occurred over several years without him really realizing it. "Between 2000 and 2009, I gained 35 kilos (77 lbs). That's when I became a dad for the third time, and as you can imagine, it's not an easy time — it takes a lot out of you. Add to that a hectic job, and I had absolutely no time or energy to prepare food. As a result, the family often ate junk food, and at that time I was driving to work, so I wasn't very active."
He explains that his realization came when his partner complained about his snoring, because he knew it had never been a problem before. He went for a check-up and was told by his doctor that it wasn't related to respiratory problems, but because he was overweight. On closer examination, he was diagnosed with sleep apnea. This was the catalyst for his health journey.
Lightning fast weight loss
Franck embarked on a restrictive diet which enabled him to lose all 35 kilos in two and a half months. The results were very rapid, but the stabilization phase was very slow. So he asked himself how he was going to keep his weight under control during this period. He started with the means at hand, which at the time was a Wii Balance Board—a fitness game that also has a scale—but it was tedious. In 2010, one of his colleagues lent him a Withings scale, which he used during his diet, and then finally purchased one of his own. He says that his Withings scale has been "a very valuable ally during my weight loss and stabilization phase."
He admits that the diet he followed put a lot of stress on his body, and says some of his colleagues even worried if he was ill. But he feels lucky not to have had any major health problems.
During his stabilization phase, Franck weighed himself every day with his Withings scale and began to rebalance his diet. Thanks to his scale, he could see which foods were influencing his weight and make the necessary changes. Weighing himself daily became a habit during this year of stabilization, and today he continues to weigh himself regularly, but less often, to monitor his weight. "In the morning when I weigh myself, I find my motivation in the figures. I'm happy if I've lost weight and if not, I now know my body well enough to make the necessary adjustments. My Withings scale is really an assistant in my daily life."
The app that has been tracking his progress since 2010
Franck felt that the Withings app helped him to exercise regularly and watch his weight. "The app encourages me to walk more thanks to the leaderboard, and my friends and I use it to give each other challenges. It allows me to monitor my health better, especially in between doctor visits. Withings products are a daily help, and the Withings app connects with other apps such as Apple Health, which is a real plus for me."
More than day to day numbers, Franck says seeing the trends in the app were a key to keeping up his motivation, "It's really important for me to see the long-term evolution, because we tend to forget quickly. It's very gratifying to see when your efforts have finally paid off."
Franck decides to get a connected health station
After Franck paid a visit to the Withings Paris office with some other users invited to learn more and celebrate 15 years of innovations, he decided to get the Withings Body Scan. He was impressed by the new features of the scale, especially the segmental body composition which gives you the percentage of fat mass and muscular mass in your legs, arms, and torso. He also appreciated the ECG feature that allowed him to record a 6-lead ECG from home. "My results are compared to other Withings users in the same age category as me and for now my results are pretty good, but I can also see which area I need to improve. Those cardiovascular health features have enabled me to know that my heart rate was pretty high, so I will start to monitor my blood pressure."
Tips for better health
And finally, we asked Franck what advice he would give others looking to improve their health. Here are his best tips, below:
● Drink lots of water!
● To increase your number of steps, get off the metro (subway) one stop earlier.
● Reduce your sugar and salt intake. Weaning off can be very complicated, but you have to persevere and not give up after a few days—the effects will be felt after at least three weeks. The same applies to weight loss in general, the hardest part is getting started!
● You don't need much to get started with strength training as you can do exercises using your body weight.
If, like Franck, you have an inspiring story to tell, you can contact us at success@withings.com