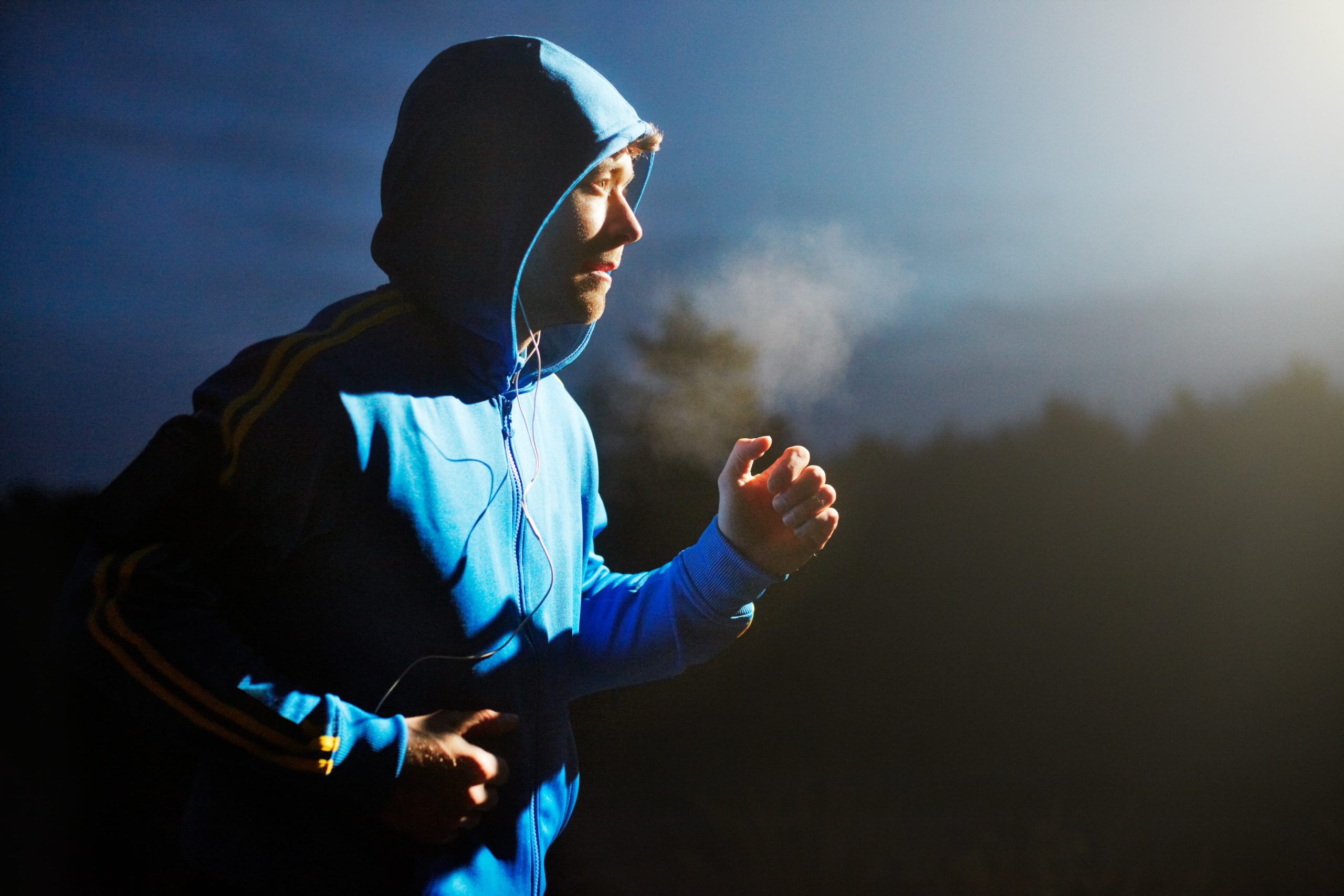 Shorter days shouldn't mean shorter workouts. These creative tips will help you stay active and leap—or, heck, triple lutz—right through the winter workout rut.
You've kept up a strong and steady fitness routine through the lovely spring and balmy summer. But now that the days are getting chillier and shorter, 'tis the season when people start skipping their morning workout. If you are reading this, we are pretty sure you aren't an animal that needs to hibernate. Here's six ways to throw back those cozy covers and get that heart rate up even though it's cold outside. Come spring, you'll be glad you did.
1. Be Prepared
Dr. Shawn Arent, associate professor of exercise science and sports studies at Rutgers University and director of the Center for Health and Human Performance at Rutgers, says people should prepare for the challenges of working out in winter before the first frost hits. Arent says, "When you start to make your adjustments as it gets colder it's not as big of a transformation when the true cold hits."
Early morning runners should check the weather nightly and lay out their workout clothes before bed so they can head out in a snap, properly layered against low temps and bitter winds. People who know they won't exercise outside if the temperature dips below 50 should consider a gym membership, home treadmill, or workout videos. Arent advises you create an environment in your home that's conducive to exercising. In his words, "You want fewer excuses for why you're not going to exercise."
For Bill Andrew Quinn, a voiceover actor and host of The Bill Quinn Radio Hour X2, lasting motivation came after a health scare in 2014 made him realize he needed to exercise regularly to lose weight and strengthen his heart. Quinn's current resolve seems more powerful than Jack Frost, saying, "When I feel that certain fall bite and winter's grip, I'm fine with that, because I'll stay the course regardless."
But Quinn does prepare by having simple back-up plans in mind to help him work out, whether he's traveling, short on time, or the weather outside is hazardous. Last year, he walked at a local mall that opened early to let people exercise indoors. This year, he joined a gym closer to his home where he walks on a treadmill for an hour on most days. When ice and snow make it impossible to go outside, Quinn walks around his house and does light calisthenics to get his heart rate up.
And he is always prepared with the most vital element of working out—his constantly rotating playlist. "I really immerse myself in music when on the treadmill," Quinn said. "If the music is pumping — then so am I."
2. Be Accountable
Schedule frequent workout dates in your calendar to meet a buddy for yoga, spin class, or a jog, and you'll leave the house when the bitter cold would otherwise keep you home. "When you're meeting up with someone you have them to be accountable to, someone you'd be bailing on if you didn't show up," Arent said.
For those who tend to work out solo, Arent said fitness apps and activity trackers are a great tool for setting training goals and keeping people mindful of their activity levels. "I like the technology part because it gives people a purpose and self-accountability. It can be motivating," he said.
3. Be Adventurous
Take up a winter sport you haven't participated in before. Learn to ice skate. Learn to snow board or ski. Or for an intense all-body cardio workout , make it cross-country skiing. Go sledding, making lots of runs because the workout lies in the return trip up the hill. Go for a walk in the newly fallen snow. Make snow angels and, while you're down there, do snow sit-ups and snow planks.
4. Be Smart and Safe
Layer up. Know the wind chill factor before you head out so you don't get frostbite. Pay attention to your extremities, and keep those hands, feet, and ears covered and toasty. If you take up cross-country skiing, go with a buddy. If you're hitting the trails alone, make sure you have a cell phone and somebody knows where you are. Listen to the weather forecast. Look out the window. If conditions are dangerous, or could turn for the worse while you are outside, change plans and work out indoors.
5. Stay Hydrated
Arent said it's common for people to forget to drink water while exercising in winter because they don't feel as thirsty when they are cold. Remember, your body is still expending energy and sweating, so throw back some H2O on the regular.
6. Be Flexible
The change of seasons is a great time to switch up your workout routine. "If you are generally a runner, you can work on your flexibility with yoga," Arent said. "Or add strength training to your routine."
On frosty days, doing step-ups on the bottom step of your staircase can give you a good cardio workout. Even better, add some resistance training with bands or your own body weight.
If you're struggling to fit workouts into the short winter days, remember you don't have to do it all at once. Arent said getting your heart rate up for 10 minutes in three sessions over the course of the day yields fitness benefits.
This winter, Quinn is changing up his routine by adding weight lifting and setting a new fitness goal he hopes to achieve by spring. "I'm going to convince my body I can once again fit into a certain size pants I haven't seen in 20 years," Quinn said. "When that happens there's going to be a party."