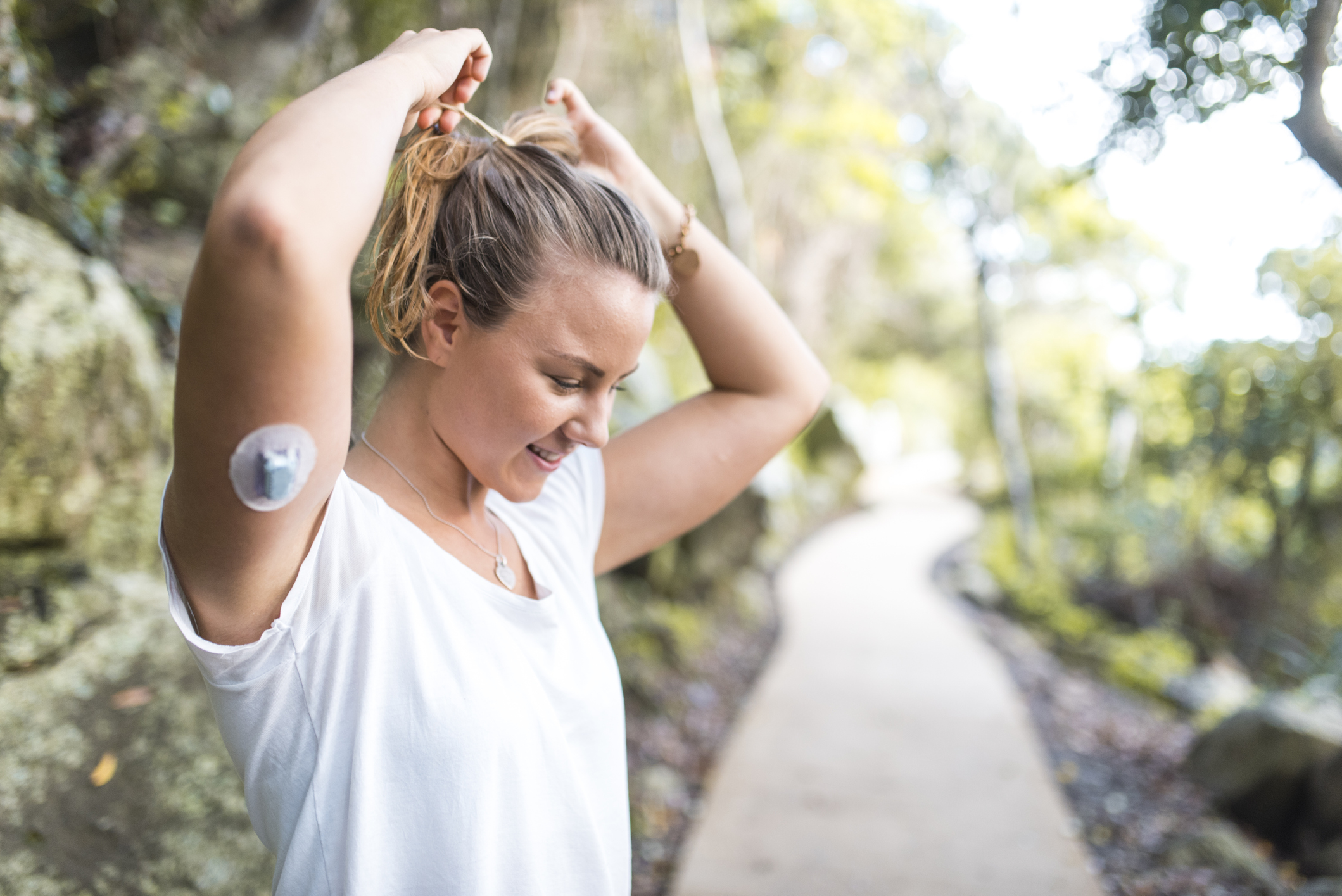 Julie Kiefer, a Type 1 diabetic, shares her tips on how to balance exercise with the condition.
Diabetes affects 463 million people around the world. In Type 1 diabetes, an autoimmune disease, the immune system destroys the beta cells in the pancreas, which produce insulin. The pancreas then becomes unable to produce the insulin needed to regulate blood sugar levels. In Type 2 diabetes, the more common form of diabetes, is caused by insulin resistance or when the pancreas does not produce enough insulin.
The good news? Exercise can increase insulin sensitivity, lower stress, and reduce the risk of high cholesterol and heart disease. But some diabetics are afraid to exercise because of the risk of hypoglycemia, or low blood sugar. While exercising can lead to low blood sugar, and hypoglycemia can be dangerous—untreated, it can seriously affect your vision and kidneys, and could even lead to a coma—regular exercise is highly recommended for diabetics, and studies have shown that it helps prevent the risk of Type 2 diabetes.
Julie's story
Julie Kiefer, pictured, an avid exercise enthusiast with type 1 diabetes, founded the Diabetic Travelers Network (DTN), an organization that offers anyone with diabetes access to the information, support and useful contacts they might need to travel. We asked her about how she exercises, and whether she has any tips to share for those with diabetes. Here's her story in her own words.
Twirling, running, and learning how to pay attention to my body's cues
My interest in exercise started when I was very young. I was diagnosed with Type 1 diabetes when I was 4, so exercise was recommended very early on as a way to manage my diabetes. I started with gymnastics when I was 5 and then, when I was 6, I started training at a swimming club. I was also a member of the regional Twirling team for 3 years.
When I was at secondary school, on several occasions I had the chance to raise money for Action Against Hunger by running. It's really important for me to be able to exercise for a purpose, a goal, a target. Whether it's for a charity, a cause like equality between men and women or just for myself.
For me, exercise is a way to balance my body and my mind, to stretch my boundaries by taking on challenges and pushing myself even further. When I exercise, I am in the moment, and that's priceless. Exercise has taught me how to react to the unexpected, and how to see failure as a lesson and an opportunity to improve, rather than an end in itself.
My diabetes has never prevented me from doing exercise—in fact, quite the contrary. I have always made sure that I pay attention, learn and understand how my body works so that I can anticipate and act when I need to. Taking part in competitive sport has given me a better understanding of nutrition, the physiological aspects of sport and its effect on my diabetes.
I'm not afraid of hypoglycemia because I trust my ability to recognize it. Of course, I do have hypoglycemia sometimes too. When that happens, I stop, have something sugary and start again.
Swimming is my favorite sport. I've been doing it for 22 years, and I train 2 or 3 times a week. It's a very well-rounded sport. At the moment, as the pools are closed, I have started running again.
If you have diabetes, please be aware that you can exercise worry-free, and it can really help you manage your diabetes better. The most important thing is to do some research in advance, ask your doctor for advice and get stuck in. I have no doubt that doing some exercise will make you feel better!
Julie's exercise tips for diabetics
During exercise, the need for insulin decreases due to the consumption of glucose by the muscles. Somebody who is not diabetic naturally produces less insulin. If you have diabetes, you need to adjust your doses and meals depending on the intensity of the physical activity in order to reduce the risk of hypoglycemia. Julie says it's important to consider the tips below.
Exercise regularly. For example, exercise every Monday at the same time.
Exercise in the morning before breakfast and before taking rapid-acting insulin/bolus, or in the late afternoon when insulin activity (referred to as Insulin on Board) is limited.
It is a good idea to eat a meal 3 hours before exercise. Rapid-acting insulin works for between 3 and 4 hours. This will reduce the risk of hypoglycemia.
Fill up on complex carbohydrates during the meal you eat before you exercise and eat a balanced diet.
Adjust your medication according to the meal you eat and what exercise you do. Talk to your doctor before changing your treatment.
Measure your blood sugar levels before you exercise and eat a snack containing between 10g and 20g of carbohydrates if your blood sugar level is between 0.90 and 1.50 mg/dl (5 and 8 mmol/l). If lower, eat 20g of carbohydrates and wait until your sugar levels are above 90mg/dl.
Measure your blood-sugar levels during exercise as well. The way that the body and its need for insulin change with exertion is different for everyone and varies from one individual to the next.
If your sugar level is over 2.80 mg/dl (15 mmol/l), check your acetone level. If you have acetone in your blood, it is best not to exercise.
After you have finished exercising, and again 3 hours later, check your sugar level and have a snack (bread, cereal bar) if you need to.
Insulin will act faster after exercise if injected into an area where the muscles have been working, because the blood flow has increased.
Watch out for stress, especially in competitive sports. Stress releases hormones that affect blood-sugar levels.
Combine cardio exercise (e.g., running) with strength training. The type of exercise you do affects blood-glucose levels differently, so it's best to vary your workouts by doing a combination of aerobic and anaerobic activities.
Want to keep up with Julie's adventures? Find her on Instagram @kfr.julie, on Faceobok @diabetictravelnetwork, and on YouTube @Julie Kfr.
Warning: The information presented in this article in no way represents an alternative to medical advice provided by a doctor or a healthcare professional, and cannot replace the opinion of a legally certified healthcare professional. If you have any specific medical questions, please talk to your doctor or a healthcare professional.